Pumpkin Mash
How to make pumpkin mash
I actually prefer this recipe to ordinary potato mash, and its such an attractive colour.  A little bit of garlic if you like it makes it really special.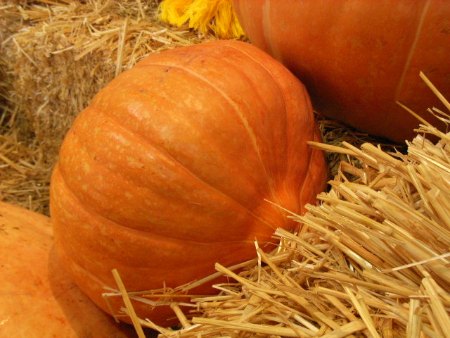 You can make this mash with pumpkin alone, with potato half and half or with other root vegetables, such as parsnip, swede, turnip, or celeriac.  Why not experiment and see which is your favourite.  Here's a simple way of making my favourite mash.
Tip – when boiling or steaming pumpkin don't overcook it, or it will be really watery.
As you will see it is so easy to make real pumpkin mash from fresh ingredients. This goes really well with barbequed meats, sausages, steaks, or grilled fish.
Ingredients:


Peeled and chopped pumpkin – about 2 inch cubes
Peeled and chopped potatoes – about 2 inch cubes
Clove of garlic
Knob of butter

Use your judgement how much you need for each person.  I usually make too much anyway as I love having the leftovers.

Method


Don't worry too much about the size and shape of the potato and pumpkin chunks, just try to keep them all fairly uniform so that they cook at the same time. 

Put the chunks into a large pan of salted water and bring to the boil. Chop the garlic clove into 3 or 4 pieces and add to the pan. Cook until you can just put a knife through the chunks.  Don't overcook or the pumpkin takes on too much water. 

Drain well.

Add a knob of butter and mash with a fork or masher.  Personally I find the old fashioned masher the best.  You don't want to work pumpkin too much as it will lose all its texture. 

If you like your garlic strong, you can add it raw after cooking, by chopping it fine and adding it just before mashing. 
 
This mash will freeze quite well, or put the leftovers in the fridge and fry up as bubble and squeak with sausages the next day.  

 

Return from Pumpkin Mash to Easy Pumpkin Recipes
---