Pumpkin Chocolate Cake
with Pecans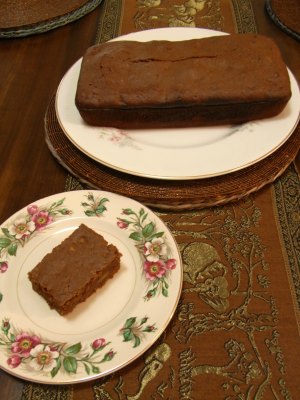 Pumpkin chocolate cake OR "how to eat chocolate cake and feel less guilty!" 

Pumpkin is a really healthy food.  It is full of Vitamins A, C and E, Potassium, Magnesium and fibre, to name just a few of it's wonderful benefits.  So adding it to cakes and treats is always going to be a great idea.  But we're not just doing it because it's healthy.  It also gives cakes a wonderful moist texture that you just don't get otherwise.  It's also a fantastic way to get some veggies into children who really don't want to eat them. 

What you'll need:
200g dark chocolate
150g unsalted butter
3 medium eggs
275g soft brown sugar or light muscovado
275ml cold water
1.5 tsp vanilla extract
250g plain flour
1 tsp baking powder
100g grated pumpkin
125g chopped pecans

Oven temp – 180C or 350F
This makes one cake in a 20cms round tin or a loaf tin.  I like to line the tins with greaseproof paper which I grease with a bit of butter so that the cakes don't stick.

How to make the yummy chocolate pumpkin cake: 

Melt the chocolate and butter in a pan. 

Meanwhile, beat the eggs and brown sugar together in your mixer. 
Then slowly add the water and vanilla essence and the chocolate mixture.  It will all be really runny at this point and irresistible to stick your finger in for a quick lick!
Now sift in your flour and baking powder.  If you want to make this cake extra healthy, you can use wholemeal or spelt flour. 

Stir in your grated pumpkin.  You can also use puree either fresh or canned if you want. 

And finally for that extra nutty flavour, mix in your chopped pecans (here you can substitute walnuts if you like). 

Pour into your prepared cake tin and put in the oven for about 60 minutes or until set.  Try the toothpick test, which should come out clean.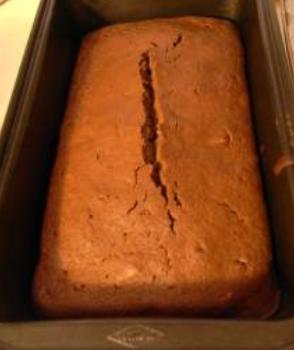 Then enjoy with a dollop of yoghurt or sour cream on top!  Yum. 

This would also be lovely with the Caramel Icing you can find on this page of lots more Pumpkin Cake Recipes
Return from Pumpkin Chocolate Cake to Pumpkinlicious Home Page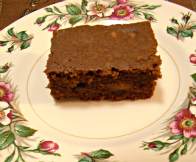 ---