Serving dinner in a pumpkin to your guests is a novel and fun idea and will impress them no end. The best pumpkins to use are the little ones, so that you can give each person their own pumpkin.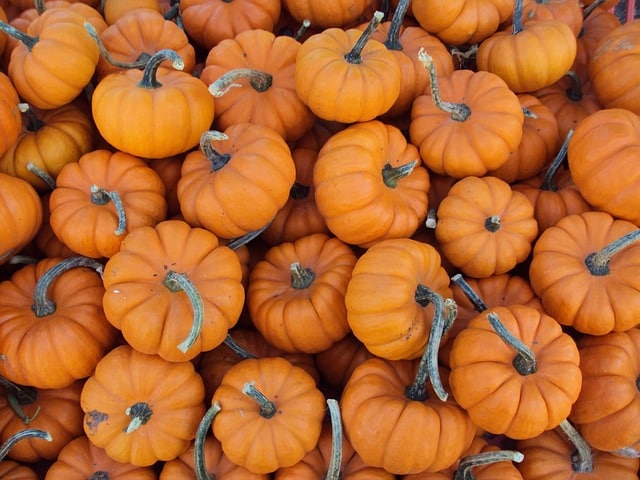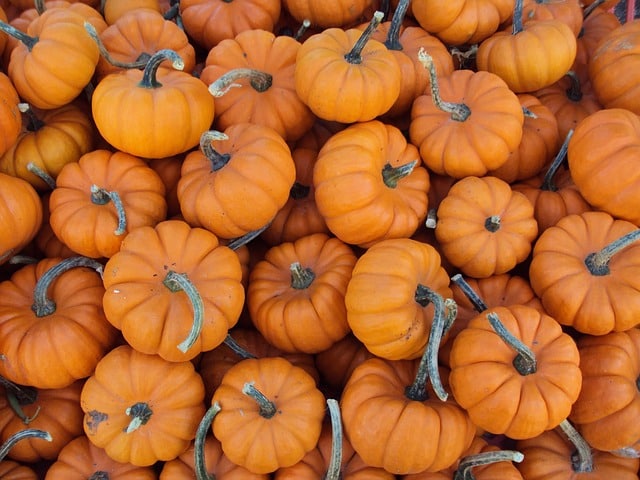 Imagine how many dinners in a pumpkin you could serve if you had all of these!
These are often available at farmer's markets, so keep a look out for those to find more interesting and colourful varieties. If you buy them from the grower, they'll be able to tell you what the different flavours and textures of each pumpkin variety are like.
Soon after I moved into my current house in a small country village I went to the local market, and the first thing I saw was a whole wheelbarrow full of the most gorgeous little pumpkins of all shapes and colours. I knew I'd come to the right place. Of course, I got chatting to the grower and she inspired me to try out some dinner in a pumpkin recipes.
This one is filled with rice, bacon, vegetables and herbs. You can do it with any leftovers you have in the fridge really!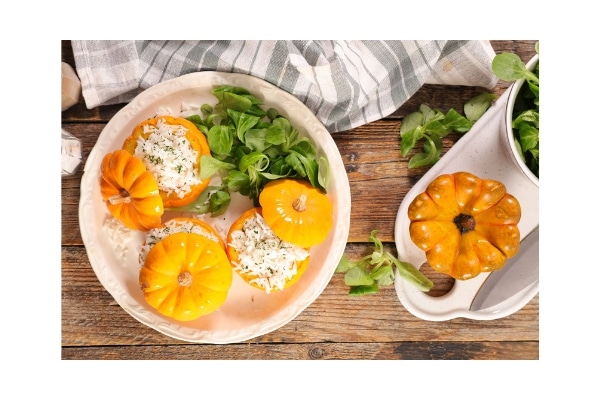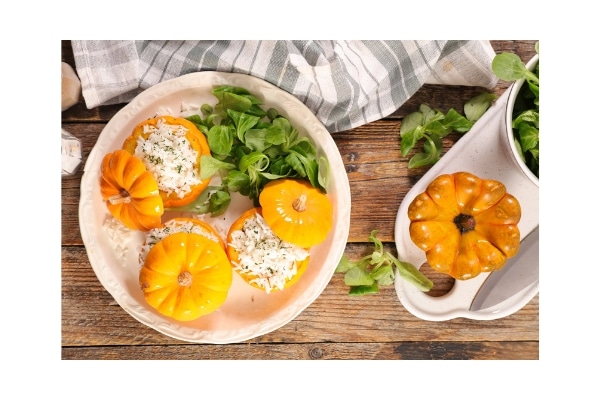 How To Cook This Fall Dinner in a Pumpkin
Choose one small pumpkin for each person, or share a slightly larger one between two. The best are the little golden nuggets, or any baby variety.
Before you get the ingredients together you need a moderately hot oven – pre-heat to about 400 F.
Yield: 2
Fall Dinner in a Pumpkin with Bacon, Zucchini and Herbs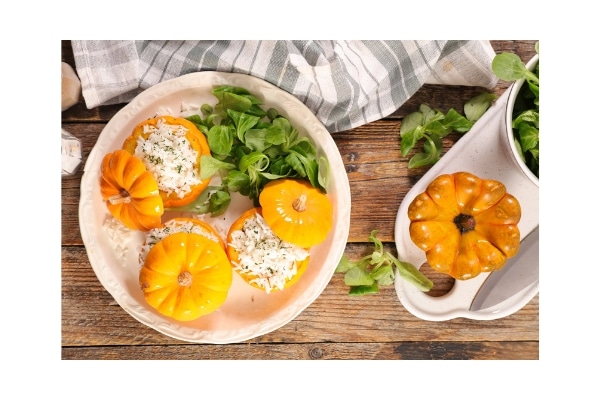 Ingredients
One or half a small pumpkin per person
Cup of cooked rice
Olive oil
Few slices of bacon or ham
1 Zucchini – chopped into small pieces
1 Carrot – chopped into small pieces
1 Onion – diced
Clove of garlic – finely chopped or crushed
Any other chopped vegetables that take your fancy - such as red or green capsicums, spinach, a handful of peas, sweetcorn, celery etc.
Cup of grated tasty cheese
A handful of chopped herbs. A combination of sage, thyme, oregano, basil, marjorum – whichever are your favourites.
Instructions
First gently fry the chopped bacon or ham, the onion and the vegetables in the olive oil. Add the garlic last. When they are cooked, add the chopped herbs and stir through. Lastly, sprinkle on the grated cheese and stir through.

Meanwhile, you will have washed your mini pumpkin and sliced the top off. Scoop out the flesh and retain the seeds if you have plans for them later. Fill the pumpkins with your rice and bacon mixture, making sure that you can still fit the lid on. If the lid is falling off, you can fix it back on with toothpicks or a barbeque skewer.

Place in the oven and cook for about half an hour, or until the pumpkin flesh is soft but the pumpkin is not collapsing. For larger pumpkins you will have to increase the time.
Notes
If you've got mixture left over that doesn't fit inside, put it in the oven in a covered casserole dish, and serve on the side. Or cool, freeze and use for next time.
What To Serve With Dinner in A Pumpkin
Serve with a side dish of green vegetables or salad, or fresh crusty bread for a delicious healthy meal anytime which will keep you full.
If you like this dinner in a pumpkin idea you might also like:-
Dinner in a Pumpkin With Mince Beef
Will You Be Making This Fall Dinner in a Pumpkin for your guest?