If you're looking for a side dish that's delicious and unique, this mashed pumpkin side dish is certain to steal the show. Perfect for any fall meal!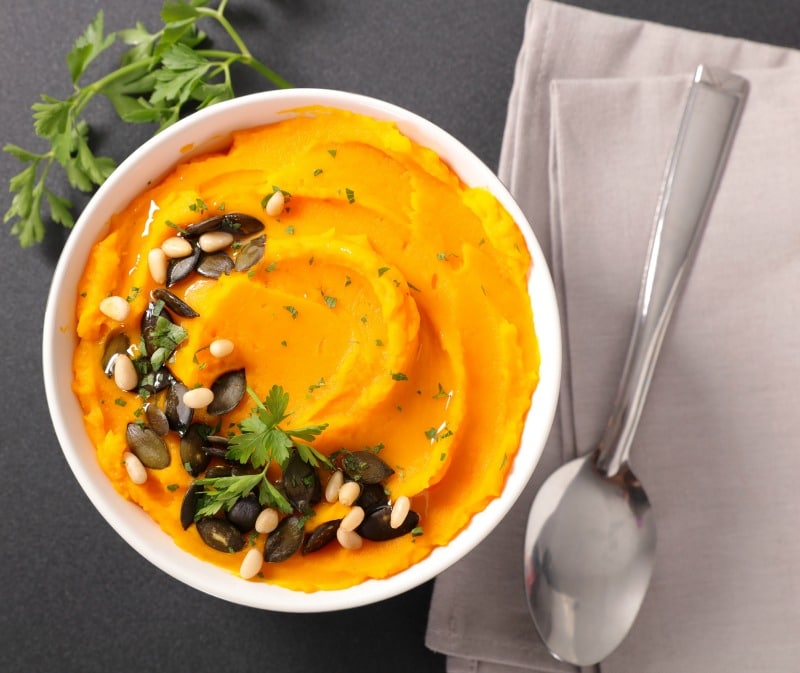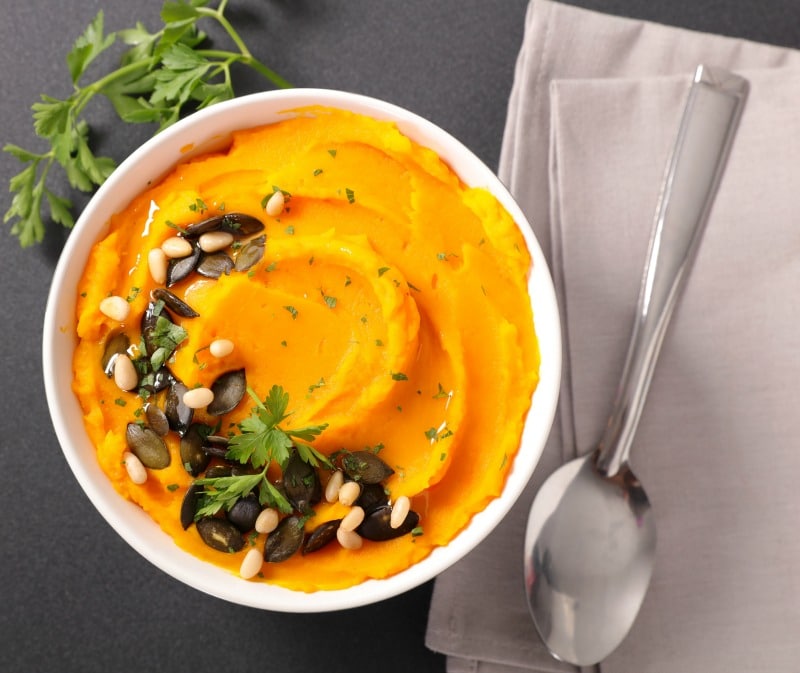 I actually prefer this recipe to ordinary potato mash and its such an attractive color! A little bit of garlic, if you like it, makes it really special.
You can make this mash with pumpkin alone, with potato half and half or with other root vegetables, such as parsnip, swede, turnip, or celeriac. Why not experiment and see which is your favorite?
Here's a simple way of making my favorite pumpkin mashed potatoes.
Tip – when boiling or steaming pumpkin don't overcook it, or it will be really watery.
As you will see it is so easy to make real pumpkin mash from fresh ingredients. This goes really well with barbecued meats, sausages, steaks, or grilled fish.
How To Make Mashed Pumpkin Side Dish
Making mashed pumpkin and vegetables is really easy: cube your veggies, boil them in salted water, and add a bit of butter to make it smooth.
Don't worry too much about the size and shape of the potato (or other veggies you might want to add) and pumpkin chunks. Just try to keep them all fairly uniform so that they cook at the same time. Otherwise, you'll end up with some veggies completely mushy (or too watery) and some still not tender enough.
Making too much of this side dish is not a problem. You'll love the leftovers!
This mash will freeze quite well, or you can put the leftovers in the fridge and fry up as bubble and squeak with sausages the next day.
Need more ideas for cooking with pumpkin? Here are more easy pumpkin recipes. Find my mashed pumpkin recipe below.
Yield: 4
Mashed Pumpkin Side Dish With Potatoes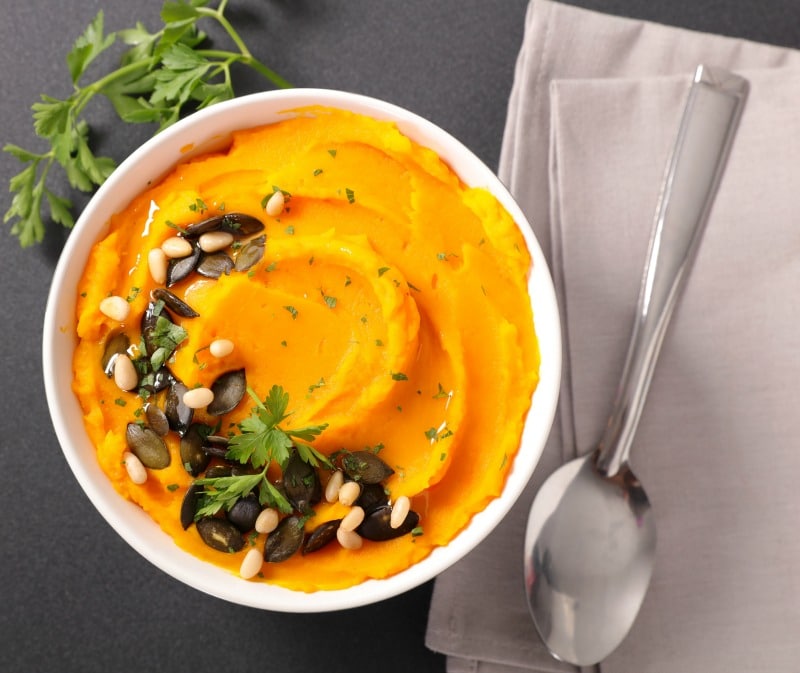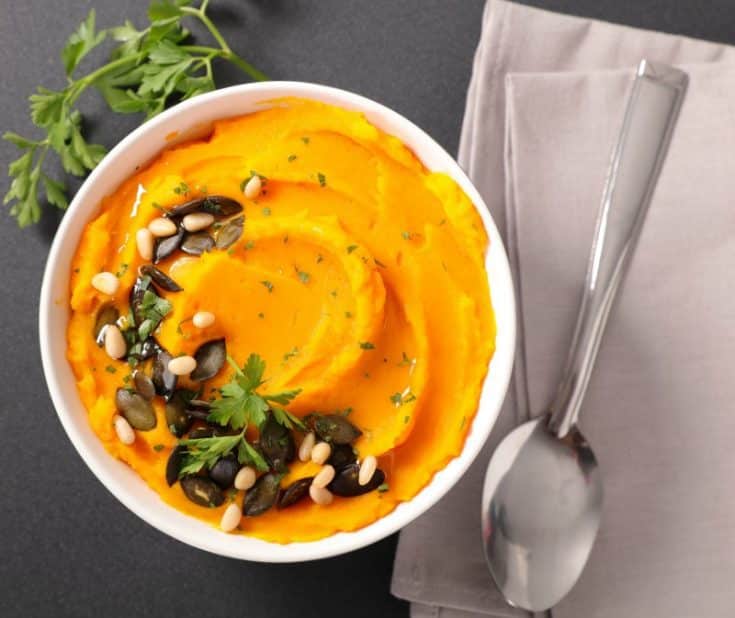 This mashed pumpkin side dish is perfect for upcoming holidays and tastes great on its own or as leftovers. 
Ingredients
2 cups Peeled and chopped pumpkin, 2-inch cubes
2 cups Peeled and chopped potatoes, 2-inch cubes
1 tablespoon Salt
1 clove Garlic
1 tablespoon Butter
Instructions
Put the pumpkin and potato chunks into a large pan of salted water and bring to a boil. Chop the garlic clove into 3 or 4 pieces and add to the pan. Cook until you can just put a knife through the chunks, 15 to 20 minutes. Don't overcook or the pumpkin takes on too much water.
Drain well.
Add a tablespoon of butter (or more if you like it richer) and mash with a fork or masher. Personally, I find the old-fashioned masher the best. You don't want to work the pumpkin too much as it will lose all its texture.
If you like your garlic strong, you can add it raw after cooking, by chopping it finely and adding it just before mashing.
Tools you'll need for making pumpkin mash recipe
Joyoldelf Heavy Duty Stainless Steel
Potato Masher
Bellemain Stainless Steel Potato Ricer with 3 Interchangeable Fineness Discs
What foods do you think would go well with mashed pumpkin?