What's better than eating a slice of pumpkin pie or drinking a pumpkin spice latte? Smelling like them and now you can with these appealing pumpkin pie soap cupcakes complete with frosting!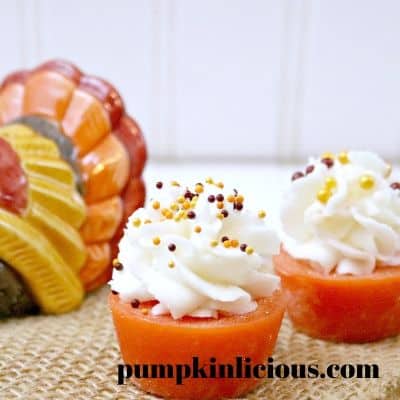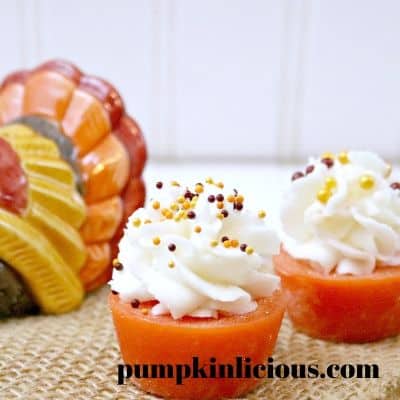 Fall is definitely the best time of the year for fine smelling scents if you love pumpkin and cinnamon! Pumpkin soaps are so popular and make the best Pumpkin gifts for Autumn! Pumpkin is full of goodness so it is only natural we should want to put it on her skin as well as in our mouths!
Why stick to plain bars when you can have fabulous looking cupcakes! There are literally stacks of Fall soap recipes online but I think this is one of the best there is!
These Pumpkin soap cupcakes with frosting look so pretty you will not want to use them but when you do you will not regret it as your skin will feel super soft and smell heavenly.
How To Make Pumpkin Pie Soap Cupcakes With Frosting
Now you have seen these pumpkin soaps you will want to try and recreate them for yourself and for gifts! The good news is the recipe makes 12 of these so you will have plenty of you and for giving out too.
My easy instructions also tell you how to make whipped soap with melt and pour
Once you see how easy they are to make you will want to make them over and over again. I should really list these with my other easy pumpkin crafts for adults.
Yield: 12
Pumpkin Pie Soap Cupcakes With Frosting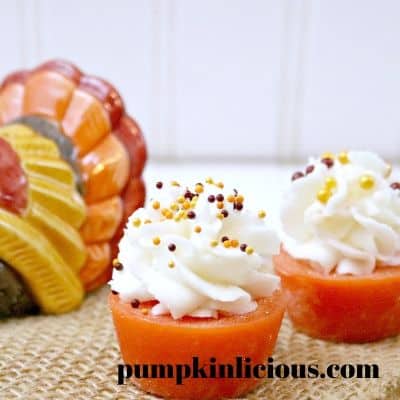 Pumpkin pie soap recipe for divine smelling and super soft skin! These pumpkin pie soap cupcakes will be adored by everyone who sees and smells them!
Ingredients
Supplies For The Soaps:
*½ pound of clear suspension melt and pour soap cut into cubes (each cube is approx. 1 ounce)
1 teaspoon of Argan Oil
1 teaspoon pumpkin pie scented oil
1 teaspoon polysorbate 80
Orange soap dye
Orange cosmetic glitter
Mini silicone muffin tin
Spray bottle filled with rubbing alcohol
Supplies for Whipped Soap "Frosting":
¾ cup whipped soap base
1 tablespoon glycerin
1 teaspoon of Argan Oil
½ teaspoon pumpkin pie scented oil
1 tablespoon corn starch
¼ cup white melt and pour soap base
Piping kit
1 large mixing bowl
Instructions
Instructions For Soap Pumpkin "pies":
Step 1: Add ½ pound of the melt and pour soap to a microwavable bowl or measuring cup. Melt in the microwave in 30 second bursts, stirring and repeating until completely melted. Divided
Steps 2: Add argan oil, scented oil and 1-2 drops of color to melted soap. Mix well.
Steps 3: Spray your soap mold with the rubbing alcohol to prevent bubbles on the bottom of the soap.
Step 4: Pour the soap mixture into your mold. Spray top of mixture with rubbing alcohol to prevent bubble on the top of the soap. Allow to harden at least 3 hours or until completely firm and gently remove from the mold.

Next find out how to make whipped soap with melt and pour for your Thanksgiving soap frosting.

Instructions For Whipped Soap "Frosting" Recipe
Step 1: Add whipped soap base, scented oil, argan oil and glycerin to mixing bowl. Mix for 1 minute.
Step 2: Fold cornstarch into mixture.
Step 3: Melt and add ¼ cup of goats milk soap base to mixture.
Step 4: Mix until the mixture forms peaks, like when you make a meringue. If your frosting is not stiff enough, add a bit more cornstarch and mix in. Repeat until the mixture is firm.
Step 5: Add frosting to your piping bag.
Step 6: Spray soap loaf mold with rubbing alcohol, which helps the whipped soap adhere.
Step 7: Pipe frosting onto your soap. You must work quickly as the frosting will begin to harden after about 5 minutes.
Notes
*Suspension soap is a bit thicker when melted compared to regular melt and pour soaps. This allows glitter, jojoba beads, etc. to be suspended within the soap mixture as opposed to falling to the bottom as it will with regular melt and pour soaps. You do not have to use this soap if you don't have it. Just double up on the regular melt and pour soap base.

I hope you found my whipped soap recipe easy to follow. If not please post any queries below.
How about you make some of these and take them as Thanksgiving gift to your host! I can guarantee you will get the biggest slice of turkey ever and a even more generous slice of pumpkin pie for dessert!
Can you think of any other Thanksgiving soap ideas? What other scents remind you of Fall? Cinnamon soap reminds me of the end of Fall and start of the Christmas season.
Will you be making these Pumpkin Pie Soap Cupcakes for Your Thanksgiving Host?