If you or your family has food allergies, the teal pumpkin project was created with you in mind. With the holiday seasons approaching, it's always good to be aware of those around you who have varying diet needs and restrictions.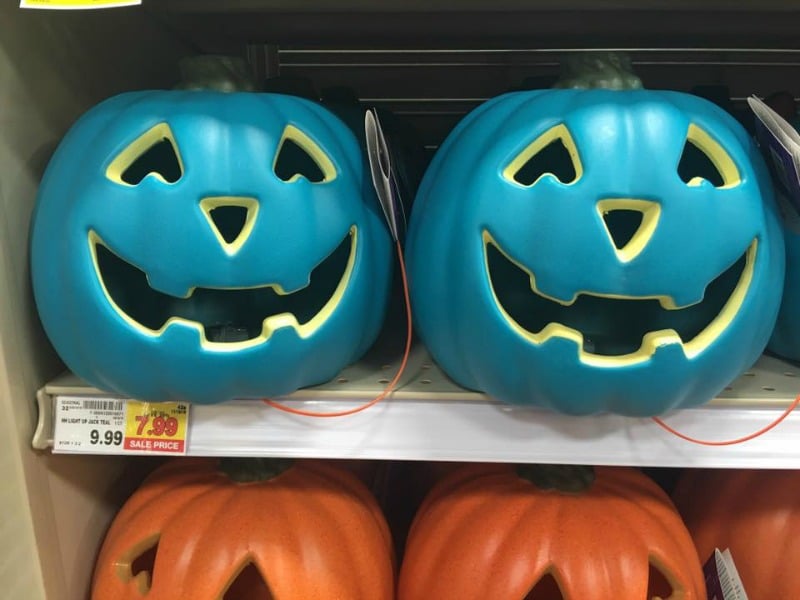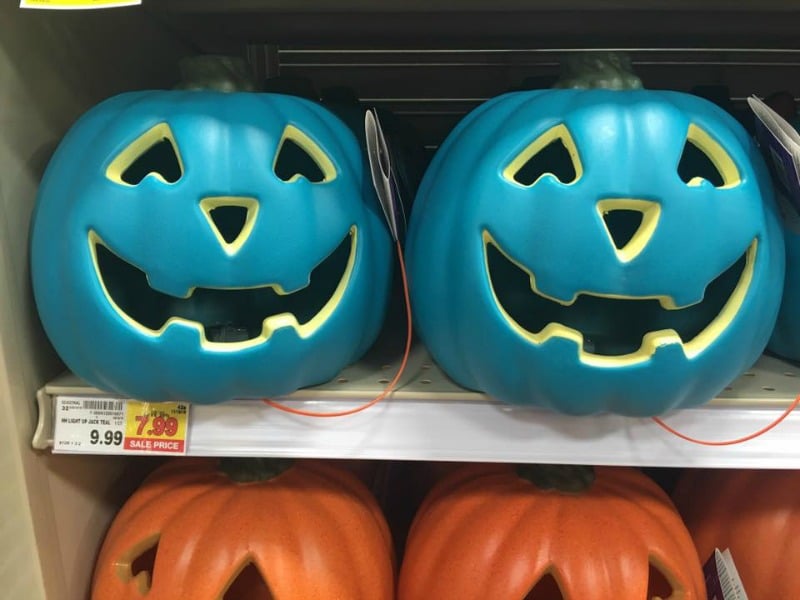 Teal Pumpkin Project - Food Allergies Friendly
I personally don't celebrate Halloween, but this is an important message I feel I need to get behind.
So, what is the teal pumpkin project?
Big Dot of Happiness Teal Pumpkin - Halloween Allergy Friendly Trick or Trinket Welcome Yard Sign
The Teal Pumpkin Project is actually a newer project that was created to help families and children with allergies feel safe participating in trick or treating.
Those participating in this project offer "allergy-free" foods and/or non-food items in lieu of candy.
If you see a home with a teal pumpkin or multiple teal colored pumpkins on their porch or front steps, then you know that the house has alternative options to hand out that will be allergy free.
For kids and families all over the world, that's great news!
No child should have to worry about walking up to a door and wondering if there will be something there that they can actually eat, right?
This is why having a teal pumpkin for Halloween on your front porch is awesome!
Where can you find a teal pumpkin for Halloween?
Teal Pumpkin Jack O' Lantern
Halloween Trick or Treat Teal Pumpkin Bucket
Ashland Teal Pumpkin Decoration for Food Allergy Awareness
The good news is, as more and more people are becoming educated about the teal pumpkin project, teal pumpkins are popping up everywhere.
Truth be told, there are a ton of different ways that you can let everyone know that your household is part of the teal pumpkin project. This can include:
Buying a real pumpkin and painting it teal (here's a teal pumpkin kit)
Purchasing a teal plastic pumpkin at a local store (target has them for sure)
Displaying a teal pumpkin bucket on your front step
Placing a teal pumpkin sign in your front yard that's easy to read
There are no set "rules" for how you can display your teal pumpkin. Use your imagination and come up with other fun ideas to let people know that you have teal pumpkin treats!
Teal Pumpkin Printable Sign
SCS Direct Halloween Teal Pumpkin Garden Flag for Allergy Awareness - 12 x 18 in Officially Licensed (Pole NOT Included)

If heading to the store and buying or painting a teal pumpkin isn't an option right now, no worries! You can easily print off one of these teal pumpkin printables. Then post for everyone to see.
They're free to print, easy to use and will do the trick of notifying those coming to your house or front door that you are part of the teal pumpkin project.
With the Halloween holiday approaching, it's the perfect time to make your household "allergy-friendly" for others to enjoy their holiday treats as well!
Take the above steps to make certain that your teal pumpkin is displayed loud and proud on your porch, or in your yard for all to see!
Decorate your front porch with teal pumpkins
Have a blast decorating your front porch with teal pumpkins. They add a beautiful contrast to the orange and let your visitors know you are a safe place to get worry free treats.
I have already made a beautiful teal pumpkin wreath for you to hang on your front door!
And while you're at it, why not add some blue pumpkins to the inside of your home? Here are some gorgeous ideas to spark your imagination 😉
Teal pumpkin project treats
Now that you have a teal pumpkin and some signs in your front yard letting people know you have allergy friendly treats and trinkets, here's a few treat and trinket ideas for kids with allergies.
You can go to the dollar store and get small toys like:
fun bubbles
little cars
bracelets
small stuffed animals
action figures
glow in the dark toys
small games
miniature puzzles
If you don't have a dollar store nearby, or don't have time to go shopping, Amazon has some cute mini toys you can buy.
Mochi Squishy Toys: 16 Animals 11 Colors
125 Pc Toy Assortment for Boys and Girls
Fidget Toys Set, 16 Pcs. Sensory Tools Bundle for Stress Relief
Joyin Toy 24 Pack of Mini Animal Plush Toy Assortment
OHill Pack of 32 Zoo Animals Pencil Erasers
Party Favors for Kids - 120 pack
Please spread the word about the teal pumpkin project and help make this holiday safer for kids in your neighborhood.