Fresh Pumpkin Pie Recipe
Here is a really easy fresh pumpkin pie recipe.
Although in the USA many people use canned pumpkin for their pies, in other countries like the United Kingdom or Australia where I live, this is not readily available.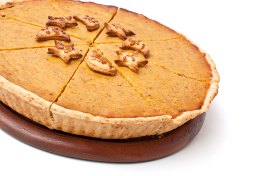 To prepare pumpkin flesh - the simplest way is to halve the pumpkin, scoop out the seeds and place in a hot oven – around 375°F or 200°C for up to an hour depending on the size.  It's done when it starts to collapse and is nice and soft.  Allow to cool and scoop out the flesh.  Alternatively, you can boil or steam chunks of pumpkin flesh until it is soft – it's still easier to peel after it's cooked!  
As you will see it is so easy to make a real pumpkin pie from fresh ingredients.
Tip – if you boil, don't overcook it, or it will be really watery.
Any leftovers can be frozen for next time or used in a savoury mash.

Fresh Pumpkin Pie Recipe
Ingredients:

2 eggs
3/4 cup brown sugar
5 ounces of evaporated milk
1 1/2 teaspoons cinnamon
1/2 teaspoon ginger
1/4 teaspoon nutmeg   (I find the freshly grated whole nutmeg is best, but powdered is fine)
1/2 teaspoon salt
2 tablespoons boiling water
1 1/2 cups cooked pumpkin flesh
1/4 cup of half and half (for those non-USA readers, this is single cream!)

Short crust pastry for a 9 inch pie. (cool ingredients work best!)  

8 oz (225g) of plain flour
4 oz (115g) of butter or margarine or 2 oz (55g) each of butter and lard
3 - 4 tbsp of ice cold water
pinch of salt


Method:

Heat the oven to 425°F or 220°C.

For the pastry shell – rub fat into flour and salt with your fingers or a pastry blender.  Slowly add water to mix to a dough.

For best results wrap the dough in cling film and cool in the fridge for 30 minutes before rolling out.

Line a 9 inch pie dish and partially bake for about 10 minutes. 

Some people use rice or beans to stop the pastry from rising or forming bubbles.  I find its usually enough to put a layer of aluminium foil over the top, it also avoids burning the rice or beans and creating a horrible smell in the kitchen.  Of course, you could be really sensible and invest in a set of ceramic baking beans which makes life so much easier!  It's well worth it if you make a lot of pies.  

For the filling - beat the eggs in a large bowl.  Mix in the sugar, milk, spices and boiling water. 

Mash the fresh pumpkin and add it with the half and half to the other ingredients.
 
Pour the mixture into the partially baked shell and bake for 15 minutes at the high temperature.

Then lower the heat to 300° F or 150°C for 25 more minutes.  You will know it is cooked as the filling will be firm but still with a slight wobble. 

Serve with whipped cream, ice cream or vanilla yoghurt. 

For a really luxurious pie, you can replace the boiling water with bourbon, brandy or rum. 

The pie filling can be served as a mousse by cooking in individual serving bowls, or in mini pumpkin shells.
Lots more Pumpkin Pie Recipes!
Return from Fresh Pumpkin Pie Recipe to Pumpkinlicious Home Page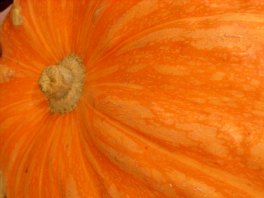 ---