Pumpkin Bar Recipe
This is an easy pumpkin bar recipe for a perfect halloween or lunchbox treat.
Even though this looked like such an easy pumpkin bar recipe to make, I still managed to have a mini disaster with my chopped nuts!  Read on if you want a  laugh at my expense.....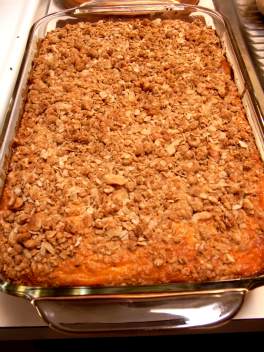 So I decided to have a go at making some pumpkin pie bars with a difference.  I didn't just want to make a crust with flour, but have had a craze for oats recently and thought it they would be lovely with a more flapjack type base to give them more texture.  Not to mention they would be much healthier this way too. 

I didn't fancy the cream cheese that is in most pumpkin bars, so I substituted double cream and a gorgeous sharp flavoured plain yoghurt we get locally here, which is also thick and creamy.  Mixing all that together with the orange pumpkin and a good maple syrup was almost as pleasurable as actually eating it.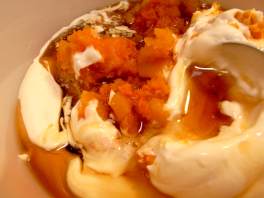 So here is what I used:

1 ½ cups all-purpose flour
2 ½ cups oats
1 cup chopped toasted pecans  (actually I used walnuts as I didn't have any pecans in the house.  They were good, but I think pecans would be even better)
1 cup of brown sugar
1 cup melted butter (took one minute in the cup in the microwave)
2 cups of cooked pumpkin – I boiled up some lovely deep coloured pumpkin with a grey skin, but you can use 2 cups of well-drained canned pumpkin if you like.
1 cup double cream
1 cup thick plain yoghurt
½ cup maple syrup
4 eggs
1 tsp vanilla essence
1 tsp ground ginger
2 tsp ground cinnamon (one for the base, one for the pumpkin mix)
½ tsp salt

First of all I heated the oven to 180C (350F or gas mark 4) THEN, I decided to chop the walnuts I was using instead of pecans.  No problem.  All  finely chopped on a board and put into a cup to measure.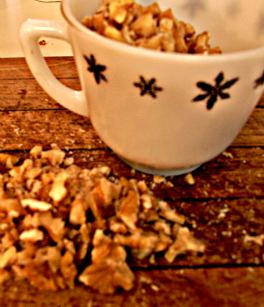 But then I decided to take this photo of them, and just as I'd finished and was about to move the walnuts, I managed to tip the whole lot off the board and into the ring of my cooker!  Took me ages to pick them all out and start again. Fortunately, after that, there were no more mishaps and I succeeded in making some pretty yummy pumpkin bars. 
Method


Mix the chopped nuts, flour, oats, sugar and 1 teaspoon of the cinnamon in a big bowl. Pour in the melted butter and mix well with a metal spoon. 

Put 1/3 of this mixture aside.  Push the rest of the mixture into the bottom of a 13 x 9 inch baking tray or pan.  I used a glass pyrex one, which I rubbed with the butter paper to grease first. 

Then, in another mixing bowl, mix together your pumpkin, cream, yoghurt, eggs, spices, maple syrup, vanilla and salt.  This makes quite a thin consistency, but that is fine.  Pour it over your base in the pan, and cover with the rest of the crumbly base that you have reserved. 

Cook in the oven for 40 minutes or until it is set in the centre. Leave to cook and then cut into squares. 

These were really delicious, and more convenient than traditional pumpkin pie for handing around or taking to work.  The oats did make them a bit crumbly, but the filling helps to hold them together.  I love the nutty oatmeal flavour and texture of these and will certainly make them again.
For More Lovely Pumpkin Pie Recipes Click Here

Return from Pumpkin Bar Recipe to Pumpkinlicious Home Page
---