Pumpkin Dip
A great way to use up a little bit of leftover mashed pumpkin or pumpkin puree is to make a pumpkin dip.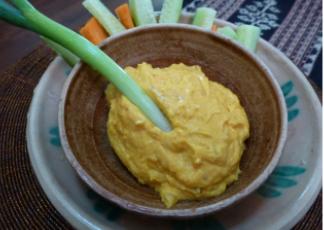 There are various different kinds. You can make a savory spicy dip to have as a snack or an entrée with vegetable sticks, or you can make a sweet version to have with fruit as a dessert. Either way it's a healthy treat good enough for guests or to liven up a weekday lunch. Any of these recipes can be made with canned pumpkin if you don't have fresh.
Pumpkin Dip with Cream Cheese and Chilli
This is a nice one to offer guests when they arrive. It looks like you have gone to some trouble, but it takes literally a couple of minutes to make. (Chopping the vegetable sticks takes the longest – if you're really pressed for time just use crackers).

Approx. 1 cup pumpkin puree
Approx. ½ tub of cream cheese (you can use something special like a tasty creamy goats cheese if you like)
½ teaspoon chilli powder (to taste) or use a dessert spoon of sweet chilli sauce.

Mix all ingredients together in a blender. Have a taste, and adjust the chilli if you need to. Start with a little, as it's easier to add more than take it out! Am I stating the obvious? Ooops.

Serve with carrot sticks, cucumber sticks, celery, olives, crackers, whatever you fancy!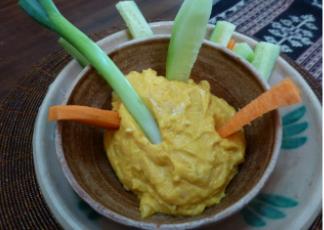 Pumpkin Hummus Dip
This is so quick to make you can be curled up in front of the TV with it on your knee in no time. If you use some pumpkin that was roasted in the oven it will add to the flavour.

1 tin of chickpeas
1 cup of pumpkin puree
Clove of garlic
1 tablespoon of extra virgin olive oil
Half a lemon – squeezed

Just blend altogether in your blender and taste. See if it needs a bit more garlic or a bit more lemon.

Then put is a bowl and enjoy with your favourite crackers. This is also great on toast or in a wrap with salad.

Bliss.


Sweet Pumpkin Dip
This one is a sweet treat or for dessert.

1 cup pumpkin puree
1 8 ounce (225g) pack cream cheese
1 cup sugar ( or use maple syrup or honey to taste)
½ teaspoon cinnamon
½ teaspoon ginger

Mix it altogether in the blender.

Serve with ginger biscuits, ginger snaps, wafers, chunks of fruit, strawberries or grapes. Or spread on toasted pumpkin bread or a fruit bread for breakfast.


Return from Pumpkin Dip to Easy Pumpkin Recipes
---