Pumpkin Tortilla
This easy Pumpkin Tortilla recipe was inspired by my happy times living in Spain.

Spanish tortilla is basically a thick omelette with vegetables in it.  The Spanish tend to put potatoes, spinach or zucchini in theirs, but you can ring the changes and use whatever comes to hand or your particular favourites.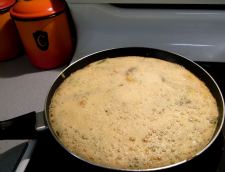 I had some leftover pumpkin when I cooked some cubes for another recipe so cooked this tortilla for supper one night.  It was just as good cold the next day with some salad.

The eggs came from a friend at work who has her own chooks.  They are so yellow and fresh its like you've never tried eggs before.  Even though I always buy organic, free range eggs, these were something else.  And they were huge! My friends chickens range free picking up insects and grazing in the garden. They get scraps from the kitchen, and chicken pellets too. They are the healthiest eggs imaginable. 

I had some leeks in the fridge, and some green and yellow zucchinis that I had grown in the garden.  I also had a few spring onions that I'd grown in a pot. 

Ingredients: 


6 – 10 free range eggs
Cooked pumpkin pieces
Zucchini sliced thickly
2 or 3 spring onions
Clove garlic
Olive oil

Method

Heat some olive oil in a large non-stick frying pan. Gently fry the slices of zucchini, the chopped spring onions until they are just browning.  Then I add a clove of chopped garlic. 

Finally just place the cubes of pumpkin in the pan to warm through.  Don't move them around too much or they will disintegrate. 

Meanwhile break the eggs into a bowl and whisk.  I have one of those vintage hand whisks which is wonderful to use and makes the eggs really nice and fluffy. The more air you can introduce into the eggs the fluffier the omelette will be. 

Pour the eggs over the omelette. If there isn't enough egg mixture to cover the vegetables, add another egg, or mix a little milk into the egg mixture.  You will get a feel for how many eggs you need once you've made it a couple of times.

Turn the temperature on the ring down to the minimum and cook the eggs through very slowly.  You don't want the bottom to burn before the top is cooked through.  If it is a particularly thick omelette, I will put the whole pan under the grill to cook the top.  If you're brave you can put a plate over the top and turn the omelette, once its on the plate, slide it carefully back into the pan the other way up.  Make sure it's more than half cooked through before attempting that one, or you will end up with raw egg all over the place!

This one was so good, I made it again for a family party a couple of weeks later.  In Spain it's often served in small cubes as an aperitif with a glass of red or white wine.  It makes great party food and I always get a request to bring one whenever it's a bring a plate occasion.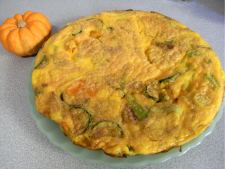 A while after I made this, I was staying with some friends and a lady called Kim made this fabulous pumpkin tortilla.  She must have used a very deep pan, and it was superb!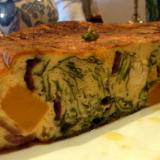 Return from Pumpkin Tortilla to Main Dishes

---