Autumn is the most glorious time of the year and such a fun season especially when you get to do my pumpkin wreath fall craft for kids (and adults too!).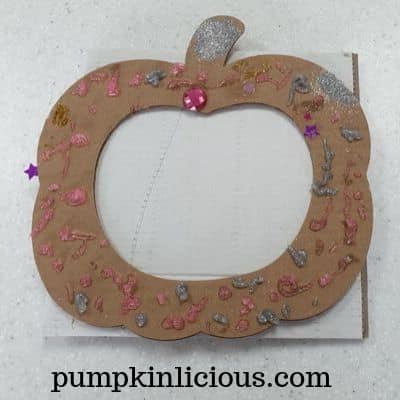 I have been on the hunt for some new pumpkin crafts for kids this year for my almost 3 year old and 4 year old. I love doing crafts with them because it is a great bonding experience plus they get to be super creative and learn lots at the same time. Previously we have done some pumpkin rock painting (we have ample rocks as we are 10 minutes away from the seaside) and some paper pumpkin crafts!
I was browsing my favorite craft store online, Baker Ross and came across some cardboard pumpkin wreaths. I had already searched online for some paper templates for this and had no luck so I was pleasantly surprised to see them staring back at me.
Fortunately I will not have to buy anymore as I have now made my own template for future use. The good news is that I will be sharing this with you also so stick around!
How to do my Pumpkin Wreath Fall Craft
Yield: 4
Pumpkin Wreath Fall Craft For Kids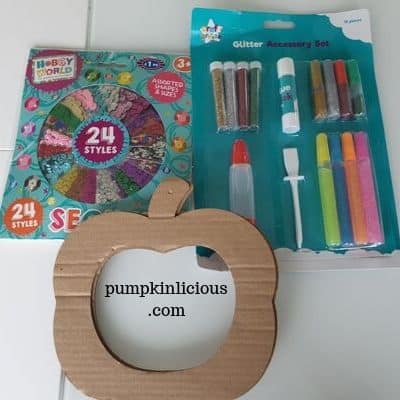 A fun filled Fall craft for kids that helps them decorate their very own pumpkin wreath!
Materials
Pumpkin shaped cardboard wreaths - I bought mine but I have made a template which you can print out for FREE and trace onto cardboard.
Table and tablecloth to prevent table from getting messy. I used a Halloween one I got from my local B&M Bargains store.
Colored liquid glitter and loose glitter to sprinkle
Glue
Various sequins
Tools
Basically all you need is your hands and all the materials I listed above.
Instructions
You could use a theme or else just do your design freestyle.
Amelia thought her wreath looked similar to a heart shape so she decided to decorate hers with pink theme with hearts. She then said it would make a fabulous Valentine Day gift.
Notes
You could also use buttons or feathers, basically anything small you can stick onto the wreath.

You could also color your wreath or even paint it!

You could use stickers and even have a theme for your pumpkin wreath. How about making a Christmas one?! Then it will do two seasons for the price of 1 🙂

I would recommend using white card as opposed to brown as you will be able to see your design more clearly. In fact you could use any color of card you like.

I was very impressed about how my little girl said hers was like a heart so she picked a pink and silver theme and accessorised hers with hearts and glitter! She is such a creative soul and really enjoys creative pumpkin decorating! I cannot wait to see what she does with my mini polystyrene pumpkins!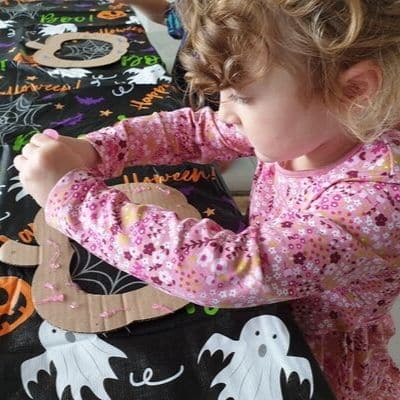 My 2 year old just loved using the different colors and explored what happens when you mix blue and red liquid glitter! What a great way to learn how to make purple!
I chose a more Autumnal theme and decorated mine with orange and gold glitter, as well as brown stars and pretty colored hearts. To be honest I had no plan for mine so I just went with whatever came to my hand first. In future I might plan out a theme for these.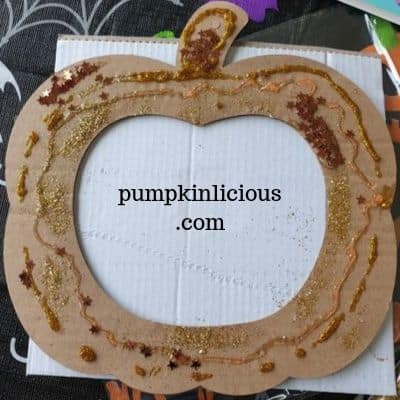 This was an excellent activity for enhancing fine motor skills; the kids were very careful to pour only a small amount of glitter onto their pumpkin wreath at any time. They also got to glue small stars, hearts and sequins onto their wreath. I could not believe how specific they were when asking for which one they wanted. This was a great craft to really get them thinking.
What you can do with your Pumpkin Wreaths
My little girl demanded that hers be kept on the inside of bedroom door! She really takes great pride in her crafts and likes to ensure she can see them all the time.
My little boy decided he would give his as a gift to his Daddy because he missed out on all the fun of making his own, what a sweetheart. This lasted for a day and then he insisted on hanging his on his door too.
They look so pretty on the doors and would make a neat door sign! I am tempted to get a large letter and put it on the wreath too.
Thanksgiving Pumpkin activities for preschool like this one are so much fun and a great learning experience.
Remember to grab your free pumpkin wreath printable before you leave!
Will you be attempting this Pumpkin Wreath Fall Craft?