Pumpkin Coffee Cake
A twist on an Austrian tradition - Pumpkin Coffee Cake - reminds me of Salzburg!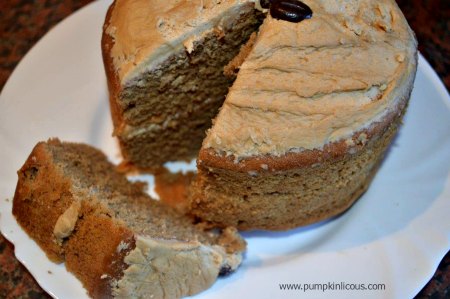 My brother used to live near Salzburg, in Austria. At the drop of a hat, I used to visit for lovely long weekends at his home in the mountains, wonderful in the summer, but quite hair-raising in the winter making the drive down to the town, particularly the way he drives!

One of the things we always used to do in town after shopping would be to stop in one of the glorious coffee houses – I swear that Austrian Coffee Houses are the best in the world – great selection of coffees and teas, plus wonderful pastries, desserts and cakes with no nonsense and totally indulgent ingredients!

We always sat in the window if there was space, but they were always the coveted seats where you could watch the world go by – the staff never hurried you, you could sit for hours with a couple of cups of coffee and the wonderful coffee cake, which is a speciality in Austria. These venues were never merely a place to sit and chat – there was frequently some kind of activity such as book readings, or a visiting live pianist.

In the summer months, you would sit outside in the town square and watch the world go by (whilst eating my coffee cake).  This is my Mum and I on one of our trips.  We both look rather young there, it was rather a long time ago now!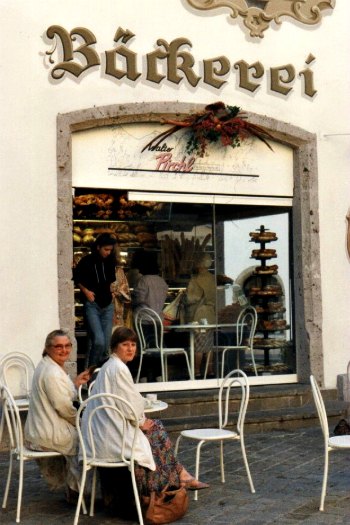 The waiters always served a glass of cold water with the delicious coffee and cake. I would always casually glance around the tables to see what people were eating – most would have coffee cake, but some would be munching on the equally traditional 'apfelkuchen' (apple cake).

Unfortunately, I never found pumpkin coffee cake – I just don't think it was on their agenda to mix anything with such a glorious piece of heritage….. but anyway, here is as close as I can get to their recipes, but using our favourite pumpkin.

Serves:        6-8

Preparation Time:  15 minutes

Cook Time:               30 minutes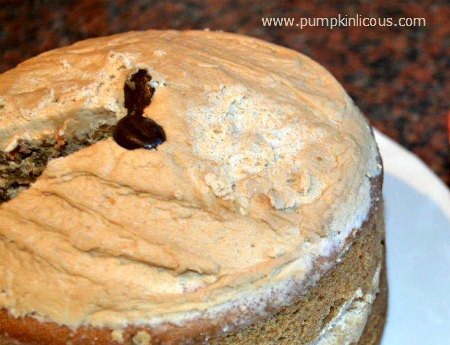 What you need for the pumpkin coffee cake: 
300g/10½ozs self raising flour
300g/10½ozs light muscovado sugar
2 teaspoons bicarbonate of soda
½  teaspoon salt
3 eggs, lightly beaten
75ml/3 fl.ozs espresso coffee (if you haven't got a machine, use strong instant dissolved in with hot water)
200g/7ozs melted butter
500g/ 1lb 2ozs pumpkin, grated

For the Coffee Buttercream

100g/3½ ozs unsalted butter
200g/7ozs sifted icing sugar
1 tablespoon coffee granules
1 tablespoon hot water

Decoration

Chocolate curls, walnuts, pecans – whatever you want.

How to make it: 
Heat the oven to 190ºC/375ºF/Gas Mark 5. Lightly grease 2 x 9 inch/ 23 cm round cake tins and line with baking parchment.

In a large bowl combine the flour, sugar, bicarbonate of soda, and salt.

Beat the eggs with the melted butter and stir in the espresso.

Combine the egg mixture with the dry ingredients. Stir the pumpkin in and mix well.
Pour into the prepared tins and bake in the pre-heated oven for approximately 30 minutes or until springy to the touch, or a skewer inserted into the middle of the cake comes out clean.

Remove from the oven and allow to cool for 3 or 4 minutes then turn out onto a cooling rack.

Take the coffee buttercream ingredients and whisk together using an electric hand whisk.

Spread or pipe buttercream on to one of the cakes. Place the other on top,  and decorate with more buttercream and with the chocolate curls, walnuts, pecans etc whichever you decide!
You don't have to be in Austria to enjoy this Pumpkin Coffee Cake! 
For more cake recipes click here
Return from Pumpkin Coffee Cake to Pumpkinlicious Home Page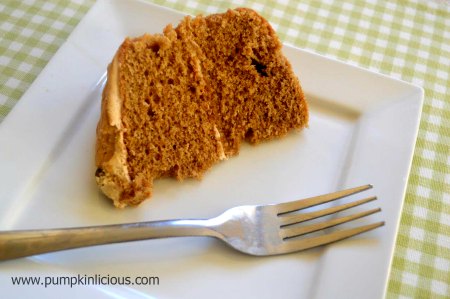 ---