Pumpkin fritters

Pumpkin fritters are a great way to use up left over vegetables, and make an excellent lunch, side dish or even a main meal if you incorporate some cheese, bacon or fish.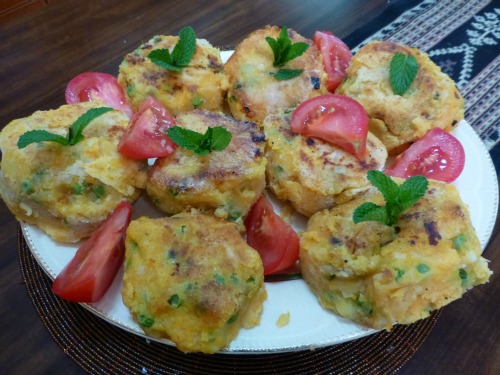 My wonderful mother made these for me while she was staying with us at Christmas. They were absolutely delicious and would be an ideal recipe for children or vegetarian friends.
They are even good enough dinner parties by adding salmon or fish or a nice roast lamb. Mum even wrote down how she cooked them for me and presented them on a beautiful plate so that I could take a nice photograph.

The only difficulty was deciding what to call them.  Are they pumpkin patties, or pumpkin fritters?   I shall just call them both!

So this is how she made the pumpkin fritters:

Boil together:

Five large potatoes – chopped into medium chunks
Half a small pumpkin – chopped into slightly bigger chunks than the potatoes (pumpkin cooks quicker)

When cooked, then mash them together thoroughly.

Add salt and pepper to taste.

Meanwhile fry together a few spring onions and two cloves of garlic (optional) finely chopped.

Cook a beaker full of garden peas or corn as well. You can do that in a cup in the microwave.

Add some fresh herbs finely chopped, basil or coriander or whatever you have in the garden.

Stir these ingredients into the pumpkin and potato mix.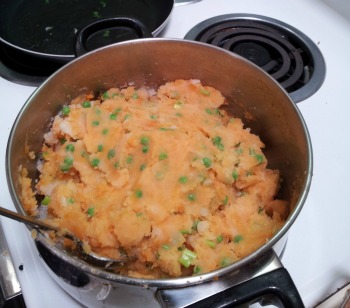 At this stage you can add either:
grated cheese-2 ounces
chopped cooked bacon-two rashers
or cooked flaked whitefish 2 ounces
or cooked flaked salmon 2 ounces

When the mixture has cooled at little,  flour a baking board.  Form the mixture into fishcake sized patties.  This makes nine fairly large pieces.

Coat each pumpkin patty in a layer of flour and heat some oil in a frying pan. Cook the fritters until golden brown.

Garnish with mint and serve with salad.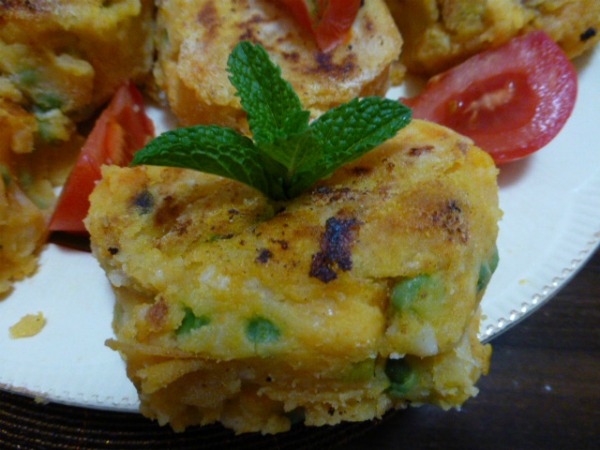 Thanks Mum, - these were fabulous and I will certainly be making them again. We hope you enjoy them too.  

Postscript – I made these with grated cheese and peas in the other night.  Just as yummy.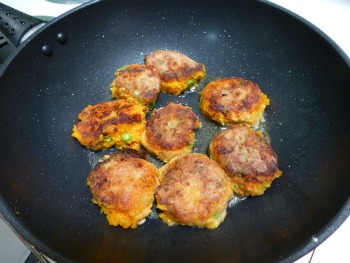 Postscript 2 – Mum says you can also make a pumpkin bake using the same mixture.  Put the mixture in a casserole dish.  Smooth over the top, cover with grated cheese and put in the oven for about 20 minutes at 200C or until the top is golden brown.

Return from Pumpkin Fritters to Pumpkin Recipes

Pumpkinlicious Home Page

---