About Me
I'm an English woman living in Australia.  I've also spent 8 years living in Spain.  I've been inspired by the culinary traditions of all of these places, and now, living with a partner who was born in Singapore have also had my eyes opened to the delights of Asian cookery.
I don't claim to be a great chef or inspired cook.  But I appreciate good and healthy food.  My own digestive problems over the years have led me to experiment with my diet, and I have discovered that one of the most healthy and digestible foods I can eat is the humble pumpkin.  When I lived in England, we didn't really have pumpkin.  It was mostly used as animal feed.  We had potatoes and rice and pasta.  Pumpkins were used somewhat in Spain, but it was really when I came to Australia that I discovered the joys of pumpkin. 
It all started with pumpkin soup.  Once I'd tried it I was hooked.  I virtually live on pumpkin soup in the winter now, and I find it so easy on my digestion.  Its so warm, comforting and satisfying, I wish I'd grown up on it as a child.  I even have a good friend who eats it for breakfast! 

I've since started using pumpkin in everything from bread to salads, pies and cakes to stews and more.
My interest in healthy eating started when I left home at 19 and started cooking for myself.  I even became a vegetarian for about 7 years.  I used to devour magazines and scientific studies on nutrition and became convinced that diet, along with exercise is the key to living a long and healthy life. 

I know that I feel so much better if I am eating well.  Its so worth while to make that extra bit of effort to grow some of your food, source your other ingredients as fresh as possible from local markets and organic growers, and to cook your food from scratch.  I almost never use processed foods or ingredients and find them artificial and unpleasant nowadays. 

I've been inspired by cooks such as Hugh Fearnley Whittingstall in the UK, who is an important advocate of organic and free range food, and Jamie Oliver, who is also a great ambassador for healthy eating.  Both have a relaxed and experimental attitude to cooking and rarely measure anything out.  My recipes tend to be fairly simple, easy to make and flexible.  I don't mind if people interpret them in their own way.  Lots of ingredients are optional, can be changed around or replaced. I believe in being creative and not getting too bogged down in detail. 

Obviously you do need to be a bit more careful to get the quantities right with baking breads, cookies, muffins and such like, but I only put in exact measurements when really necessary.  

I am passionate about the benefits of growing some of your own food.  There is no other way you can really get the best flavour and the ultimate in freshness.  When I was in my 40s I decided I needed to know more about plants, so I went back to university as a mature student and did a degree in horticulture. 

This has really helped me to get the best out of my garden, and has taught me lots of tips for getting the best out of my vegetables.  I use organic methods, as I don't like the thought of pesticide residues in my food.  Organic gardening is definitely the best way to care for the land and your soil for long term sustainability.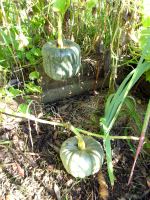 I also discovered that it is easy to grow pumpkins accidentally if you put the seeds when you cook pumpkins in your compost heap!  Here are a few that appeared in my garden when I used the compost to feed the soil. 

In the last couple of years I have found a wonderful outlet for my creative urges - building websites.  I knew nothing about websites and wasn't all that keen on learning complicated computer languages or anything like that.  So imagine my delight on discovering Solo Build It.  For an amazing bargain price, Solo Build It teaches you how to make a site using the most simple block building instructions, and what's more even shows you how to make some money out of it too! 
Pumpkinlicious is my second site, I've got an site about Art Deco too which is called Decolish. So I'm well and truly hooked. You can make a website about anything which you are passionate about. If you want to know more, just click on the link (SBI)at the very bottom of this page.
Happy cooking and gardening.  Oh, and don't forget to come back at Halloween for all those pumpkin decorating ideas. 



Return from About Me to Pumpkinlicious Home Page
---