Make one of these easy pumpkin recipes for supper and give your family a healthy treat! They'll love the flavor and you'll love the ease!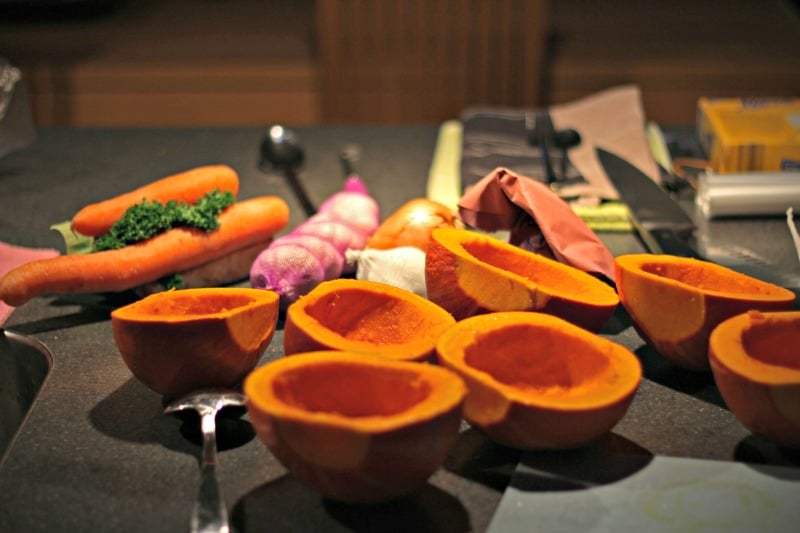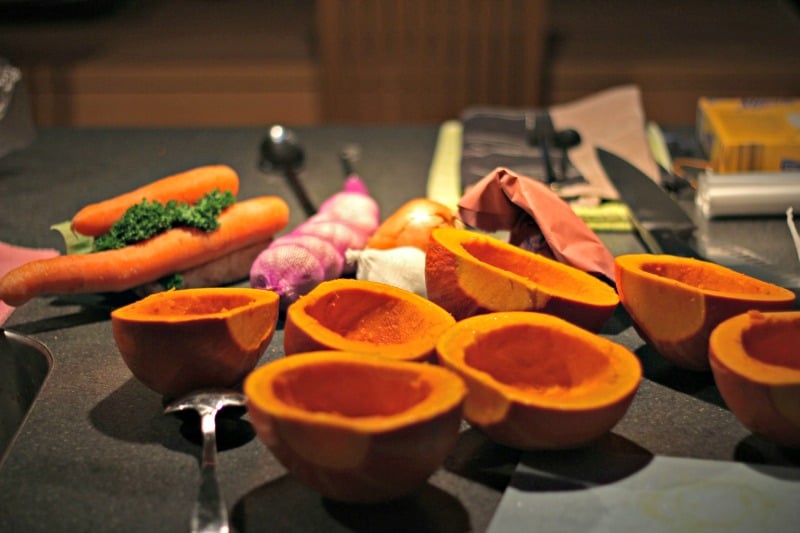 Use this healthy super food in so many versatile ways.
Pumpkin........... 
is high in beta-carotene 
is high in fiber 
has a low glycemic index
Below you will find some of the easiest pumpkin recipes which you can make regularly with easy to follow instructions for cooking pumpkin to use in recipes.
I always have some pumpkin on hand because it's so simple to turn into a great meal or treat. If I happen to want to bake it, I can then make some puree as well. It freezes well, so it's good to put small portions in the freezer for later use. These are my favorite freezer containers.
All of the recipes can also be made with canned pumpkin if fresh is not available. It has lots of vitamin A in it, and if you buy the organic variety shown here, you can be sure it is very healthy.
Many of the recipes are also gluten free. Pumpkin is a fantastic ingredient for those on a gluten free diet as it is great for thickening, and a good source of carbohydrate instead of bread.
For basic instructions for cooking pumpkin for use in recipes look at this easy guide to cooking  pumpkin.
Easy Pumpkin Recipes
Pumpkin Mash - Think mashed potatoes, but with a sweeter taste. So very simple!
Baked Pumpkin and Roasted Vegetables - Healthy and reach in flavor, this pumpkin recipe will be a winner every time.
Pumpkin Butter - If you've never tried pumpkin butter the time is now. It can be used on almost anything that you want to add a bit of sweetness to without all the extra sugar.
Pumpkin recipes for breakfast
Pumpkin Smoothie - Start your day off with a boost of energy and health with this simple pumpkin smoothie.
Pumpkin Cereal - Yes, you can even make pumpkin cereal as well! While it may not have that crunch, it still is a great and hearty breakfast for your morning.
Pumpkin Sausage Muffins - Add a bit of sweetness and protein to start your day with these simple pumpkin sausage muffins.
Easy pumpkin recipes for lunch
Pumpkin Dip Recipes - Pumpkin dip can be used for any type of veggies and is a great way to add some much needed nutrients!
Pumpkin Chutney - Tastes great with cold meats, and is also a nice gift to give during the holidays.
Pumpkin Salad - You can never go wrong with a nice, cool refreshing pumpkin salad.
Pumpkin Tortilla - Who says that tortilla's just have to be flour or corn?
Pumpkin recipes for dinner
Dinner in a Pumpkin - If you love pumpkin, why not eat your pumpkin...out of a pumpkin?
Easy pumpkin recipes for a snack
Roasted Pumpkin Seeds - Pumpkin seeds are a quick and healthy snack that are perfect for on the go!
No matter what time of day it is, you can find an amazing meal to use pumpkin in. Chunk it, puree it, or add it as a substitute to one of your favorite dishes and you'll be amazed at just how tasty and easy it truly is to cook with pumpkin.
Pumpkins aren't just for Fall cooking anymore either. It's never been more simple to head to the store and find a pumpkin, any time of the year.
If you can grow them yourself in your own garden, that's great! But, during those winter months when you've craving a delicious pumpkin soup, all you need to do is head to your local store and buy one from there (or go to your freezer if you saved some from when they were in season). Once you find a pumpkin to cook, you can use it so many different ways!