Pumpkin Chutney with Dates
I have to make a bit of a confession.  I've never made pumpkin chutney in my life!  But I'm going to start now!  My Mum's best friend makes amazing chutneys, so I asked her if she could make a pumpkin one and this is what she came up with.  It's fabulous. The aromatic combination of dates and spices is wonderful with the sweetness of the pumpkin.  Jars of this would make great Thanksgiving or Halloween gifts for your friends.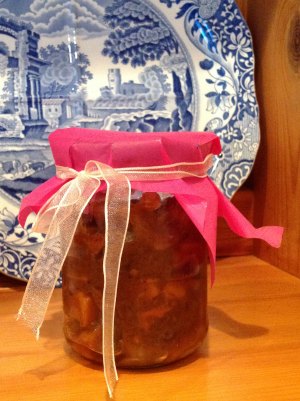 This recipe makes 3 250g jars.  Make sure the jars are really clean and warm them in the oven.

Ingredients:
1 cup malt vinegar
1/2 - 3/4 cup dark brown sugar
1/4 cup vinegar extra

1 onion - approx 70g chopped
Dates - 50g chopped in half
Pumpkin - 300g chopped in small dice

1 tablespoon cornflour
1 teaspoon curry powder
1/4 teaspoon nutmeg
1/4 teaspoon cinnamon
1/4 teaspoon ginger
1/4 teaspoon black pepper
1/4 teaspoon powdered mustard

Method
Make a paste with the cornflour and spices by adding the extra 1/4 cup vinegar and mixing until there are no lumps. 
Heat the vinegar and sugar and stir until dissolved.  Add the onion and pumpkin.  When they are soft, add the dates and cook until they are soft too, stirring often. 
Add the spice mixture and simmer until the chutney thickens. 
Pour into hot jars and cover. 
This keeps for ages, but it probably won't!  It's far too moreish. Serve with cold meats, sausages, hamburgers, Ploughman's lunches, cheese, sandwiches, curries and salads.  There must be more things you can eat it with, but that's all I can think of just now.  Thank you Elizabeth for inspiring me with this wonderful recipe. 

For more recipes, go to Easy Pumpkin Recipes. 
Return from Pumpkin Chutney to Pumpkinlicious Home Page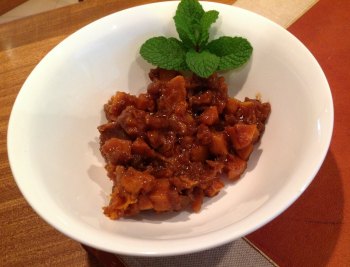 ---