Baking Pumpkin and Roasted Vegetables
Baking Pumpkin and Roasted Vegetables for a Winter Feast.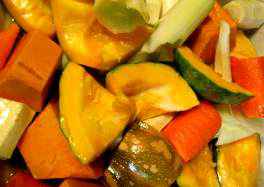 One of my favourite things is putting a big dish of root vegetables in the oven with a roast or a casserole.  Along with a sweet baked pumpkin, I adore a soft baked potato, a caramelised parsnip, a soft green zucchini or a glistening carrot. When you have them all together, it is just vegetable heaven!  Some of the other vegetables I can't live without with my oven roasted pumpkin are leeks, sweet potatoes and onions.


The trick to getting a combination of perfectly roasted vegetables is in the chopping.  ?????? I hear you ask. Well, there is method in my madness.  Each root vegetable needs a slightly different cooking time, but I'm certainly not messing about putting them all in at different times. So, the ones that take longest to cook – for example the carrots and parsnips -  need to be cut smaller than the ones which cook more quickly.  The one which bakes fastest tends to be the pumpkin, so chop that into large chunks.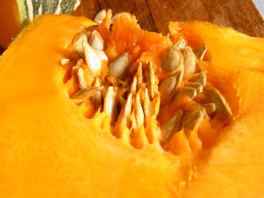 Sweet potato and potato are in the middle, so I cut large potatoes into 4, or smaller ones into 2, and do the sweet potatoes about the same size.  Leeks, zucchinis and onions can be left whole or just halved.  The last thing I add is a few cloves of garlic with the skin left on.  These are utterly devine when you squeeze the flesh out of the dark brown pockets of creamy heaven they become when they are done.  

I like to cook my roasted vegetables in a large flat enamel roasting pan.  Put all the vegetables you have chosen into the pan, and sprinkle liberally with extra virgin olive oil.  Then I make sure all the pieces are coated using my hands.  And yes, olive oil is great for the hands, so you get a beauty treatment at the same time! You will need to give your hands a good wash afterwards, but you'll still notice the benefit, especially if you grind some sea salt onto the veggies and your hands at the same time!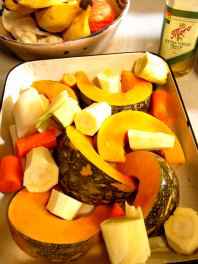 Finally, you can choose some fabulous herbs to toss on top, and you will get the most wonderful aromatic fragrances wafting through your kitchen while you are baking your pumpkin and veg.

My favourites are rosemary, thyme, sage or oregano. Baked pumpkin and root vegetables go with all sorts of delicious dinners.  Whether you put a roast chicken or joint in the oven when you are baking pumpkin, or cook some lamb chops or steak on the barbeque, roasted vegetables will go with virtually anything. 

And they are even better as left-overs.  For a filling vegetarian supper, I will often grate some cheese onto some roasted vegetables from the night before, and heat it up in the microwave. 

Bliss. 
Return from Baking Pumpkin to Easy Pumpkin Recipes
---