My Pumpkin Cookie
Recipe Selection

A delicious pumpkin cookie recipe will please everybody regardless of the season.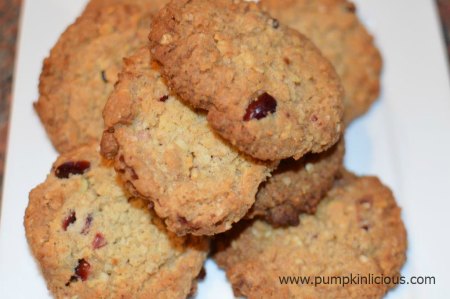 Pumpkin is naturally rich in fibre but you can add more by using whole-wheat flour as well as adding a variety of nuts or nut flours. This is another reason I like pumpkin cookies so much--I don't feel guilty when I eat two, three sometimes four of them at once!

On this page, you'll find links to spicy, chewy and soft pumpkin cookies.  Chocolate, fruit, nuts, and other yummy flavours will all feature, so choose what you love most.  You can also submit your own favourite pumpkin cookie recipe and make your very own website page!  See the form below! 

Here is a selection of recipes for you! Below are some more ideas for experimenting with your own variations depending on what you have handy in the larder and your own favourite flavours.  And don't forget to see what other readers have suggested at the bottom of the page! 

For lots more choices check out our readers submissions below!

You can also make pumpkin shaped sugar cookies using a cutter like the one below.   Cutters are available in all sorts of different shapes for Halloween or for whatever theme you desire.  If you click on the cutter, Amazon will show you lots of other types to choose from too! 

Any of the recipes above can be used to make iced pumpkin cookies as well. 
Cream cheese is a great topping.  For those who love icing though, here is an optional glaze:

Combine three tablespoons of milk, one teaspoon of vanilla extract, two cups of icing sugar and one tablespoon of melted butter in small mixing bowl. Mix until smooth. Drizzle over cookies after they have cooled.   A bit sweet for me, but kids will absolutely love it. 
Why not include fruits such as dehydrated cranberries and raisins into pumpkin cookies. It's hard to imagine them being any more delicious than they already are, but when I put a bag of sweet, juicy raisins into one of my recipes, I couldn't believe how good they tasted with a cup of coffee.
I've added pecans, walnuts and almonds before now too and have ended up eating far too many at one sitting.

Don't forget to come back and tell us about your favourites!  And check out our readers creations at the bottom of the page! 
Do you have the best pumpkin cookie recipe?
Have you got a popular pumpkin cookie recipe that we will all love? Do your family ask you to make it again and again? We'd love you share it with us here. It will appear as your own webpage forever on this site. Once you have submitted your recipe, your friends will be able to visit and comment and share it. Maybe they will join in the fun too and add one of theirs. You can add a photo of your yummy biscuits too if you like. A phone pic will do!
Other Cookie Recipes from Our Readers
Click below to see fabulous recipes from other readers...

My Special Iced Pumpkin Cookies Not rated yet
Iced Pumpkin Cookie Recipe This is my favourite one, I hope others will like it too. Preparation time is 30 minutes and baking time is 15 minutes. This …
Return from My Pumpkin Cookie Recipe Selection to Pumpkinlicious Home

---