My Special Iced Pumpkin Cookies
by Maggie
(Ohio)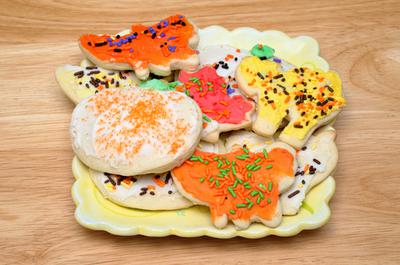 Pumpkin Sugar Cookies for Kids
Iced Pumpkin Cookie Recipe
This is my favourite one, I hope others will like it too.
Preparation time is 30 minutes and baking time is 15 minutes. This recipe provides about six dozen cookies and requires the following ingredients:

• 1 cup of fresh cooked and pureed, or canned pumpkin
• 2 cups of all-purpose, unbleached flour
• 1 cup of granulated sugar
• 1 cup of unsalted butter
• 1/2 teaspoon of baking soda
• 1 teaspoon of baking powder
• 1 medium egg
• 1/2 teaspoon of salt
• 1 teaspoon of vanilla extract
• 1/2 teaspoon of nutmeg
• 1 teaspoon of cinnamon
• 1 cup of raisins
• 1 cup of chopped walnuts

Ingredients for the icing:
• 3 tablespoons of orange juice, rum or whipping cream
• 2 cups of confectioner's sugar
• 1 teaspoon of vanilla
• 1/4 cups of softened butter

Preheat your oven to 350 degrees F. Mix the cream sugar and butter until fluffy and smooth in large mixing bowl. Next, add vanilla, pumpkin and egg to the butter and sugar, mixing all ingredients together until well blended. Combine baking soda, baking powder, nutmeg, flour, salt and cinnamon in small mixing bowl. Add raisins and nuts to this mixture. Finally, combine all ingredients in large mixing bowl before dropping teaspoonfuls of the batter on wax-covered cookie sheets. Make sure to leave two inches between unbaked cookies. Bake until golden brown, around 14 minutes.

To make the icing, cream together butter and confectioner's sugar and then add vanilla and choice of juice, rum or cream. Beat until smooth. Add more sugar if the consistency of the icing is too runny. If it is too thick, add more rum, juice or cream. Drizzle the icing over the cookies once they have cooled.

Once I made these for a kids party, and with a bit of food colouring and sprinkles was able to make them look quite fun!