Pumpkin Chocolate Chip
Cookie Recipe

I have a serious weakness for chocolate and I think you know by know I like baking with pumpkin, so I decided to make a pumpkin chocolate chip cookie recipe.  I also gave in to the temptation of popping a few chips in my mouth as I mixed the recipe! I had never considered combining pumpkin with chocolate before and the results were more than satisfying. Delicious with milk, tea or coffee, I am positive you will fall in love with this recipe as much as I have.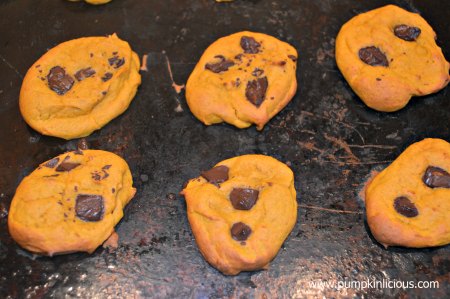 It is hard to believe that somebody actually invented chocolate chips, but they did! You would have thought that it was an obvious thing to add 'little bits of chocolate' to something sweet, but there is one lady who lays claim to this 'invention'. In 1937, Ruth Graves Wakefield added little pieces of chocolate to her cookies.
She eventually sold her idea to Nestle, who rewarded her with a lifetime supply of chocolate!  A few years later, Nestle (who had obviously ensured they had the patent) started to sell chocolate chips as a separate product, but also manufactured 'Toll House Cookies' – The Toll House was where Ruth came from, in good old Whitman, Massachusetts. Whether Ruth eventually died from over indulgence of chocolate, is not recorded anywhere!

Ingredients:

250g/9oz pumpkin puree
200g/7oz caster sugar
125ml/4fl.oz vegetable oil
1 egg
250g/9oz plain flour
2 teaspoons baking powder
2 teaspoons ground cinnamon
1 tsp ground ginger
1/2 teaspoon salt
1 teaspoon bicarbonate of soda
1 tablespoon vanilla extract
325g/12oz chocolate chips
55g/2oz chopped walnuts, finely chopped (optional)
 

I find that I seem to get 'messier' when I use chocolate chips – no idea why, but they end up stuck and melted to parts of my clothes and anatomy after just dealing with them for a few minutes! Particularly the sides and palms of my hands I have to say. Any ideas about this strange occurrence?

I prefer to use dark chocolate chips, but of course you can use milk ones. The depth of flavour from the slightly bitter dark chocolate I find more satisfying than the sweeter, creamier flavour of the milk ones. Again, it's a personal preference, so use whichever ones you want.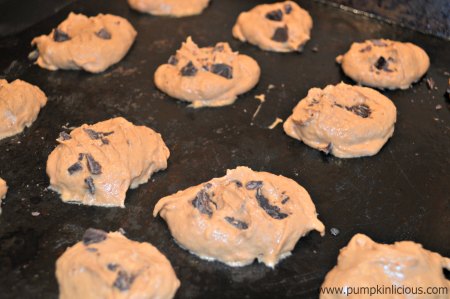 I have used the 'drop' method for these cookies, they deserve that bit more chewiness than rolling out cookies and cutting them, besides which, the mixture is that bit more moist than the standard pumpkin cookie recipe shown before. Don't worry if some of them are a bit misshapen – they still taste good and they all go down the same way!  We have added some finely chopped walnuts, but hazelnuts or even almonds if you like the taste will be just as yummy.
Finally onto the method for the Pumpkin Chocolate Chip Cookie Recipe:

Serves: 12 large or 20 smaller cookies       
Preparation Time: 10 minutes
Cook Time:       10-12 minutes      


Heat oven to 180°C/350°F/Gas mark 4 and lightly grease a baking sheet.

Make sure you have two bowls to start. In one bowl, mix together the pumpkin, egg, sugar, oil and vanilla extract. In the other bowl, mix the flour, salt, ginger, cinnamon, baking powder and bicarbonate.

Add the dry ingredients to the wet, stirring thoroughly, then add the chocolate chips and chopped nuts. Stir to mix through.

Using a large spoon, 'drop' the mix on to the baking tray. Make some little 'ridges' on the top if you like biscuits to look more 'rustic'.

Bake for 10-12 minutes or until lightly golden brown and firm to the touch. Remove from the oven and allow to cool.


Store your pumpkin chocolate chip cookies in an airtight container for up to 4/5 days.  Doubt they'll last that long though!

For lots more pumpkin cookie recipes – click here

Return from Pumpkin Chocolate Chip Cookie Recipe to Pumpkinlicious Home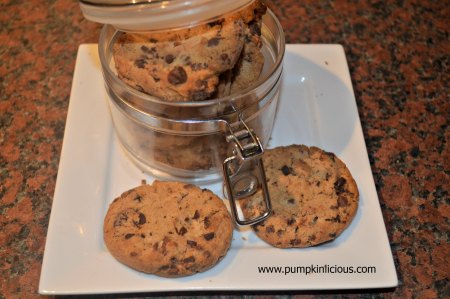 ---