Pumpkin Spice Cookies
- Warm and Aromatic

These pumpkin spice cookies are really quick and easy!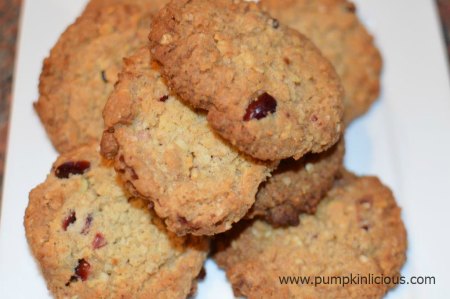 Hmm – what shall I have with my cup of coffee this morning?  Do I fancy crunchy biscuits, or a nice chewy cookie? The chewy ones won on this occasion – I hadn't spoken to anyone today, so I felt my 'jaws' needed a bit more exercise!
I do love an old-fashioned soft and chewy cookie – after all the word 'biscuit' means 'twice-baked' in French, so why wait all that time to cook something twice when it tastes just as good cooked in a shorter time! One of my friends reckons that these pumpkin spice cookies with a glass of milk after school keep her children quieter for longer – so double bonus!

Serves:    36 cookies       
Preparation Time:    10 minutes
Cook Time:        15-18 minutes
Ingredients:
1 cup/225g/8oz pure pumpkin
1 large egg
2½ cups/300g/11oz of all purpose flour
1 tsp baking soda
1 tsp baking powder
1 tsp vanilla extract
1 tsp cinnamon
1 tsp nutmeg
½ tsp salt
1 ½ cups sugar (granulated)
½ cup butter, softened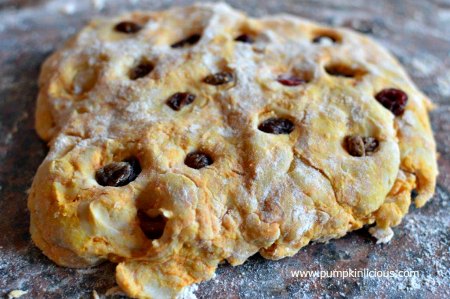 Method:
Heat oven to 350°F/180°C/Gas mark 4. Grease 2 baking sheets.
Mix together the flour, baking soda and baking powder, cinnamon, nutmeg and salt in a bowl.
Beat the sugar and butter together either by hand or with a mixer until completely blended (no lumps of butter visible).
Add the pumpkin, egg and vanilla extract and beat until smooth. Slowly add in the flour and mix well.

Bake for 15 minutes or until the edges of the cookies are set firm (up to 18 minutes).
Cool for a few minutes, and then remove and place on wire racks.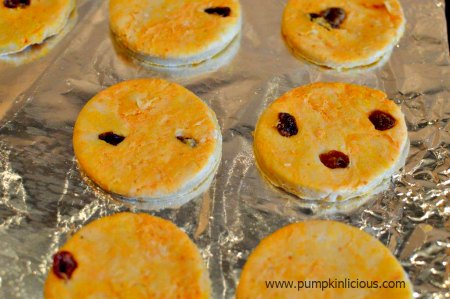 Alternatively, you can shape them using a Pumpkin Shaped Cutter for a party or Halloween! 

The cookies can be kept in an airtight container for several days, as they are supposed to be chewy!
Tip: Try adding a little mixed fruit or some chopped glace cherries or dried cranberries for a change. Alternatively, for more spice, add ½ tsp of ground ginger.

So as I am chewing away on the first batch I made this morning, my mind started to wander (as it does frequently) as to why 'cookies' are called cookies on the internet – you know, those things that appear on your screen saying 'this site uses cookies' – and then asks you to disable them if you don't want them, and vice versa. 
Rumour has it that it was based on the Hansel and Gretel fairy tale, where they used cookies in the woods to trace where they had been, so they could follow their own footsteps so to speak.  Now that is a fairy tale! I think I prefer the Cinderella fairy tale – turning a pumpkin into a golden carriage and mice into horses... But back to the gorgeous smelling and tasting Pumpkin Cookies, and excuse the ramblings of a pumpkin mad woman!


For my complete Pumpkin Cookie Recipe Selection and ideas for icing and frosting
Return from Pumpkin Spice Cookies to Pumpkinlicious Home Page
---