Choose a yummy Pumpkin Cake Recipe from our collection!

What do you look for in a pumpkin cake recipe?  Share your favourites in the form below.  Meanwhile, I've chosen some of the ones I like best and tried them out for you.  Pumpkin, like carrot or zucchini is a great ingredient in cakes, as it makes them lovely and moist and gives them a warm and appetising orange glow.  Additions such as spices, chocolate, nuts or fruit give them another dimension.
And we mustn't forget the delights of pumpkin cheesecakes!  Heaven on a plate!  Here are some recipes for you, and below are a few more ideas for Halloween or kids' parties and a couple of scrumptious icing recipes. 

How to decorate Halloween Cakes

Since I am artistically handicapped, I draw the pumpkin face on wax paper first then place the paper over the pumpkin cake. Using stickpins, I mark the design on the top of the cake and decorate with icing. I make two or three cakes using a different pumpkin cake recipe each time, and let my nieces and nephews decide what kind of funny or scary pumpkin face they want to put on them.
Baking several pumpkin cakes in one afternoon creates such a wonderful, spicy, delicious smell that I wish I could bottle it up and save it for times when I want to breathe in that aroma and think about my favorite time of the year!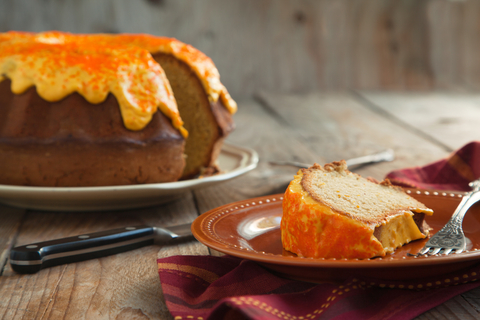 Bundt cakes - for added kiddie appeal!

For added kiddie appeal – make a pumpkin cake recipe with a Bundt cake pan because the hole in the middle of the cake allows you to put some extra treats in this space if you are taking the cake to a party or get-together. For example:

For a Halloween party, you can put pumpkin candies or candy corn in the middle as an added treat.
For Thanksgiving, you could put walnuts in the Bundt cake pan hole for those who like a nutty flavour along with their pumpkin cake.

For kids' birthdays, a pumpkin Bundt cake with cream cheese icing and jelly beans or bubble gum drops in the centre would please! 
Caramel Icing

Homemade caramel icing is my favorite icing to use on pumpkin cakes.

It's very easy –

1 ½ cups brown sugar and 2 tablespoons of butter.  Melt together with a ¼ cup of milk or evaporated milk.  Boil for 3 minutes.  Add a few drops of vanilla essence.  Allow to cool a little and beat to smooth consistency before spreading over your cake.  If it's a bit thick just add a little more milk. 

Add a scoop of vanilla ice cream and you've got a delectable dessert or yummy late-night snack.

Cream Cheese Icing

Beat together a 250g pack of your favourite cream cheese with 4 tablespoons of icing sugar.  Add a couple of teaspoons of grated lemon or orange zest for extra zing!  This will cover a 20cm wide round cake or all the way round a loaf shaped cake. 
Also try some of the sweet pumpkin bread recipes!
Do you have a favourite pumpkin cake recipe?
Have you got a special pumpkin cake recipe that we will all love? Why not share it with us here, and we can all try it too? Once you have created your page, your friends will be able to visit and share it with their friends and family too. Maybe they will join in the fun too and add one of theirs. You can add a photo of your creation too if you like. It doesn't have to be an amazing shot, just take one with your phone!
For more super recipes, visit Pumpkinlicious Home Page! 

---