There are two types of pumpkin bread recipes: those that you eat with soup or savory dishes, or those which are more like cake. The sweet pumpkin breads usually contain sugar or honey.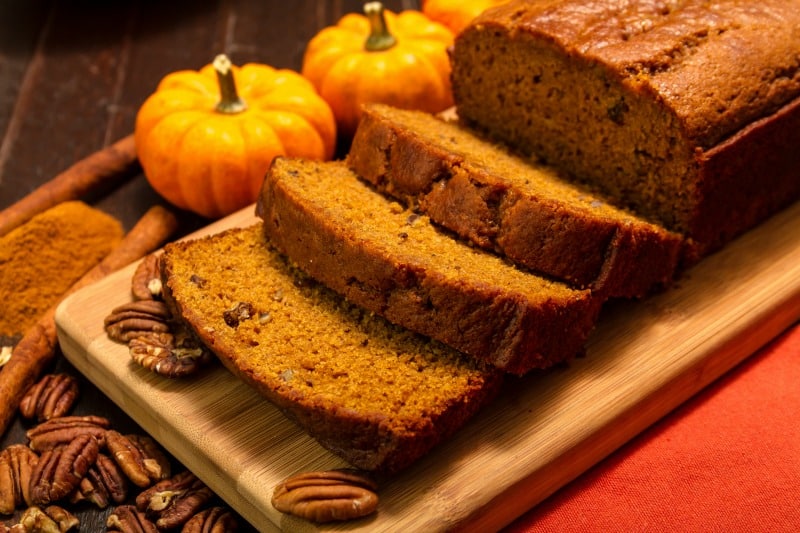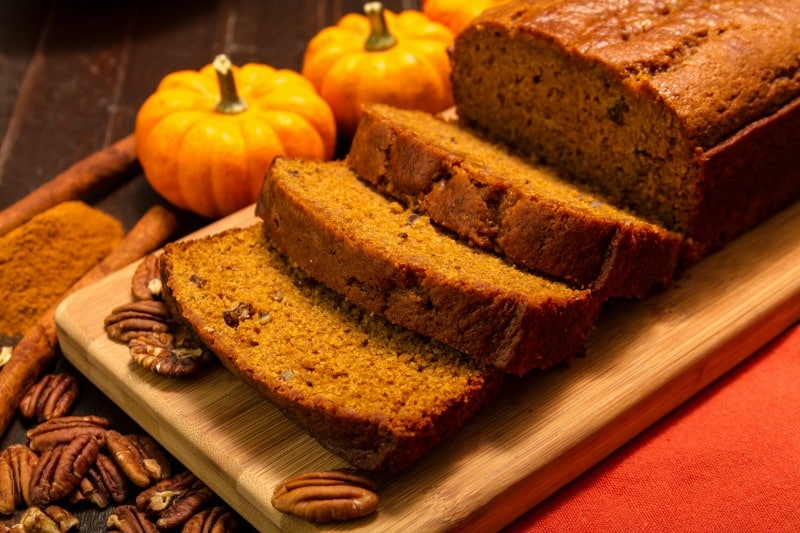 There are lots and lots of different combinations of both types of homemade pumpkin bread. Recipes also include unusual breads such as the Australian damper, which can be made on a barbecue. I've tried out a few, and will share them with you below.
Many of them are so easy you can make them in one bowl without a mixer and some can even be made in a bread machine.
A piece of warm pumpkin bread, whether a sweet one or not, and a cup of pumpkin spice latte or pumpkin spice coffee taste fantastic at any time of the day.
Savory pumpkin bread recipes and what to eat with them
Why would you bother to make a pumpkin loaf anyway?
Well, home-made bread is one of life's greatest pleasures, but when combined with the moist, warm orange glow of pumpkin it is sublime.
Pumpkin also adds fiber and lots of useful vitamins and minerals. It makes a lovely change and will impress everyone.
I love breads which include olive oil, nuts or pumpkin seeds, or even olives. These go beautifully with all kinds of soups, even with my special roasted pumpkin soup it's not overkill.
Try a few of these and see which one is your favorite. If you've got one you'd like to share with us, why not submit it below and we can all try it out.
Pumpkin Corn Bread - a classic, great with Chill
Fresh Pumpkin Bread with Herbs -Made in one bowl without a mixer – too easy for words!
Bread machine Pumpkin Bread - This one is also ridiculously easy!
Gluten Free Pumpkin Bread - moist and delicious with almond meal and orange
Sweet pumpkin bread recipes and what to eat with them
I've seen sweet pumpkin breads with chocolate, banana, raisins, dates, pumpkin pie spice, all kinds of nuts, honey, maple syrup. The world is your oyster.
They are great for a mid morning snack with coffee or for afternoon tea.
Here are a few of the ones I like best:
Pumpkin Cranberry Bread - wonderful for Thanksgiving or Christmas
Pumpkin Pecan Bread Recipe - A lovely warm spicy bread with pecans or walnuts made in one bowl without a mixer.
Chocolate Chip Pumpkin Bread - a sneaky way of getting some chocolate into a health treat
Banana Pumpkin Bread - moist and deliciously good for you
Tools You Need To Make These Pumpkin Bread Recipes
Pyrex Prepware 3-Piece Glass Mixing Bowl Set
Hamilton Beach (29882) Bread Maker, 2 Pound Capacity
Silicone Bread and Loaf Pan Set of 2 Red, Nonstick, Commercial Grade
And now, your turn! Do you have a family recipe that has been handed down for a wonderful pumpkin bread? Please share in the comments or email us the recipe and a few picture and we might add them to the site 😉
Do you like the sound of these Pumpkin Bread Recipes?