Your Pumpkin Recipes and Stories
I'll bet your recipes are the best!

This is where you get to be creative. Since I am only one person, and will never manage to get every possible pumpkin recipe and idea onto this site, I am hoping that you, my readers, will share your wealth of cooking knowledge and experience and share your best efforts with the rest of the world.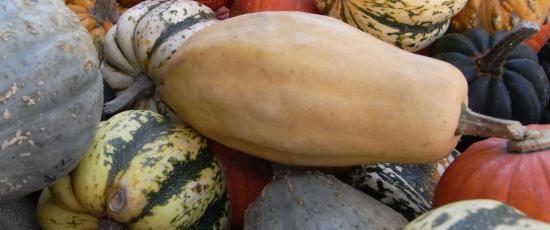 All you have to do to share your recipe is three simple steps:

   1. Type in the ingredients
   2. Tell us how you made it
   3. Tell us a story about who you made it for or why you like it, or
    what reaction you got when you served it up!

Don't forget to let us know what oven temperature it needs to go on, how many people it serves and perhaps an idea of how long it takes.

If you've taken a quick photo or snap or your wonderful creation, you can easily upload that too.

Your recipe or story becomes a page on this website. Your friends can come in and comment on it, and so can everyone else.

So don't be bashful, I bet you make the best pumpkin recipes in your neighbourhood and it would be a crying shame if we couldn't all have a try.

If your recipe falls into one of the following categories, then go into those pages and add your recipe there in the form provided. Otherwise, submit your pumpkin inspiration in the form on this page.


We'd love to hear your comments on any of the recipes and what you thought of them.


Your Pumpkin Soup Recipes
Your Halloween Recipes

PS: If you've had a great Halloween party and have made some decorations you are really proud of, you can share them here:

Your Halloween Decorations


What's your Best Pumpkin Recipe?
Are you proud of your cooking? Have you got a special pumpkin recipe to share with us? You can tell us any pumpkin related story here you like.

You can create your own website page right here on Pumpkinlicious to share your recipe and receive comments from others.

Just follow the easy prompts.
Return from Your Pumpkin Recipes to Pumpkinlicious Home Page

---