Halloween Pumpkin Patterns
These Halloween pumpkin patterns will really inspire you to make this year's Halloween yard decoration one to remember.

Buy fabulous cheap patterns below.

It's always difficult to come up with new Halloween decorating ideas year after year, so here you will find a little inspiration to help you with your Jack o'Lantern designs. Carving pumpkins has a long tradition, and this lovely old advert shows just how it has been done for a long time. With a large carving knife in the kitchen!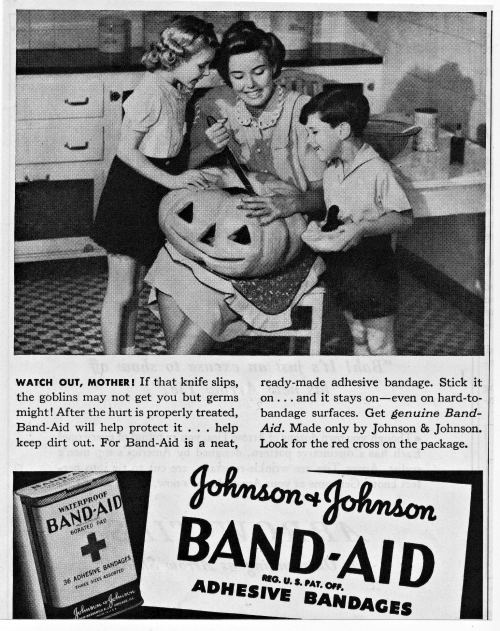 But of course, they would definitely have needed the band aid doing it like that!  You can now get special pumpkin carving tools which are much safer and efficient. See further down the page....

Choosing Halloween Pumpkin Patterns

Children always love scary pumpkin designs with ghostly faces lit up from within.  Those are the easiest and quickest Halloween decorations to make.  You can draw your own, or get one of the widely available scary pumpkin templates.  A more adult alternative is to decorate your pumpkins with more abstract designs. Scrolls or interlocking lines, cut with a wood working or lino cutting tool would look very stylish. 

How to carve a pumpkin
 
First you will need a design.  You can make your own Halloween pumpkin patterns very simply and easily.  Check out some ideas for free pumpkin stencils here or if you want to be really competitive, have a look at some of the pumpkin decorating kits that are now available to choose from.  You can also get themed stencils such as disney pumpkin patterns. 

Once you have chosen your design, whether you have made it yourself, or you have bought or downloaded a stencil, you will need to transfer your Halloween pumpkin pattern onto a pumpkin.

Choose your pumpkin

The best pumpkins for the job, are those with a fairly hard skin that won't collapse too easily.  Choose a large one with a nice flat base, and a good round shape if you're doing a face. Try and get one which has an even colour which will look best.  Make sure the pumpkin is not bruised and has no signs of mold around the stem.  It won't last very long if it has already started to rot.  It might be a good idea to have a spare as backup in case of breakages or mistakes.  

Making a Jack O'Lantern

For a lantern you will need a large enough pumpkin to fit a candle inside, - though the fairly small tea lights will do and be the safest.  You can also use Christmas lights or an electric bulb if you cut a hole out of the bottom for the cable to go in.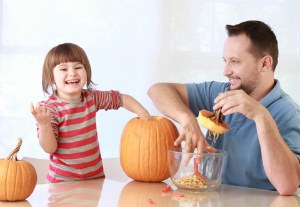 Cut a lid out of the top of the pumpkin, making 5 or six straight cuts angled inwards so that the lid doesn't fall inside the pumpkin.  Alternatively, you can just cut a hole in the bottom and place the pumpkin over the candle, but you must take care that the candle or light doesn't burn the top inside or you will ruin your beautiful decoration. 
TIP:  Cut a hole in the top back of the pumpkin and it will act like a chimney, taking the heat away from the candle.
Clean out the seeds and scrape away the flesh with an ice cream scoop or scoop from your kit.  Leave about a thickness of 1 inch all the way round.  For a final touch, when you light your lantern, sprinkle some pumpkin spices, nutmeg and cinnamon on the inside of the lid, and you will get wonderful autumnal, spicy scents as the candle burns.

Cutting the design

For a lantern, you will need some large holes to let the light through.  Most are eyes, nose and mouth for a face.  The trick is to leave plenty of space between each feature, otherwise you can weaken the structure of the pumpkin and it will break.

Large holes are best cut with a hack saw blade, or a specialist pumpkin decorating tool. 

Other features such as eyebrows and wrinkles can be done with lines which do not go all the way through, but just scrape the top layer of skin away from the pumpkin. You can still see a little light through those lines.  They can be done with wood working or wood carving tools, or with a purposely designed pumpkin carving tool.  You can make these lines deeper by cutting one line and then cutting another to meet it to form a V shaped groove in the pumpkin skin.

Using a stencil

Tape your Halloween pumpkin pattern onto the pumpkin and transfer the design by piercing the lines at 5mm intervals so that you get little dots on the pumpkin to show you where the lines go.  Once you take away the stencil, you can join the dots with a marker pen to make it easier to see. Colour in the parts that need to be cut away so you don't make any mistakes.  

Other design ideas 

You don't have to stick to the traditional mask design for your Halloween pumpkin patterns.  Cat faces are an easy option, or you can make a witch or a ghoul or other animal.  Find some ideas in your favourite story books, and copy onto tracing paper.  You can also decorate a pumpkin without carving.  Have a look at these Halloween Decorations to Make with Pumpkins.

Preserve your Halloween pumpkin patterns

To make your carved pumpkin last longer, spray with water containing a little bleach.  You can wrap it in cling film and put it in the fridge when not in use. 

Alternatively, you can rub the edges with a little petroleum jelly or vegetable oil which will help it stay fresh. 

If your beautiful pumpkin is shriveling and you'd like it to last a bit longer, you can try soaking it in water for 2 hours.  Then take it out and give it a good dry inside and out with a towel.  That way you might be lucky and get a couple more days out of it.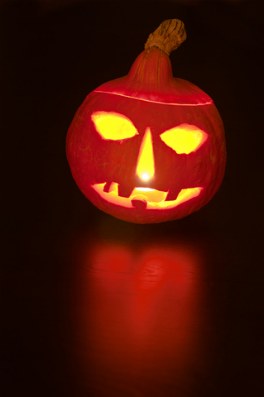 Why not take some lovely photos to keep your creative work for ever?  If you're taking the photos in the dark, you'll need a tripod to get the best pictures.  A flash gun never works as well as capturing the colours and can create reflections and shadows. 

As well as carving, there are many other pumpkin themed craft items you can make.  On Amazon below you can find knitting patterns for pumpkin toys, or sewing patterns for Halloween costumes.  Let your imagination run riot!
The following items are all available from Amazon.  Links will go to your local Amazon store.  
Now you've got a beautiful yard full of Halloween decorations and scary pumpkin lanterns, and your gifts and costumes are all sorted out, what are you going to cook for the party?  There are some great pumpkin recipes to complement your decorations on this site. Have an explore from the left hand column and make some spicy festive pumpkin pies or cakes! 
Return from Halloween Pumpkin Patterns to Pumpkinlicious Home
---