My list of dinosaur pumpkin carving patterns are sure to make your Jack O Lantern roar this Halloween! Choose from some easy pumpkin stencils and more advanced pumpkin carving designs.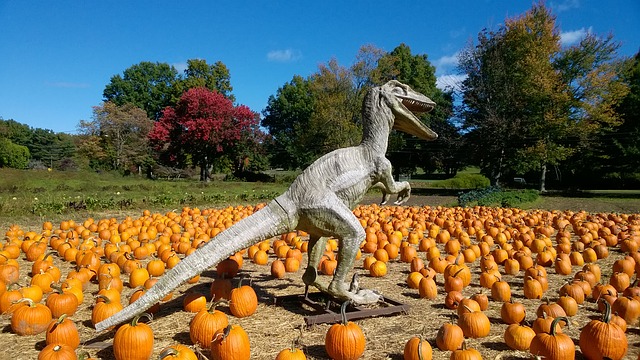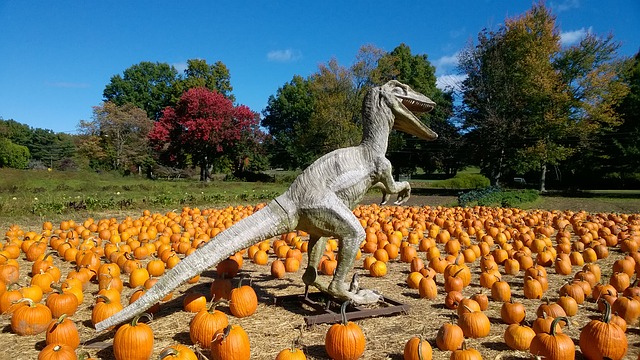 Dinosaur and pumpkins, every little boys dream this Halloween!
This is so much excitement in our house because it is only a few weeks until Halloween! My little boy is requesting lots of different Jack O Lanterns this year!
He has specifically asked for T Rex Pumpkin Design!! I did suggest we paint some pumpkins bright green and add some pretty dinosaur stickers but this is not going to cut it for him! He is insisting I use an awesome Dinosaur pumpkin stencil. I mean he wants to have the best dinosaur pumpkin in the class!
Obviously being a pumpkin fan and having access to lots of advanced pumpkin carving patterns means I can totally deliver on this front (provided I have enough time).
Now while I could come up with my own dinosaur pumpkin design I decided to see what the top guys were carving and share them here.
Easy Dinosaur Pumpkin Carving Patterns
While it does look great to have a wonderfully carved Jack O Lantern let us face it, most of us just do not have the time to do so. For this reason I decided to come up with a list of easy Dinosaur pumpkin carving patterns. These should take less than 30 minutes to complete and are perfect for last minute or if you just simply do not have the time.
One of the simplest ways to do a dinosaur pumpkin is simply by carving the initials i.e. T Rex. You could paint it different shades of green and carve these 4 letters. This could easily be done in 30 minutes.
I also found a great Disney Pumpkin Carving Pattern from The Good Dinosaur Movie. I love this as it looks quite simple. It involves the outline of the dinosaur and you do not have to worry about doing the individual teeth, which is very time consuming. It shows you how to carve Arlo onto a Jack O Lantern. Highlights Along The Way is responsible for this fabulous Jack O Lantern idea.
Best Places to Find Dinosaur Pumpkin Carving Stencils
I found a large selection of free Dinosaur Pumpkin stencils on Woo Jr website. They had individual stencils for 6 different types of dinosaur including T Rex, Triceratops, and Brontosaurus. I would rate these as quite difficult but they are not as tricky as those featured in my advanced pumpkin carving templates.
One of our favorite movies ever is Jurassic Park. Every dinosaur fans adores this movie that's for sure. I had to share this awesome Jurassic Park Pumpkin Carving video with you all. It looks extremely difficult but if you have some time to spare I am pretty sure everyone will appreciate this.
I found a great cheerleader Dinosaur pumpkin carving template on the PBS for parents site. It looks as if the dinosaur is raising his arms in the air in celebration. The stencil is free to print and I would rate it of average difficulty. Please remember that professional pumpkin carving tools may it much easier to carve as opposed to blunt knives in your kitchen drawer.
Do you like these Dinosaur Pumpkin Carving Patterns?