There are so many ways to decorate pumpkins in the run up to Halloween. One of my most common queries is how to make a Pumpkin unicorn. These are immensely popular with all ages. Use them for porch decor or anywhere inside the home. Some are crafts with real pumpkins whereas others use faux pumpkins which can be purchased from the dollar store!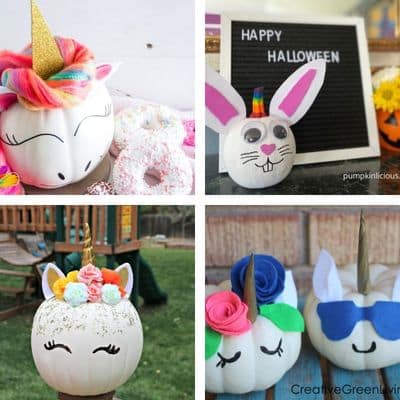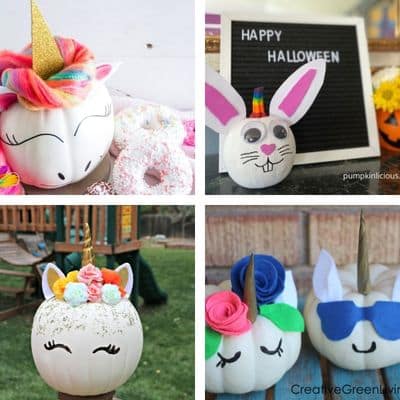 Unicorn pumpkin ideas are all over the internet and fortunately I have some of the best paintings. At the bottom of the post I have also sourced some free pumpkin stencils to help you create a Jack O Lantern if you prefer doing this.
Everyone likes novel suggestions and hopefully some of these will fit the bill!
Toddler and preschool unicorn pumpkin ideas could include them coloring in a horn and headband and attaching it to a pumpkin.
See how the bloggers below have turned pumpkins into unicorns for Halloween and please let me know which of these is your favorite.
How to Make a Pumpkin Unicorn
Pumpkin unicorn designs are plentiful right now as people look for ideas on how to decorate pumpkins for Halloween.

If you do not fancy doing a unicorn painted pumpkin and want a unicorn Jack O Lantern instead I found some stencils for you to try below.
Pumpkin Carving Craze has 3 different pumpkin unicorn stencils for you to print for free! If I had to rate these on difficulty level I would probably say they were medium to difficult and would probably take over 30 minutes to carve.
Muse Printables have what they call an easy pumpkin unicorn stencil, although I am not so sure how easy it would be. It is an outline of an unicorn shape and body. You can try it and let me know how many minutes (or hours) it took you to complete.
I do know you can find lots of different ones on Amazon that are relatively cheap. I always like to offer free options though cos why would you pay for something when you can get it for nothing.
If you want to whip out your paints then try some of my cool pumpkin painting ideas, where we have everything from Harry Potter to Winnie the Pooh pumpkin.
What other pumpkin designs would you like to see? How about Superheros or Pokemon? Please let me know in the comments below.
Which of these Pumpkin Unicorn Ideas is your Favorite?