A great way to use up a little bit of leftover mashed pumpkin or pumpkin puree is to make a pumpkin dip. Here are some great pumpkin dip ideas to make!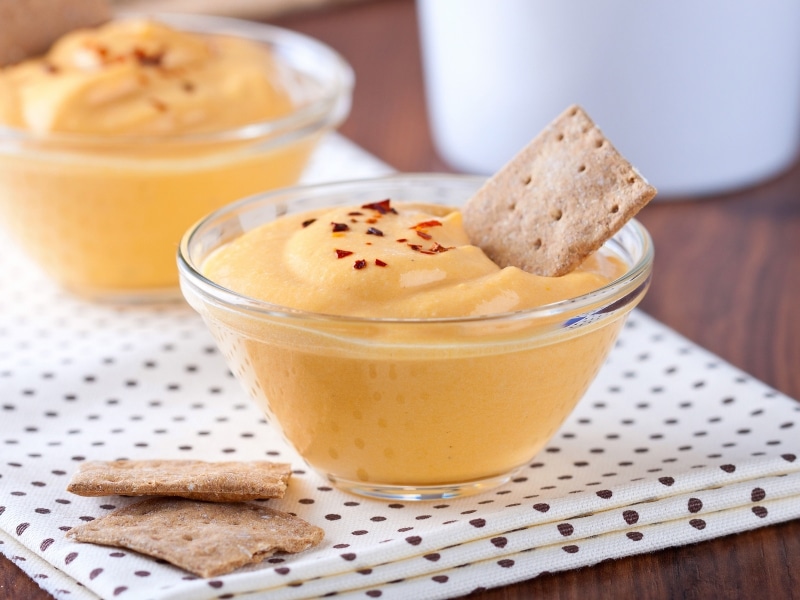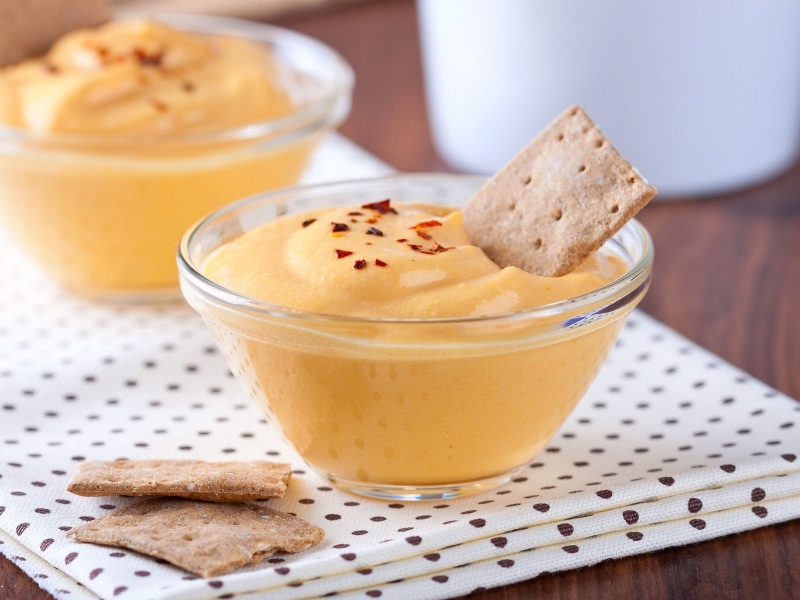 There are various different kinds. Make a savory spicy dip to have as a snack or an entree with vegetable sticks. Or, you can make a sweet version to have with fruit as a dessert.
Either way, it's a healthy treat, good enough for guests or to liven up a weekday lunch.
Any of these recipes can be made with canned pumpkin if you don't have fresh.
These will make delicious Thanksgiving Pumpkin Appetizers!
These pumpkin bowls will make a great presentation
Serving your pumpkin dips in pumpkin shaped bowls is not absolutely necessary, but will really set these dips apart. Having seasonal bowls for your dishes makes for a nice, easy decor for your fall table: I'll take that!
Home Gourmet Collection Orange Ceramic Pumpkin Soup Bowl with Lid
Martha Stewart Pumpkin Salt Cellar bowls set of 4
Home Gourmet Collection Pumpkin Soup Bowl with Lid, Set of 4
Martha Stewart Collection Harvest Pumpkin Covered Soup Bowl
Boston International BIP17650 Pumpkin Pastel Soup Bowls
Transpac Pumpkin Serving Bowls with Spoon and Tray Set
Pumpkin Dip Recipes Anyone Can Make
How to make savory pumpkin dip
While many people prefer sweet pumpkin dishes, I LOVE a savory pumpkin dip recipe with just a hint of sweetness.
There are so many ways to make a savory dip! You always start with pumpkin which you can mix with many of your favorite spices to make delicious dips for any occasion. Here are just a few ideas:
1. Pumpkin cream cheese dip recipe
This is a nice one to offer guests when they arrive. It looks like you have gone to some trouble, but it takes literally a couple of minutes to make. Find out how to make pumpkin dip recipe below
Chopping the vegetable sticks takes the longest: if you're really pressed for time just use crackers.
Ingredients:
Approx. 1 cup pumpkin puree
Approx. ½ tub of cream cheese (you can use something special like a tasty creamy goats cheese if you like)
½ teaspoon chili powder (to taste) or use a dessert spoon of sweet chili sauce.
Mix all ingredients together in a blender.
Have a taste, and adjust the chili if you need to. Start with a little, as it's easier to add more than taking it out! Am I stating the obvious? Oops.
Serve with carrot sticks, cucumber sticks, celery, olives, crackers, whatever you fancy!
2. Pumpkin hummus dip
This is so quick to make you can be curled up in front of the TV with it on your knee in no time. If you use some pumpkin that was roasted in the oven it will add to the flavor.
Enjoy with your favorite crackers, pita bread, on toast or in a wrap with salad.
Add some toasted pumpkin seeds for some crunch.
Bliss.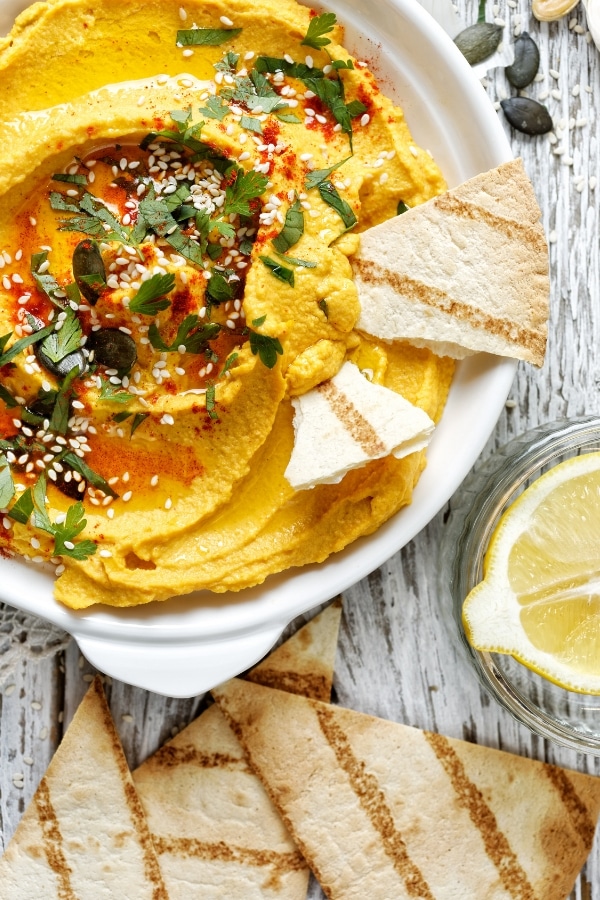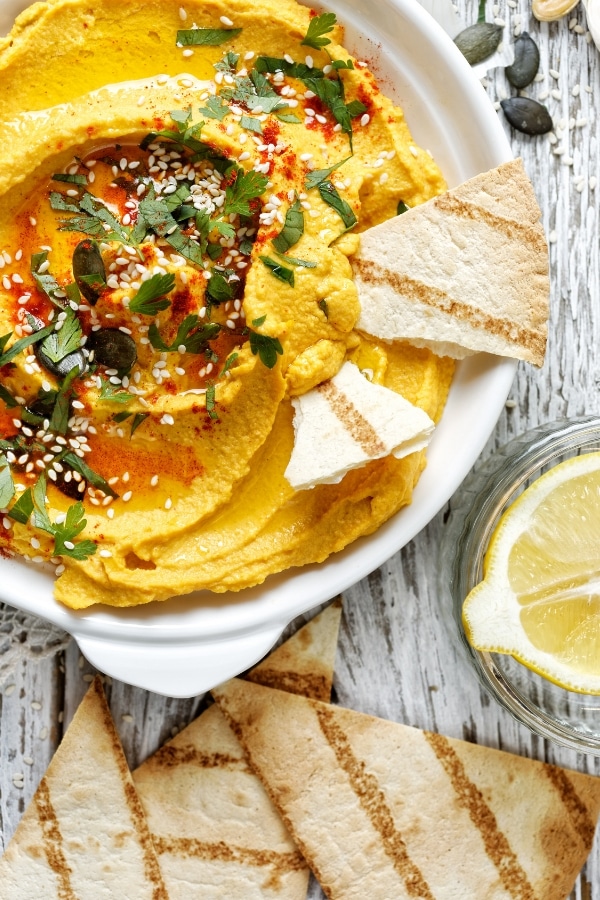 Find my easy Pumpkin dip recipe below and let me know if it tastes as good as it sounds!
Yield: 8
Pumpkin Hummus Dip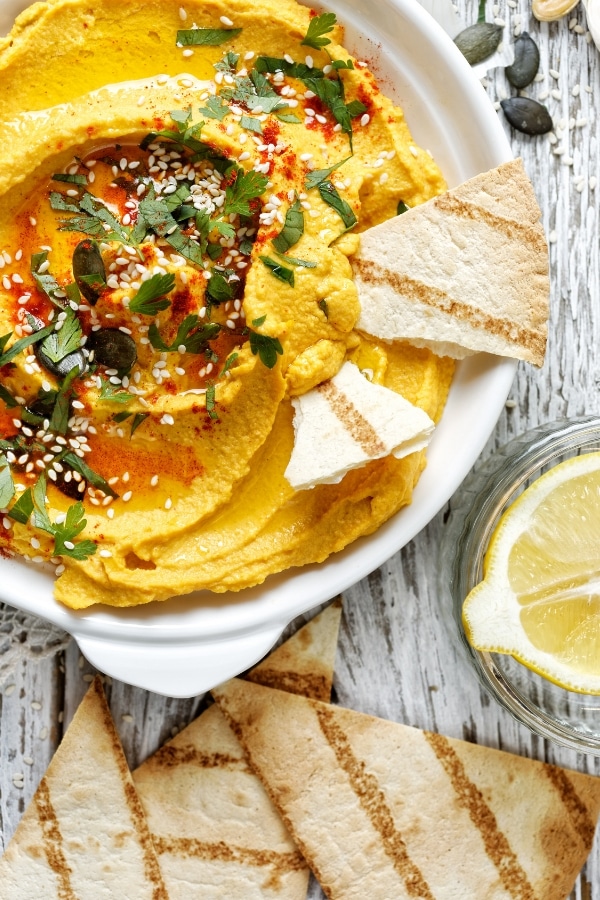 This savory pumpkin hummus dip will be the hit of your next party (or your favorite family snack)
Ingredients
1 cup chickpeas
1 cup pumpkin puree
clove of garlic
1 tablespoon extra virgin olive oil
half a lemon, squeezed
Instructions
Blend it all together in your blender and taste. See if it needs a bit more garlic or a bit more lemon.
How to make pumpkin dip
Pumpkin desserts and all the rage during the fall season. And while I like pumpkin pie a few times during the season, I'd rather experiment with new tastes.
Making sweet pumpkin dip is as easy as mixing your pumpkin puree whit some powdered sugar, cream cheese, whipped cream, cinnamon or any of your favorite fall flavors.
See my recipe below for a very simple sugary pumpkin dip.
Sweet pumpkin dip recipe
This one is a sweet treat or for dessert.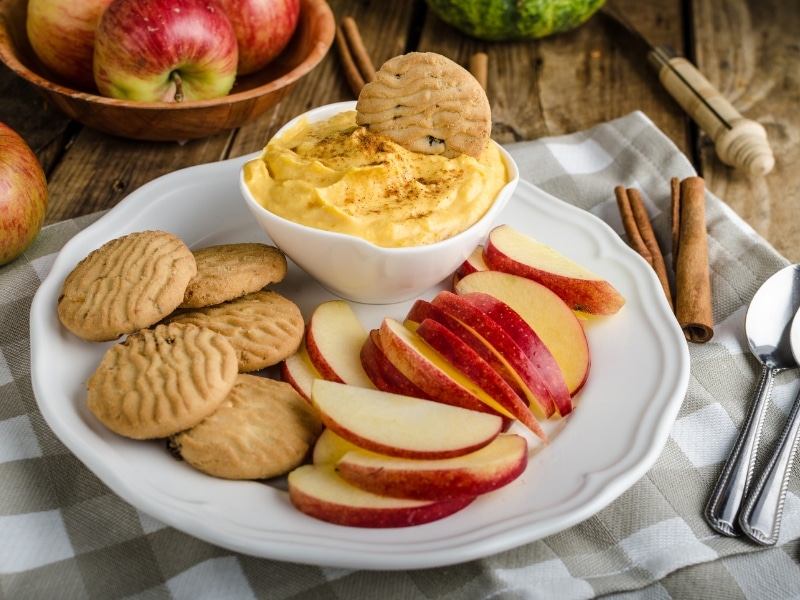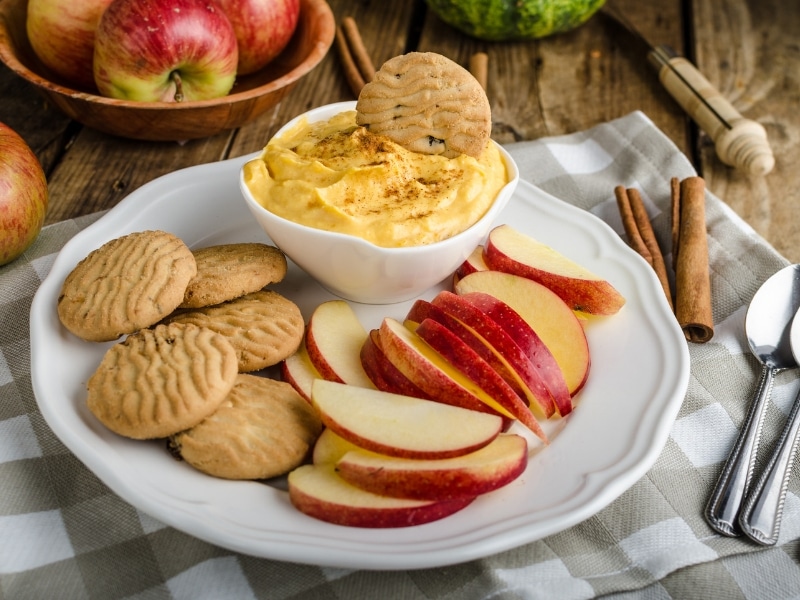 Ingredients:
1 cup pumpkin puree
8 ounces cream cheese (1 package)
1 cup sugar (use maple syrup or honey for a healthier version: this is my favorite maple syrup)
½ teaspoon cinnamon
½ teaspoon ginger
Mix it all together in the blender.
Serve with ginger biscuits, ginger snaps, wafers, chunks of fruit, strawberries or grapes. Or spread on toasted pumpkin bread or a fruit bread for breakfast.
It tastes amazing, I mean who does not enjoy cream cheese! I highly recommend you try this pumpkin cream cheese dip.
What other pumpkin dip ideas would you like to see featured?
What other flavors would you use for your pumpkin dip recipe?