Pumpkin Corn Bread

The weather is horrible – cold, windy and rainy. Maybe you have been walking the dog, or purely taking the children out for some fresh air and you need something to warm you up. This pumpkin corn bread is delicious particularly when served warm with a bowl of chilli con carne or a casserole.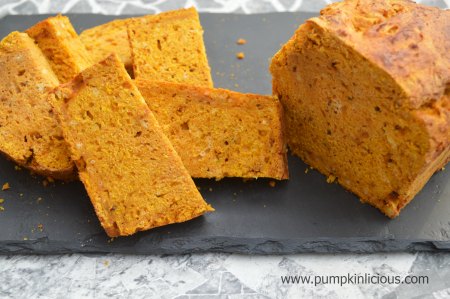 We have used a loaf tin to make this bread, but you can make it in a square dish, 20 x 20cm. The lovely thing about making it in a loaf tin is that you get the rise as you would do in a nice crusty loaf of bread, and you can actually use it for sandwiches!
It has a great texture and is a little less sweet than the traditional corn bread, particularly if you add a few unusual ingredients such as the onion or mustard seeds, or even some finely diced mild chilli, or sunflower seeds. It is quite unusual, and will be a great hit with the family or with guests. Sugar and spice and all things nice!!

Serves:  approx. 8 thick slices 
Prep Time:  15 minutes 
Cook Time:  40-45 minutes


Ingredients:

1 cup self-raising flour, plus level tsp of baking powder
1 cup cornmeal
2 large eggs
1 cup pumpkin puree
¼ cup olive oil
1 tbsp molasses, or honey if you prefer
1 tsp ground cinnamon
1 tsp nutmeg
2 tsp black onion seeds (nigella seeds) or mustard seeds
½ cup brown sugar
1 tsp salt

Method:

You will need a 450g loaf tin, or an 20 x 20cm baking dish.

Heat oven to 180°C.

Mix together all the dry ingredients – flour, cornmeal, cinnamon, nutmeg, salt, brown sugar and onion seeds.
In a separate bowl, mix together the wet ingredients – eggs, olive oil, molasses and pumpkin puree.
Add the wet ingredients to the dry and gently mix together. The mixture should be of 'dropping consistency' and quite doughy. If for some reason it is a little wet, add some more flour.

Spoon the mixture into the loaf tin and bake for 40-45 minutes, or until a knife inserted into the centre comes out clean. As ovens vary, don't be alarmed if you have to cook it for longer.

Serve this healthy pumpkin corn bread with a steaming bowl of chilli, a delicious lamb and pumpkin casserole, or even a pumpkin soup.  
If you prefer it with sweet accompaniments, you could pour honey over it, or even make it into French toast. Whichever way, this bread is absolutely delicious.

Tips:

This bread has been made so many times using seeds or nuts, chopped chillies and even jalapenos if you really like hot and spicy. Try varying the spices and using cumin or caraway seeds, fennel seeds etc. It really is worth experimenting.

---