Hands up who wants a pretty teal pumpkin wreath on their front door this Fall?! Most people opt for a traditional orange version but I have to say this blue version has won me over!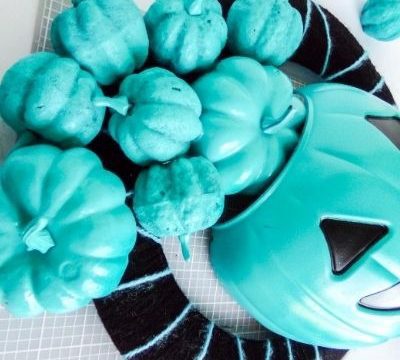 At the start of September every year I love gathering together all my beautiful Fall decorations for my home. Sometimes I like to make something brand new, like this adorable Teal pumpkin wreath DIY!
I love it so much, that I thought you might all want to make one too so this is why I am sharing my step by step craft procedure for you.
My kids love making pumpkin crafts too, and they always do a cardboard pumpkin wreath every year. It is one of their favorite Fall activities!
You can buy complete decor in shops but I often find you can make something better than you can get in the store.
You might say why go teal when you can do orange?! Well I hope you have heard of The Teal Pumpkin Project, something which is close to my heart and focuses on children with allergies.
Yield: 1
Teal Pumpkin Wreath DIY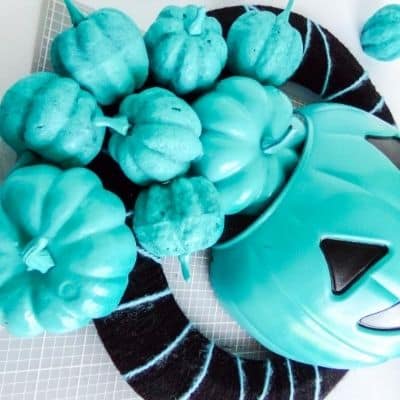 Teal pumpkin wreath DIY lets you create this beautiful blue pumpkin decor for your front door this Fall! Use it because it is pretty, or because you have a child with allergies in your house and want to raise awareness of the Teal Pumpkin Project.
Materials
Wire Wreath Form
Black Yarn
Teal Blue Yarn
Orange Pumpkin Bucket
Teal Spray Paint
Small Pumpkins (I got a bag of varied sized small pumpkins from the craft store and some from the Dollar Tree)
Floral Wire
Tools
Hot Glue Gun & Glue
Wire Cutters
Scissors
Painter's Tape
Instructions
Step 1

Cut the orange pumpkin bucket in half, removing the back portion. Cover the eyes and mouth of the pumpkin, and the nose if your pumpkin has one.

Step 2

Using the spray paint, paint the small pumpkins and the front of the pumpkin teal. Allow the paint to dry completely.

Step 3

White the paint is drying, wrap the entire wire wreath form with the black yarn. I recommend working in 3-4 foot long lengths so as not to tangle it too much. Secure the yarn with hot glue every 10-15 wraps.

Step 4

When the wreath is all completely wrapped in black yarn, secure the black yarn then wrap the teal yarn randomly around the wreath in 5-10 places, just to add a splash of color.

Step 5

Using the tip of your hot glue gun, place two holes in the painted pumpkin bucket front on the bottom sides.

Step 6

Thread a floral wire through each hole and use these to secure the bottom of the pumpkin to the wire wreath form top/side.

Step 7

Starting from the bottom of your wreath, hot glue a small pumpkin onto the wreath form, then hot glue the smaller pumpkins in a pile on top, building on each one to bring the pile of small pumpkins up to the pumpkin bucket, allowing the hot glue to dry completely between each small pumpkin.

Step 8

Add a length of yarn to the top of the wreath as a hanger and enjoy!

If you love this blue pumpkin wreath you will want to try see my collection of blue pumpkin decor.
I might create a few of these and gift them to friends this Halloween! Who says I have to keep them all blue, I can color them any color I want! I especially love white pumpkin decor!
Will you be trying this Teal Pumpkin Wreath DIY?