These chewy pumpkin spice cookies are really quick and easy!  Perfect to bake and share with family and friends.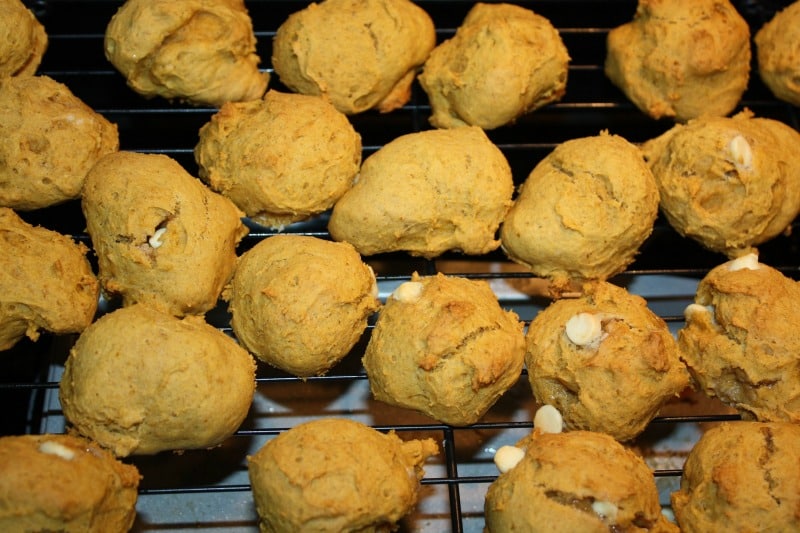 Chewy Pumpkin Spice Cookies
Hmm – what shall I have with my cup of coffee this morning?  Do I fancy crunchy biscuits or a nice chewy cookie? The chewy ones won on this occasion: I hadn't spoken to anyone today, so I felt my 'jaws' needed a bit more exercise!
I do love an old-fashioned soft and chewy cookie – after all the word 'biscuit' means 'twice-baked' in French, so why wait all that time to cook something twice when it tastes just as good cooked in a shorter time!
One of my friends prefers to make and serve these pumpkin spice cookies with a glass of milk after school to help keep her children quieter for longer – so double bonus!
Shape them using a Pumpkin Shaped Cookie Cutter for a party!
The cookies can be kept in an airtight container for several days, as they are supposed to be chewy!
Tip: Add a little mixed fruit or some chopped glace cherries or dried cranberries for a change. Or some white chocolate chips like I did today. Alternatively, for more spice, add ½ tsp of ground ginger.
Yield: 36 cookies
Chewy Pumpkin Spice Cookies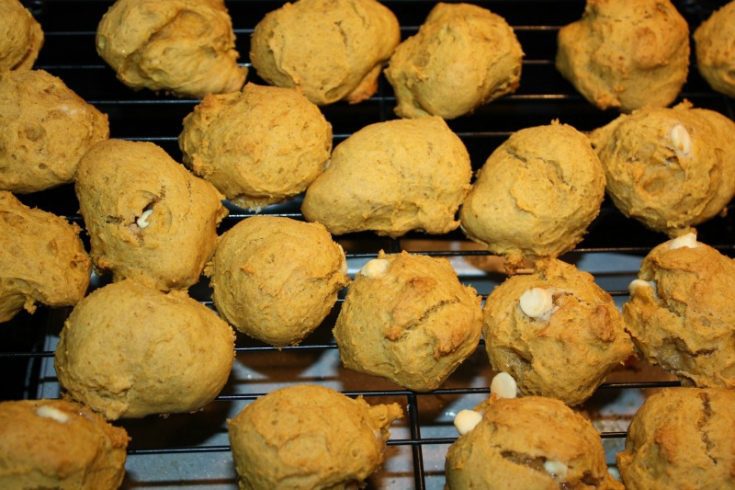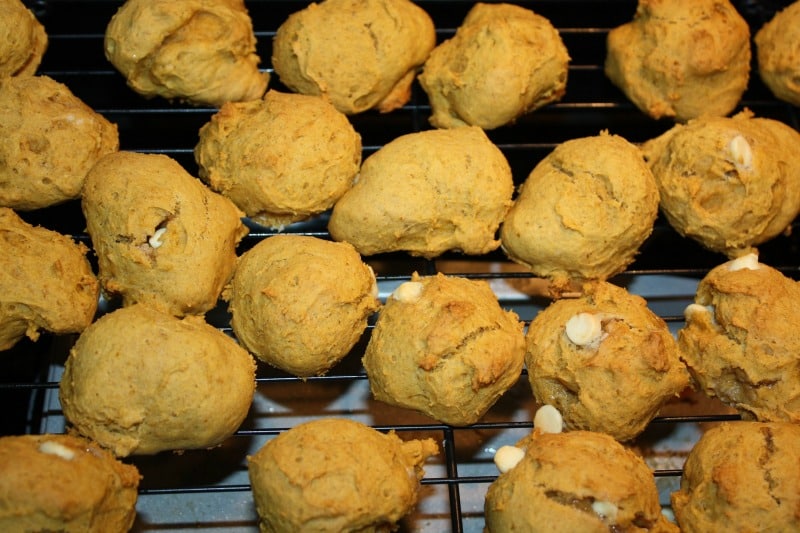 Once you try a bite of these chewy pumpkin spice cookies, you'll never want crunchy cookies again!
Prep Time 10 minutes
Cook Time 15 minutes
Total Time 25 minutes
Ingredients
1 cup pure pumpkin
1 large egg
2 1/2 cups all-purpose flour
1 tsp baking soda
1 tsp baking powder
1 tsp vanilla extract
1 tsp cinnamon
1 tsp nutmeg
1/2 tsp salt
1 1/2 cups sugar , granulated
1/2 cup butter, softened
Instructions
Heat oven to 350°F/180°C/Gas mark 4. Grease 2 baking sheets.
Mix together the flour, baking soda and baking powder, cinnamon, nutmeg and salt in a bowl.
Beat the sugar and butter together either by hand or with a mixer until completely blended (no lumps of butter visible).
Add the pumpkin, egg and vanilla extract and beat until smooth. Slowly add in the flour and mix well.
Bake for 15 minutes or until the edges of the cookies is set firm (up to 18 minutes).
Cool for a few minutes, and then remove and place on wire racks.
Here's my complete Pumpkin Cookie Recipe Selection and some ideas for icing and frosting!
Fall cookie jars
Cosmos 10365 Fine Porcelain Light off Lid Pumpkin Box, 6-1/8-Inch
Cosmos 10712 Gifts Turkey Design Ceramic Cookie Jar, 10-3/8-Inch
Orange Pumpkin Collectible Vegetable Ceramic Soup Bowl
Do you like your cookies chewy or crunchy?