Homemade Pumpkin Pie Recipe
A lovely homemade pumpkin pie recipe.
Don't wait until Thanksgiving to try it out!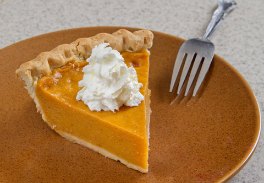 This one uses milk and cream instead of evaporated milk. Many people all over the world are discovering the joys of making pumpkin pie from scratch, since the canned variety is not available in many places outside the USA.  Fresh pumpkins are so good for you too.   Full of useful vitamins and minerals, they are one of best sources of carbohydrates as they are so low in calories.  So enjoy this yummy dessert without too many feelings of guilt!  

To cook the pumpkin - boil or steam about half a medium size pumpkin or about 1/2 kilo flesh until just soft. Don't overcook or it will take on too much water.  Mash the pumpkin with a fork.  Any leftover can be frozen or mixed with some mashed potatoes and garlic for a savory side dish.  Alternatively, you can roast a pumpkin in two halves in the oven and simply scoop out the flesh when cool. 



How to make pumpkin pie: 
Ingredients: 


2 teaspoons butter
1 cup freshly cooked pumpkin flesh
2 tablespoons flour
2/3 cup sugar - plus 2 extra tablespoons
2 cups milk
2/3 cup heavy cream
1 teaspoon peeled and grated fresh ginger (you can use 1/2 teaspoon of ground if you haven't got fresh)
1/2 teaspoon ground cinnamon
1/4 teaspoon of ground nutmeg
1/4 teaspoon salt
2 eggs
Method:

Partially bake a 9 inch pie crust in a preheated oven at 425 °F or 220° C  for 10 minutes while you prepare the other ingredients.

Melt half of the butter in a heavy saucepan over a medium heat.  Add the cooked pumpkin and cook for about 5 minutes or until the moisture is reduced and you have about 3/4 cup of slightly caramelized flesh.

Remove into a large bowl.  Sprinkle the flesh with 1 tablespoon of the flour and stir in 2/3 cup of sugar. 

Wipe out the saucepan and melt the other half of the butter and add the milk.  Heat until just starting to boil.  Pour over the pumpkin along with the cream and spices and stir well.  Finally mix in the beaten eggs.

Once you have taken your partially cooked pie crust out of the oven, increase the oven temperature to 425°F or 220°C. 

Mix the remaining 1 tablespoon of flour and 2 tablespoons of sugar and sprinkle over the pie crust.  Then pour in the pumpkin mixture.  Place in the oven. 

After 15 minutes, reduce the heat to 300°F or 150°C and cook for a further 30 minutes or until the mixture has set.  It should still wobble slightly when done. 

Serve with your favourite ice cream or yoghurt, or with thick cream.  This wonderful homemade masterpiece can be eaten hot or cold (if it lasts that long!)



Why not serve on a fun plate like this one? 
There are plenty more homemade pumpkin pie recipes on this site - experiment and find your favourites to impress your friends.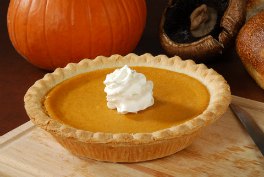 Return from Homemade Pumpkin Pie Recipe to Pumpkin Pie Recipes
---