Lamb and Pumpkin Casserole

My wonderful Mum made this lamb and pumpkin casserole for me the other day.  Don't you find that food always tastes wonderful when someone else makes it for you?  For some reason the 1950s pyrex casserole dish with stars she used always takes me back to my childhood.  I had to buy some of that recently in an op shop, I couldn't resist, so now I've got some of my own.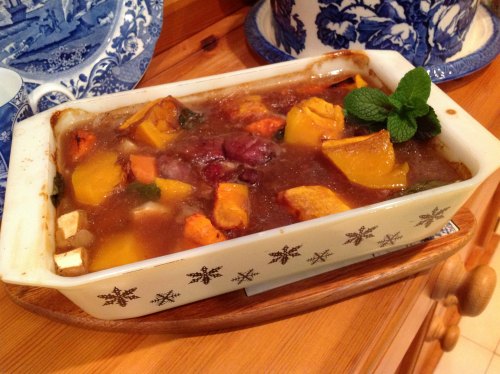 Anyway, back to this homely, delicious casserole.  Mum wrote down the ingredients for me which are:

An Onion
A carrot
2 tablespoons of olive oil for browning (or other type of cooking oil)
Two cloves of garlic
Half a pumpkin, chopped into large chunks. 
Four lamb chops or rump cut into pieces
Seasoning
Half a pint of stock either from a carton or use stock cubes
Two tablespoons of cornflower for thickening
Some herbs to flavour - bay leaf, rosemary, thyme or mint
It's quite easy to make, so she says: 

Method

Fry chopped onion and garlic cloves to taste in oil. 
Add a chopped carrot and pieces of pumpkin, gently brown and place in a casserole dish.

Place lamb pieces in the pan and brown.  Season with salt and pepper to taste.
Place the lamb pieces in the casserole dish.
Add stock.  Either a carton or water with stock cubes and thicken with cornflower, this should be mixed with a little cold water before adding to stock to stop any lumps forming. 

Pour the stock over the contents of the casserole dish.
Add a bay leaf and a sprig of rosemary or thyme or mint if preferred.

Cook for an hour at 180 C

Serve with salad or baked potato

Serves four
I hope she makes it again next time I go home.  It smelled heavenly and tasted the same. This would go beautifully with Pumpkin Corn Bread! 

Return from Lamb and Pumpkin Casserole to Main Dishes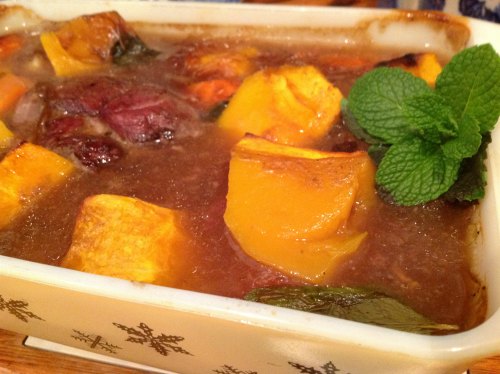 ---