This pumpkin bread pudding recipe is the perfect way to start or end the day. It's fragrant and deeply satisfying!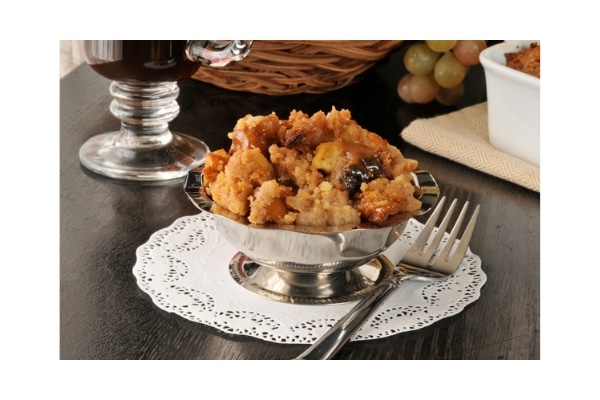 I remember my mom always being happy that there was bread left over. When I was young there really wasn't much ready sliced bread around, so the breadboard was always out in the kitchen with the bread knife. We didn't even have a fridge – just a cold pantry or larder, where everything including butter and milk was stored in the summer – in the winter, there would be a bucket outside the back door with water in to store the milk, and a big box to keep the butter in!
The leftover bread would be used to make bread pudding, a big favorite in the family, particularly with my grandparents. The standard recipe always included copious amounts of mixed fruit with a thick custard in which the bread and fruit were baked. I have to say it was pretty delicious.
My granddad also loved it when my mom made it with some whisky and marmalade in the winter, I swear it always made him a little tipsy! How times have changed – what would we do without fridges these days?
HOW TO MAKE PUMPKIN BREAD PUDDING
This pumpkin bread pudding recipe is still sweet and yummy, but we have used dried cranberries to give it a little edge, rather than the traditional dried fruit or sultanas or currants. It is really simple to make, almost just a case of throwing everything together. Ginger is included to give it that warmer glow, but it can be left out if you are not a fan.
Try also adding a few chopped pecans to give it a nutty texture, experimentation is a good thing. At least we have the resources these days, whereas back in the 19th Century when bread pudding was first heard of, they did not have the luxuries that we have to afford more extraordinary combinations. They certainly never combined it with pumpkin!
For this recipe, you will need an 11x7 inch/28x18cm baking dish.
Yield: 6-8
Moist and Delicious Pumpkin Bread Pudding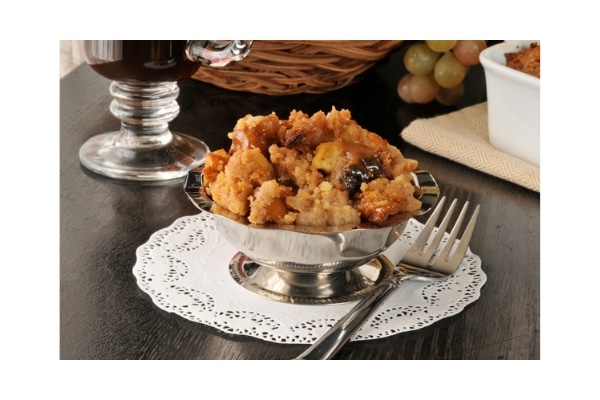 Dessert has never been so tasty or simple!
Cook Time
45 minutes
40 seconds
Total Time
55 minutes
40 seconds
Ingredients
8oz/225g stale bread, French bread is good to use, either torn into small pieces or sliced into rings
1 can (15oz/420g) pumpkin
1 cup/8fl.oz milk
1 cup/8fl.oz single cream
3 large eggs, beaten
2-thirds cup of sugar (granulated)
2-thirds cup of brown sugar
1 cup of cranberries or sultanas or mixed dried fruit
3 tablespoon melted butter
½ teaspoon ground ginger
½ teaspoon ground nutmeg
1 teaspoon cinnamon
1 teaspoon vanilla essence (optional)
Instructions
Lightly butter the baking dish. Heat oven to 350°F/180°C/Gas mark 4.
Mix together the milk and the cream. Place the torn or sliced bread into a bowl and soak the bread in the liquid.
In a separate bowl, mix together the eggs, both of the sugars, pumpkin, melted butter, cranberries or dried fruit, spices and vanilla essence. Mix until completely combined, then add the milk and cream and stir through.
Pour the mixture into the greased baking dish. Sprinkle with a little more sugar and cinnamon if required, but not essential. This will give a crunchier topping.
Bake for 40-45 minutes. Remove and allow to cool for a few minutes as the dish will be piping hot. Serve with a lovely jug of cream.
If You Love My Pumpkin Bread Pudding I Can Guarantee You Will Want To Try These
While pumpkin bread pudding maybe one of the easiest Thanksgiving dessert recipes there are lots more you might want to try on this special day or any Fall day come to mention it.
Pumpkin Pecan Pie- I guess lots of my loyal readers will be enjoying this Thanksgiving dessert
Pumpkin Gingersnap Cheesecake - a cheesecake for dessert on a cold Autumnal day is hard to beat
Easy Pumpkin Coffee Cake - a coffee cake is a must on any day with some coffee
Pumpkin Spice Cake Recipe - pumpkin spice is the taste of October and November
What would you like to add to my pumpkin bread pudding recipe?