Pumpkin Apple Muffins -
Healthy and Delicious

I put 2 peeled and chopped apples into these pumpkin apple muffins and you don't even have to cook the apple first!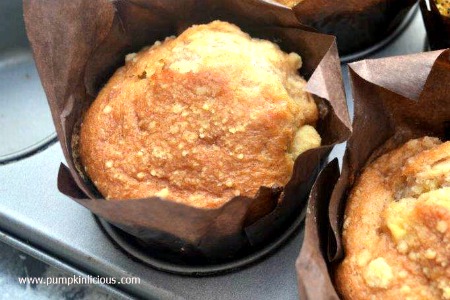 I never thought of muffins as being 'bread related', but apparently they are. Years ago they were made in muffin rings, not the wonderful, non-stick coated tins that we are able to buy these days. I still think it is nice to put them in cases rather than straight into the tin. I came across 'tulip cases' one day – I had seen them served with delicious muffins in some supermarkets and cafes, but assumed you couldn't actually by them, and that it was a wholesale kind of purchase – but in fact, you can buy them on websites such as Amazon at quite a low price and in small quantities.

So I decided to show off at one of my get-togethers, and buy these to make my muffins in. They were such a hit that my friends thought that I had actually bought the muffins ready made and not made by my own fair hand!

How to make the pumpkin apple muffins: 

Serves:                        12 large
Preparation Time:     12 minutes
Cook Time:                 20-25 minutes

What you need:
3 cups plain flour
2 tsp baking soda
1 ½ tbsp pumpkin pie spice
2 tsp baking soda
1 can (15oz/420g) pure pumpkin or use freshly cooked puree (see how here)
1 tsp salt
3 cups castor sugar
4 large eggs
½ cup vegetable oil (or use a really healthy oil like flaxseed or olive oil)
2 apples, peeled and chopped
Method:
Heat oven to 350°F/180°C/Gas mark 4

Grease 2 muffin tins and line with muffin cases if using.

In a mixing bowl, combine the sugar, pumpkin, eggs, and oil.
Beat until blended, then sift in the flour, pumpkin pie spice, salt and baking soda and stir until mixed.  Add the peeled and chopped apples and mix gently through. 

Spoon into your prepared muffin cases until they are about ¾ full.

Bake for 20 minutes or until a wooden toothpick pushed into the centre of a muffin comes out clean.

Cool for a while, or until you can't resist eating them!  Have them for morning coffee or afternoon tea.  (By the way, did you know that the Australian's say "Morning Tea" not coffee!  That took some getting used to).  Served warm with cream they also make a great dessert. 

For lots more fabulous baking ideas:

Try our Orange and Poppy Seed Flavour Muffins

Even More Pumpkin Muffin Recipes
Return from Pumpkin Apple Muffins to Pumpkinlicious Home Page
---