Pumpkin Dump Cake

The oatie crunch topping on this pumpkin dump cake recipe is really scrummy.  It has been adapted from a friend of mine, who I call the 'Crumble Queen', as she makes a business out of creating fruit crumbles with the most unusual toppings. This one is pretty simple, and is a way of using cereal toppings for your dump cakes, not that unusual, but a fun way to change the cake from the traditional method. Using oat based cereals takes the guilt out of the incredibly sweet cake (for a short time!), as the cereal we have used here is a honey nut one!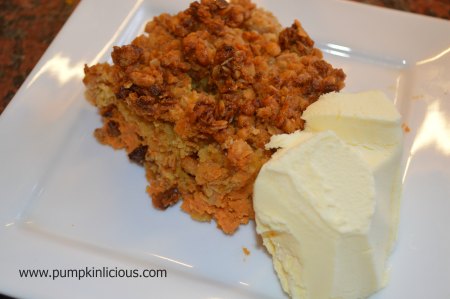 I've always been intrigued by the origins of 'dump cake', particularly due to its unattractive name! Presumably, the 'dump' part refers to simply dumping the cake mixture on to the fruit with no real effort. References to dump cake can be found in cookery books back as far as 1940, but it probably came to fruition in the late 1960's, when it was a simple case of opening a can of fruit and pouring cake mixture over it.
It has reached a slightly higher level of sophistication these days, but is particularly good for making with the children as there doesn't really have to be much weighing or measuring. Today's version does tend to be 'the crumble', which is a huge favourite in the UK, using all varieties of fruit. Apple crumble can be pinpointed in kitchen diaries well over 150 years ago.
Dump or crumble – does it really matter – this cake is so delicious whatever you call it !

Serves:    6      Prep Time:    20 minutes       Cook Time:    35 minutes

Ingredients for pumpkin dump cake:

1 x 16oz/450g can of pumpkin puree
10oz/280g evaporated milk
1 cup brown sugar
3 eggs
2 tsp nutmeg
1 tsp ground mixed spice
1 cup melted butter
8oz/225g yellow cake mix, or sponge mix
1 cup of honey nut oat crunch, or similar cereal


Method:

Heat oven to 170°C. Lightly grease a 23 x 23cm square dish.

Mix together the pumpkin puree, evaporated milk, nutmeg, mixed spice, eggs and sugar until smooth. Pour into your greased dish.

Sprinkle the cake or sponge mix over the top, then top with the oat crunch. Pour over the melted butter.

Bake in the oven for about 35 minutes, or until the centre is firm to the touch and a knife inserted comes out clean.

Serve with ice cream, clotted cream – whatever you want!

Tips:

Try adding crushed pecans to the top of the mix or chopped up toffee pieces for another texture.

For more pumpkin cakes look at:
For more pumpkin dessert ideas have a look at: 
Click here for more really easy pumpkin recipes

Return from Pumpkin Dump Cake to Pumpkinlicious Home Page

---