Are you ready for all Fall has to offer including my long list of tasty pumpkin desserts, which I can guarantee will not last long after you have sampled the first mouthful!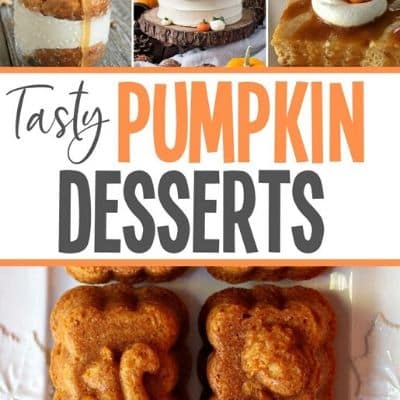 If you are eagerly awaiting Fall and the smell and taste of pumpkin spice yumminess you have come to the right place! I always count down to the start of Autumn and when I can have my first pumpkin spice muffin!
Pumpkin spice tastes amazing in lattes but in my opinion tastes even better in some bread or cakes! That's why I could not resist sharing with you all my favorite delicious pumpkin desserts, that are too good not to share!
From traditional pumpkin cake to the more decadent pumpkin desserts, you are sure to find something the whole family will enjoy!
Tasty Pumpkin Desserts
Whether you are using fresh pumpkin or canned pumpkin, there are always new tasty pumpkin desserts to try. As you are
looking for some new pumpkin dessert recipes to try this year, these must-try tasty desserts deserve a spot in your collection!
If you still want more Pumpkin recipes for dessert here are some more of my ideas
Cranberry Pumpkin Bread - get two portions of fruit daily instead of one with my moist delicious bread recipe
Halloween Pumpkin Desserts - some scary looking desserts that taste fabulous!
Which of these Tasty Pumpkin Desserts will you have on your menu?