Are you ready for all Fall has to offer including my long list of tasty pumpkin desserts, which I can guarantee will not last long after you have sampled the first mouthful!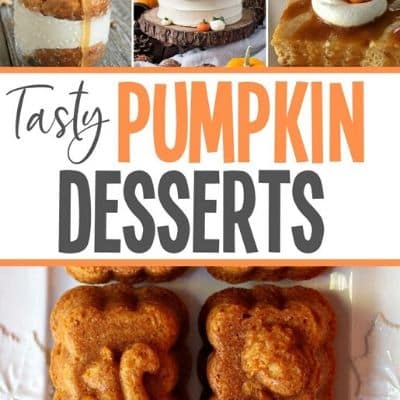 If you are eagerly awaiting Fall and the smell and taste of pumpkin spice yumminess you have come to the right place! I always count down to the start of Autumn and when I can have my first pumpkin spice muffin!
Pumpkin spice tastes amazing in lattes but in my opinion tastes even better in some bread or cakes! That's why I could not resist sharing with you all my favorite delicious pumpkin desserts, that are too good not to share!
From traditional pumpkin cake to the more decadent pumpkin desserts, you are sure to find something the whole family will enjoy!
Tasty Pumpkin Desserts
Whether you are using fresh pumpkin or canned pumpkin, there are always new tasty pumpkin desserts to try. As you are
looking for some new pumpkin dessert recipes to try this year, these must-try tasty desserts deserve a spot in your collection!
A delicious pumpkin spice cupcake that's layered with a sweet frosting and topped with a sweet caramel sauce and whipped
topping.
Continue Reading
Your favorite pumpkin spice latte drink, just in cake form! The cake is covered in a decadent coffee buttercream frosting.
Continue Reading
A classic cheesecake is taken up a notch with this delicious easy pumpkin cheesecake. Featuring vanilla cheesecake
swirls and delicious pumpkin, this is a tasty pumpkin dessert everyone will love.
Continue Reading
Easy to make and oh so delicious, these pumpkin bars are covered in a sweet and tasty cream cheese frosting. I absolutely adore pumpkin bar recipes and have stacks of these listed on my site!
Continue Reading
Sweet and salty, this pumpkin crunch cake includes layers of pumpkin pie, cake mix, and pecans. Easy to put together,
this cake can easily become a crowd favorite.
Continue Reading
With a buttery cinnamon graham cracker crust, these cheesecake bars are full of pumpkin spice flavors and will
certainly impress any pumpkin dessert lover!
Continue Reading
This delicious tart recipes takes those tasty pumpkin marshmallows that come out every fall to create an easy, pumpkin spice S'more dessert that everyone will love.
Continue Reading
Just a few simple ingredients like brownie mix, chocolate chips, and pumpkin, come together for a decadent treat for all
to enjoy.
Continue Reading
Traditional crème brulee get's a delicious twist when it's made with pumpkin pie spice. Perfect for a fall dessert, this
delectable dish will soon be a family favorite.
Continue Reading
Perfect for fall, this pumpkin cake is loaded with the flavor of the Indian tea spice blend. The cake is a delicious dessert to enjoy after a dinner or with a cup of coffee.
Continue Reading
No special ingredients needed, just farm fresh pumpkin or canned pumpkin, this pie brings the flavor of pumpkin and maple together in a delicious way.
Continue Reading
These adorable and tasty pumpkin butterscotch cakes are a delicious dessert to enjoy after any fall meal.
Continue Reading
Perfect for dessert, this pumpkin Bundt cake also makes a nice addition to any fancy dessert table. Pretty and delicious, this cake will be a favorite for many.
Continue Reading
If you still want more Pumpkin recipes for dessert here are some more of my ideas
Cranberry Pumpkin Bread – get two portions of fruit daily instead of one with my moist delicious bread recipe
Halloween Pumpkin Desserts – some scary looking desserts that taste fabulous!
Which of these Tasty Pumpkin Desserts will you have on your menu?