If you're on the hunt for blue pumpkins decor, now is the perfect time to be looking! With fall and winter knocking at the door, stores all over are starting to put out their pumpkin decorations.
Luckily, pumpkin decor can be found in any color, and who doesn't love blue?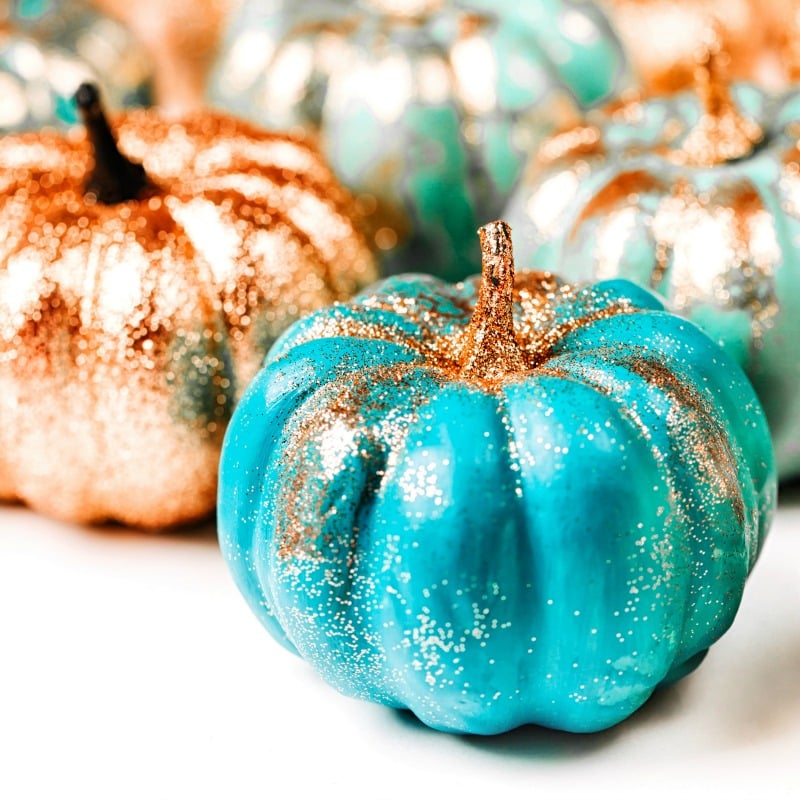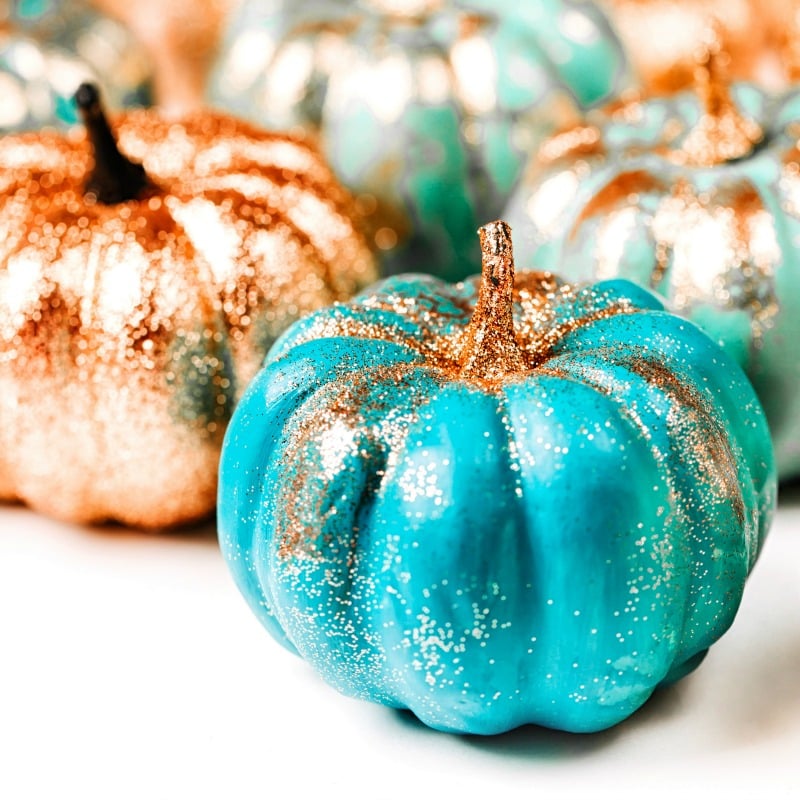 Don't delay in your fall decorating around your home! The sooner that you can start, the more time that you'll have to enjoy.
Want to decorate some pumpkins? Here are some creative ideas for decorating pumpkins.
Here are some great suggestions for blue pumpkin decorations that would look great and brighten up any space!
Blue Pumpkins Decor To Brighten Up Any Space 🙂
Pumpkin table accents
Adding a few accents to your dining room table make all the difference in the world during the fall season. Add some fun decor and a pop of color with one of these beautiful blue pumpkin table accents and accessories.
Boston International Pumpkin Decorative Table Accent, Small, Teal
About 6" in diameter and 4.5 " tall, this cute teal pumpkin is perfect to add a touch of color to the traditional fall arrangements which are mostly orange and brown.
---
Velvet Pumpkins, SET of 4: Copper, Bronze, Gray, Slate Blue; Home Decor, Holiday Mantle Decor, Centerpiece, Fall, Halloween, Thanksgiving
If you prefer soft fabric pumpkins for your table accents rather than hard pumpkins, these four small pumpkins make for a great focal point on your dining room table.
---
Glitzhome 6.1 Inch Hand Blown Blue Glitter Glass Pumpkin Table Accent
For a more elegant look, try a hand blown blue glass pumpkin table accent. It looks elegant without taking up a ton of room. While they are quite fragile, and you need to be careful with them, they are also very unique. They are handmade and mouth-blown.
Great conversation piece!
---
Pumpkin, Walker & Bowes Blue Glass Pumpkin 0222
Small, but mighty, this gorgeous blue glass pumpkin would be perfect on your table with some fun Fall garland draped around it.
---
Blue Pumpkins Set of 5 Home Decoration Thanksgiving Decor Wedding Holiday Party Baby Boy Shower Gift For Her Table Centerpiece
There are times when the table decor may only be needed for a specific reason and that's okay. These adorable homemade knitted blue pumpkins are perfect for a boy baby shower celebration, or for a Thanksgiving wedding shower!
Fall mantle decor
A bare mantle makes your home sad.  Cozy up your space with some fall mantle decorations with some color. blue is a gorgeous color combined with other fall colors. If you have a shelf above your mantle, it's the perfect place to have some really great pumpkin decor.
Blue & Silver Antique Glass Pumpkin Tea Light Holder - Pack of 6
These adorable pumpkin tea light holders with a teal bottom are the perfect way to set a great ambiance in your room.
If you have a fall wedding, they'd be perfect for table decorations.
---
Boston International HA17490 Harvest Dolls Pumpkin44; Blue
Make room on your mantle for this blue beauty. It's the perfect touch to bring the Fall season into your home. Definitely best piece of blue and white pumpkin decor.
---
Festcool Blue and White Ceramic Porcelain Pumpkin Shape Ginger Jar Vase, Sugar Canister, Sugar Container, Tea Container, Hand-crafted Jingdezhen
Add a touch of class and elegance to your home with this beautiful glass vase. It's up to you if you want to store something inside, but it's gorgeous to look at as is.
Pumpkin shaped blue flower mister
Taking care of your indoor flowers are important, but using an old plastic can to water them just isn't visually appealing. With this beautiful flower mister options, you can rest easy watering those plants in decor style!
Plant Mister Flower Water Spray Bottle Can Pot | Vintage Pumpkin Style Decorative Glass Plant Atomizer Watering Can Pot with Top Pump for Indoor Potted Plants Terrariums Flowers (Blue-Gold-S)
Give your house plants a nice, cool mist with this beautiful blue watering canister. Not only is the color striking, but it looks vintage as well.
Indoor pumpkin decor
It's your house, so why not decorate it any way that you want? With these awesome choices for blue pumpkins decor, you can keep your home looking happy and festive all year long.
The Round Top Collection Blue & White Pumpkin Lg - Metal
Perfect for any wall space, this white and blue pumpkin decor can go just about anywhere inside your home. It's so cute!
---
Revesun 40mm 8PCS Cupboard Knobs Handle Pull Knobs Cabinet Pumpkin Door Drawer Locker Blue Ceramic Wardrobe Home Hardware
How about adding blue ceramic pumpkin knobs and drawer pulls to your kitchen cabinets? These hardware upgrades are such a simple and fun way to add a pop of color and uniqueness in your home!
---
Glitzhome Hand Blown Glass Pumpkin Table Accent for Fall Harvest Decorating, Blue/Gold Glitter, 4.13''H
Unique, bright and bold are just a few words that describe this hand-blown glass pumpkin decor. It's versatile enough that it could go well with the decor in any room throughout your home.
---
Boston International Gallery Glass Pumpkin Collectible Figurine, 4
Another spectacular looking glass pumpkin! So beautiful ... it deserves to be showcased someone where it can shine. If you have an open shelf in your home, that's exactly where it needs to be.
---
Night Lights for Kids, U2C Multi-function 350ml Essential Oil Diffuser LED Nursery Lamp with 7 Led Light for Children, Home, Yoga, Office
Essential oil diffusers are very popular these days, and for good reason. Who wouldn't love this pumpkin diffuser? It fits in perfectly well with your other pumpkin decor. Add a fall blend of essential oils and enjoy the season.
Pumpkin outdoor decor
Decorating the inside of your home is important, but it's just as important to take that style and preference outside as well. Show off your love for pumpkins with some of these adorable outdoor decor items! I have some great lights in my list of Pumpkin Outdoor Decorations
Pumpkin Throw Pillow Cover Halloween Cushion Case with Zipper 18 x 18 inch Cotton Linen Autumn Fall Home Decor (Set of 2)
If you have a covered porch, these pumpkin throw pillow covers are perfect! Indeed these are essential pumpkin home décor in any house for Fall and Thanksgiving.
---
Walker & Bowes Blue Glass Pumpkin 6518
Adding this to your front porch can be a great way to showcase it's beauty. Grab a cup of coffee in the morning and watch the sun rays shine off its glass. Light blue pumpkins for decor makes stunning Fall gifts for a homeowner.
---
Home Living, Home Decor Pumpkin Throw Pillow Sofa Office Car European Blue Cushion (18x18, Blue)
Make those outdoor seats a little bit more comfy with this seat cushion. It's so comfortable, you may never want to get up! Pumpkins for decor and comfort are the best ideas for Fall!
If you want to decorate your front door you need to consider making a teal pumpkin wreath using my step by step tutorial! It is much easier than you think!
No matter what type of blue pumpkins decor that you're searching for, the items above should give you a few great options and ideas to get started!
Perhaps you might want to decorate your backyard with some blue pumpkins?! If so why not learn how to grow Queensland blue pumpkins, then you can have your very own blue pumpkin patch!
The more fun items that you can add to your home, the more festive and happy it'll make you feel!
Pumpkin season is on everyone's mind right now, so don't delay in grabbing up some of your favorites! Place your order now so you decorate your home in everything blue pumpkin!
Oh, are you exhausted after so much decorating? Here are some pumpkin soup recipes to help you relax 😉