This classic pumpkin soup is healthy, easy to make and very satisfying. I like that you can make this simple soup just like it is here, but you can also make all sorts of variations on the theme once you've got the basic soup done.
It is gluten free and vegetarian if you choose vegetable stock instead of chicken stock.
Definitely one of the easy pumpkin soup recipes for Fall!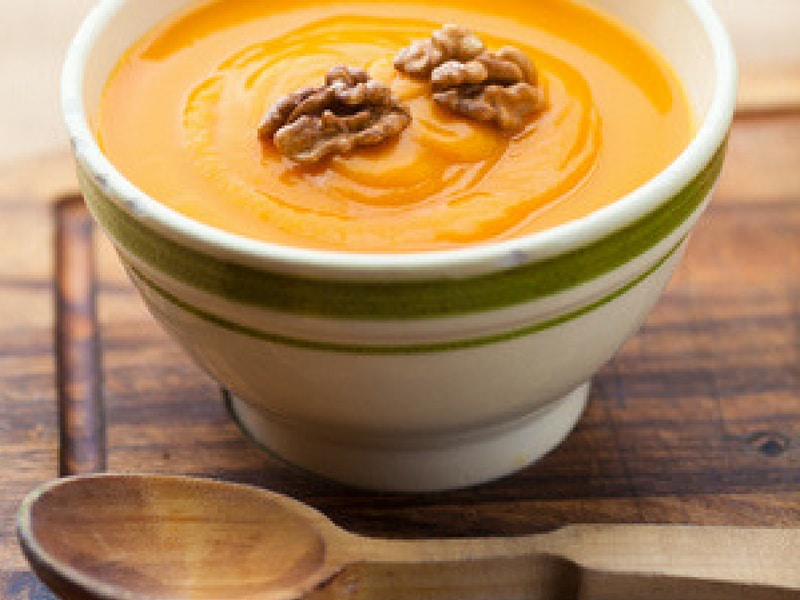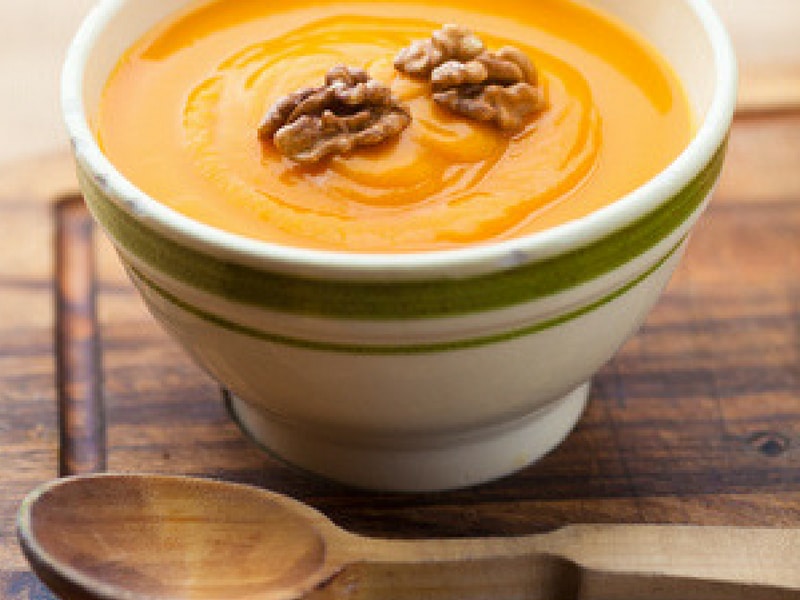 You can use Jap, Queensland Blue, Butternut, any of the small varieties of pumpkin, whatever you have available really, as long as it's a nice orange sweet fleshed one. This is one of my favorite Queensland Blue pumpkin recipes!
You could even use canned pumpkin if you like (this organic one is one of my favorites)
The soup calls for vegetable or chicken stock, and honestly, I never have it on hand. But what I DO have is this organic vegetable bullion powder. I just add a cube or two, depending on how big of a soup I'm making.
My easy pumpkin soup recipe can be found below.
Yield: 4
Classic Pumpkin Soup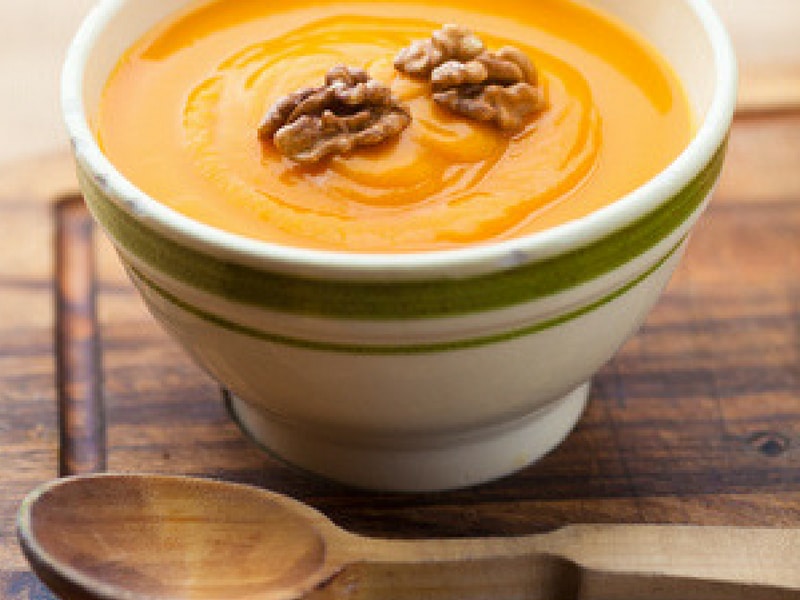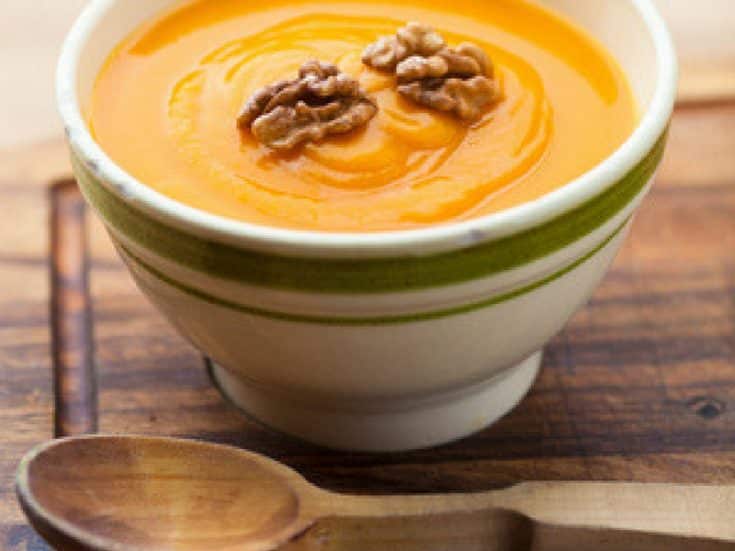 This classic pumpkin soup is healthy, easy to make and very satisfying.And it can be just the beginning of many different pumpkin soups.

Prep Time 15 minutes

Cook Time 20 minutes

Total Time 35 minutes
Ingredients
2 lb pumpkin , peeled and cubed
2 cups vegetable (or chicken) stock
1 onion (or leek) , chopped
2 garlic cloves, chopped
2 tablespoon olive oil
1 teaspoon salt
1 pinch pepper
Instructions
Peel the pumpkin and chop it into small chunks. The smaller the chunks the quicker it will cook.
Saute onion (leek) and garlic in the oil for a few minutes on a gentle heat.
Add the pumpkin and the stock and bring to a boil. Simmer until the pumpkin is soft, about 15 minutes
Mash with a potato masher, or puree with a stick blender. (most of the time I just use the masher, but I don't mind a fairly thick consistency.
Adjust the soup thickness with water stock to the consistency you like best.
Add salt and pepper to taste.
This is lovely with a handful of grated cheddar cheese on top or a sprinkling of Parmesan, and a good crusty bread. Or, you can add a dollop of sour cream or yogurt.
Sometimes I also love to put a few leaves of spinach in the top to soften at the very end of the cooking time.
Health in a bowl.
This soup freezes well. Make a lot of it in pumpkin season and enjoy it all year round (or create variations with this as a base). If you decide to freeze some, use these freezer bags and this extra special baggie rack/holder to make your life easier 😉
While we are talking about soups I must recommend my Coconut Pumpkin Soup and my Pumpkin Beetroot Soup.
Pumpkin Tools Every Pumpkin Lover Should Have
Here are my absolute must haves for cooking with and enjoying pumpkins.
pumpkin carving tools
pumpkin peeler - trust me, this is 1000 better than trying to peel a pumpkin with a regular knife
aluminum baking sheet pan - I have both these and a regular metal pan. The aluminum is hands down the best: cleaning is a breeze compared to all other baking pans
stick blender - for all those times when you want to puree a soup or a sauce
Vitamix blender - if you're serious about pureed pumpkin and freezing pumpkin soups for the winter. I use mine All. The. Time!!!
Precision Kitchenware - Ultra Sharp Stainless Steel Dual Julienne & Vegetable Peeler with Cleaning Brush & Blade Guard
Artisan Professional Classic Aluminum Baking Sheet Pan Set with Quarter, Half, and ⅔-Size Sheets
Ovente HS560B Multi-Purpose Immersion Blender, 300-Watt Hand Mixer, 2 Speeds, Brushed Stainless Steel Blades and Detachable Shaft, Black
Will you have a bowl of Classic Pumpkin Soup for Lunch?