My favorite season, Fall is almost upon us!! I am mega excited especially since I have an unlimited list of easy pumpkin crafts for adults! Well I say unlimited as I will never have time to get around to making them all!!
A girl can try, though! The sooner I tell you all about my pumpkin craft ideas for adults, the sooner I can get around to making some of them!!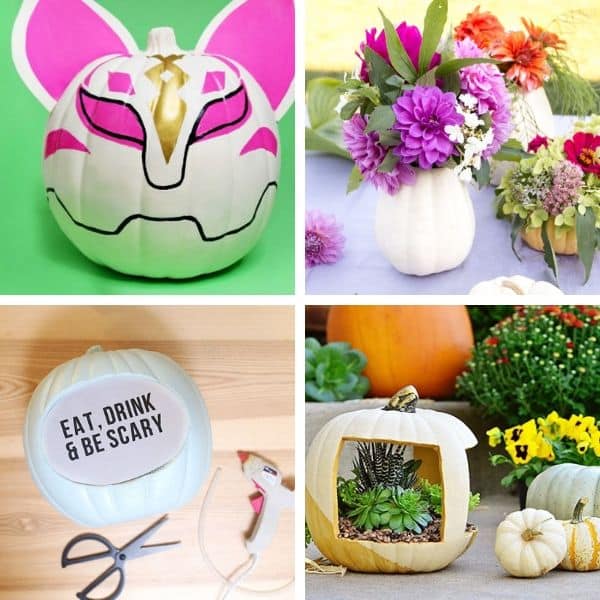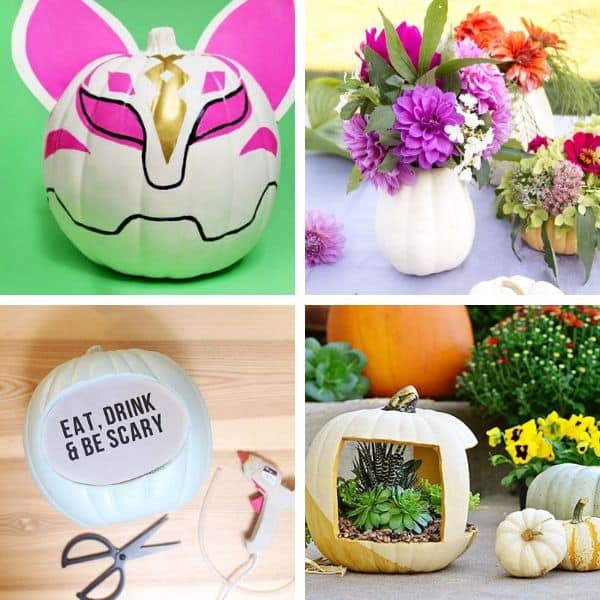 I have decided to break these into categories as far as possible to make it simple to find something you would like to make. I picked these based on how easy they are to make and how much I like them. Some of them make awesome home décor or gifts too.
These Fall crafts for adults can be made from late August to end of November in my opinion [I am a blogger though so chances are I might start doing some of these even sooner so that I can tell you about them :)].
I like to call these my November crafts for adults but that does not mean you cannot do them sooner
Pumpkin November Crafts for Adults To Make
DIY skincare is hugely popular because, 1) it is usually cheaper to make your own and 2) it smells better than one you would buy in the shop and 3) you actually chose what you add to it so no hidden ingredients!
Sarah from Ruffles and Rain Boots has made this divine Pumpkin Spice sugar scrub!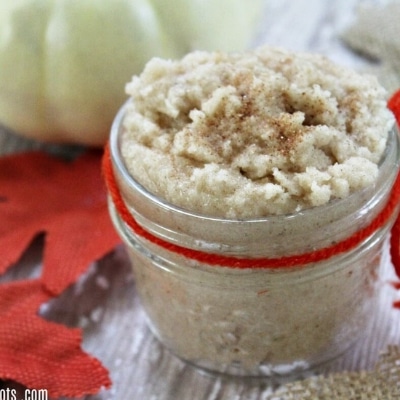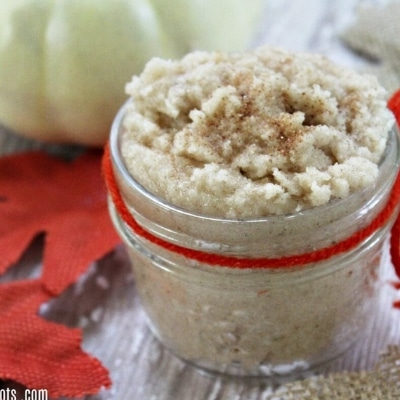 Her recipe involves only 4 ingredients and is so easy to put together!! Please don't tell me I can only use this at Fall because I am pretty sure I would be hooked as soon as I put it on my skin!! I adore the scent of pumpkin spice, the only thing that beats it is my favorite fragrance (Coco Mademoiselle for those wondering).
Do You Want a Fall Pumpkin Door Hanger- You Can Make Your Own and It's Simple
If you do then Christine from Where The Smiles Have Been has you sorted with this girly pumpkin door hanger, which all your visitors will get to admire.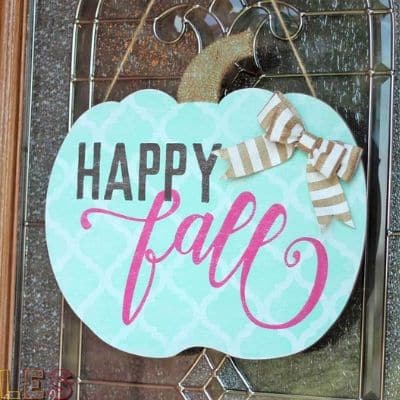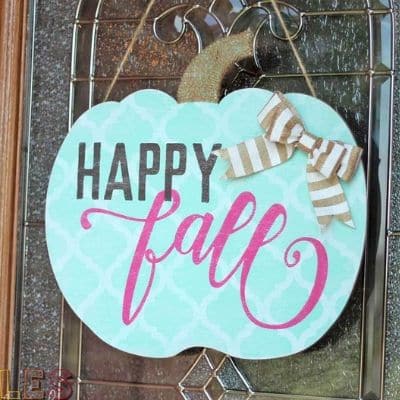 She gives you a step by step guide and you will need a foam paint brush and stencils (she gives you links to these). It you do not think it is very Fall like you can change the colors and opt for orange as opposed to blue! Of course you could make this in black and orange and use it for Halloween and change the message.
I was astonished when I seen the quality of some of these easy pumpkin crafts for adults as they look like real quality household décor! I especially love the Lightbox DIY Quote Pumpkin made by Shrimp Salad Circus (that's a name that will stick in your head by the way!)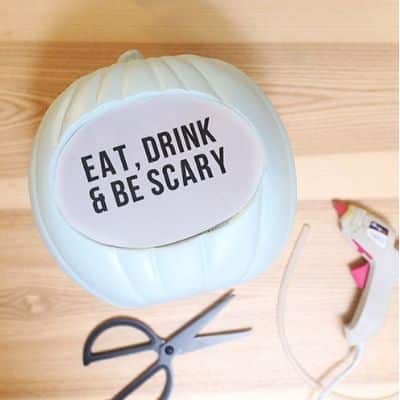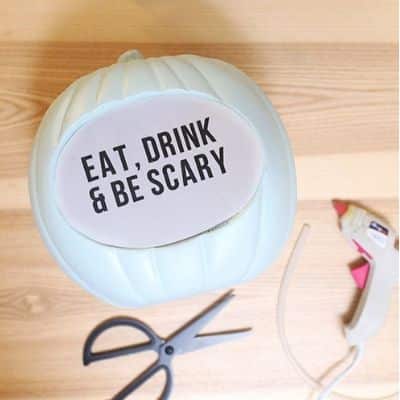 She uses a fake foam pumpkin from a crafts store for her design. The good thing is you can pick any color you like and put any message on it you like. I can imagine my teenage niece wanting one of these on her bookshelf! She will probably ask for the quote DIVA In Action knowing her lol! But seriously there is no limit to the number of these or where you put them.
I know if I get started making these I will likely make a dozen! I will probably stock up on these post Thanksgiving when they are reduced for next year's crafts!
The light is provided by a battery operated candle so it is also safe and unlikely to go in fire 🙂 I am sure you could buy different colored candles to make each of your pumpkins look slightly different.
These light up quotes are hugely popular here in the UK whether you are using them to welcome guests to a party or make an announcement, so I can see this one being a hit with my readers!
How about some White Pumpkin Home Décor Using Crafts
As my readers know I love white pumpkin décor!! I am always on the hunt for new ideas and these easy pumpkin crafts for adults feature some great pieces! The DIY Pumpkin Vase by Get Green Be Well would look awesome on top of my dining table during Thanksgiving Dinner.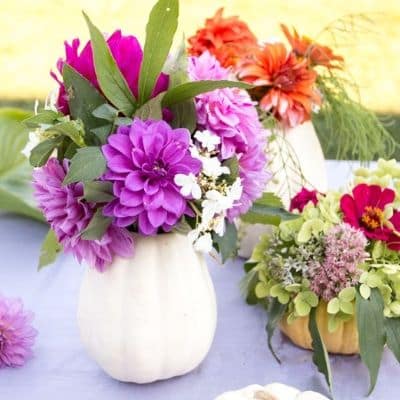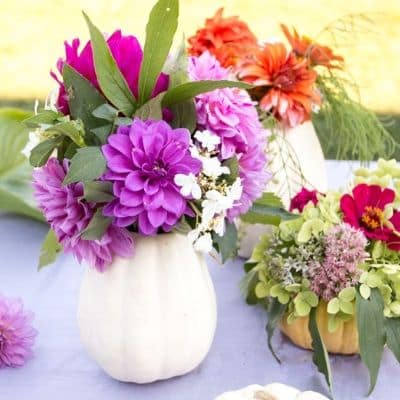 Since the pumpkin is white you can add bright colored flowers and greenery until your heart is content. Of course you could always paint the pumpkin a different color should you desire to do so. I might add gold polka dots to a white one to add a bit more color. You can use mini pumpkins or whatever size you can get your hands on.
I have recently added my own Thanksgiving Pumpkin Flower Arrangement which I think looks awesome as well as being a fun Fall craft for adults.
Pumpkin Sewing Crafts
If you love to sew you can find lots of great sewing projects involving pumpkins! These are simple and they look very intricate. These are great pumpkin gifts and would be appreciated by a Grandma or your kids school teacher I think.
Pumpkin Pillow Craft
Kippi At Home shows us how to make a beautiful back and white chequered pumpkin applique for a pillow! This would look fabulous against a black leather sofa or even on a wooden chair!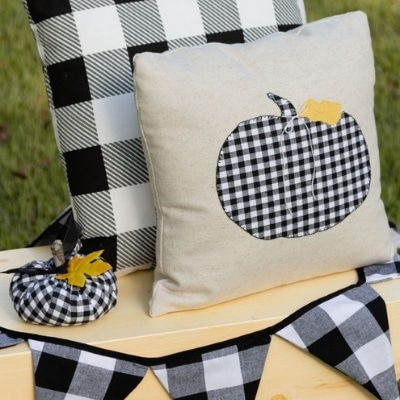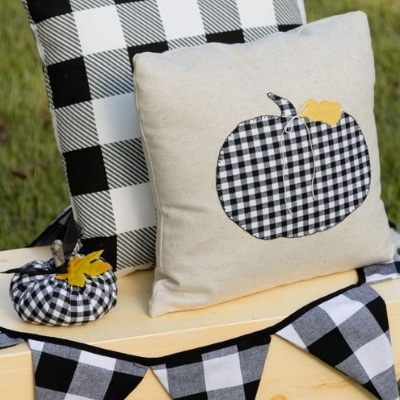 Kippi provides step by step guidance of how to get your pumpkin tracing and how to put the applique together. This is one of those wonderful Fall crafts for adults who love needlework.
She has sewn her black and white pumpkin onto a light colored pillow, of course you could use any color of pillow. If you wanted something more like Halloween Décor you might use a bright orange cushion!
You could also use any type of fabric or color for the pumpkin if you wanted something brighter, although I have to say I love the combination of black and white check together.
Pumpkin Paper Crafts
Everyone loves making Fall crafts using paper because it is cheap to buy and you can normally rustle something together very quickly!
Ann's Entitled shows us how to make a beautiful paper pumpkin shown below!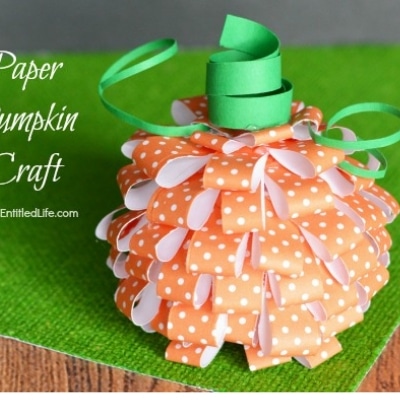 Ann makes this look like one of the easy pumpkin crafts for adults! It would look good on my mantelpiece or even as part of a centrepiece for Thanksgiving! To me it actually looks like a decoration for a tree!! I love all things pumpkin so if I get around to making this I might put it on my Christmas tree.
Outdoor Pumpkin Décor Crafts for That Perfect Fall Feeling
I love decorating my house inside and out! Luckily I found a few craft bloggers who shared their amazing outdoor pumpkin décor crafts with me! These are going to look amazing on your front porch or outside your front door this year!
Tidy Mom made a beautiful pumpkin planter which will appear to your gardeners who love to showcase your shrubs.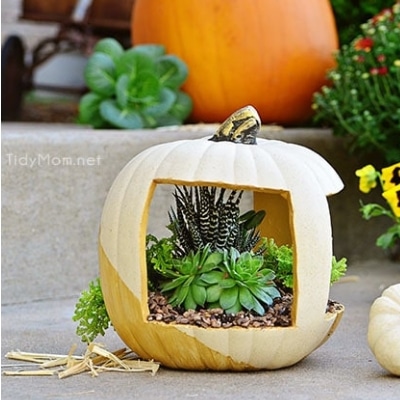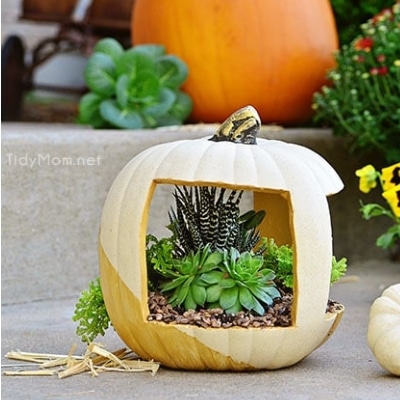 This may look intricate but it is super simple to make! It requires a faux craft pumpkin so why not buy two or three and make different planters with each one. This one is painted gold but you could paint it any color you like! How about black for a spooky Halloween planter!
Easy Pumpkin crafts for adults like this one will appeal those with a green thumb 🙂
Some Beautiful Decorated Pumpkins No Carve
Painting is one of my favorite things and it is a brilliant way to decorate a pumpkin. Lots of people love designing no carve pumpkins for Halloween.
There are no sharp pumpkin carving tools involved so this means it can also be used as pumpkin crafts for kids as well as adults (well that's if you don't mind your kids painting).
Amy at As The Bunny Hops has the most amazing no carve pumpkin ideas ever!! I mean if you do not want any sharp tools and just want to paint get over to her site and see her massive collection. I could feature all of them here but it would take to long!
After much thought and persuasion from my 8 year old nephew I decided to feature this Fortnight pumpkin design! This is such a hot game right now in the UK and my nephew would be dead chuffed if I ever got around to doing one of these for him!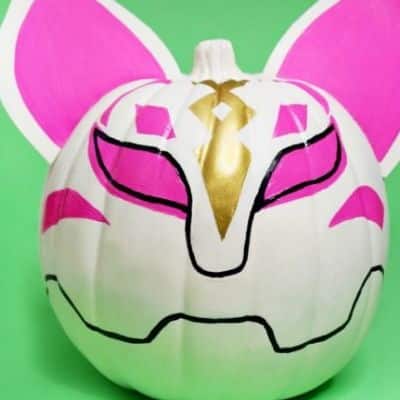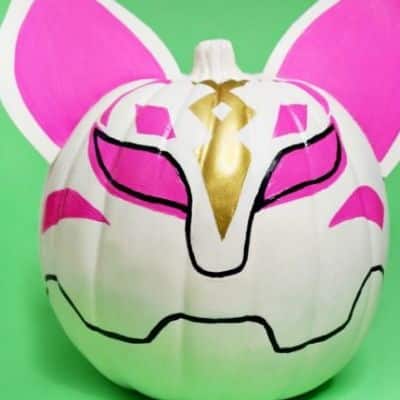 Others I really loved were Beauty and The Beast and The Nightmare Before Christmas.
These creative pumpkin decorating ideas can really transform your house during Fall!! Why not have a competition and see who can do the best painted pumpkin decoration?!
The Best of The Rest - Easy Pumpkin Crafts For Adults
Okay I could list hundreds of Fall crafts for adults featuring the adorable pumpkin but if I did that you would still be sitting here reading to Christmas and you would never get around to crafting! Therefore I decided to simply list some other ideas.
Pumpkin Rock Painting Ideas - rock painting is great for the whole family!
Tin Craft Pumpkin Craft by Ann's Entitled Life - turn your used soup cans into something pretty with this easy tutorial
DIY Halloween Pumpkin Drinking Glasses by Drug Store Divas - these are pretty cool and can be used year after year!
Pumpkin Burlap Sign - this would look good on your wall
Pumpkin Craft Upcycled Mason Jar Lid - why stop at the jar when you can decorate the lid too
Will You Try Any of These Easy Pumpkin Crafts For Adults?