We all love eating pumpkin so why should our furry friends miss out, after all they are part of the family too! Luckily I have found some great recipes for easy pumpkin dog treats which are homemade.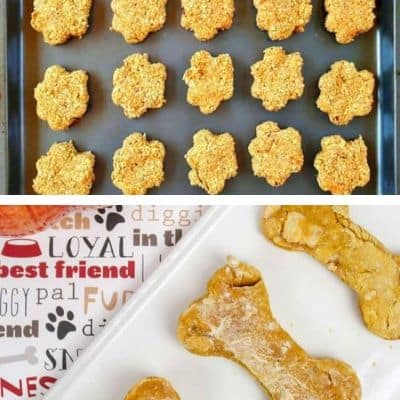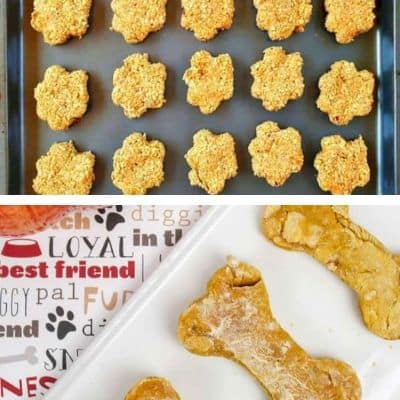 Pumpkin is healthy for dogs and is actually a good fix for constipation and diarrhoea. It is high in fiber to keep the bowels regular and helps prevent upset tummy.  These pumpkin recipes for dogs are a real treat and can be enjoyed daily or given as a Pumpkin gift at Christmas or any time of the year.
Pumpkin Dog Recipes Are Brilliant
The best thing about homemade pumpkin dog treats is that they can be adapted for dogs with different dietary needs. They can be made with whole wheat flour or oat flour if you have a gluten free pet.  Coconut flour can be used in recipes for diabetic dogs. It means all dogs get to enjoy some pumpkin and no one misses out on the great taste.
You can use canned pumpkin or fresh pumpkin; I always go for fresh as I have lots of pumpkin to use. You really should learn how to grow giant pumpkins from seeds and then you would ample supply too.
A good idea is to make these in bulk as they last for 8 weeks in the fridge and as long as 7-8 months in the freezer (I am guessing they will never get to stay their too long as these easy pumpkin dog treats taste so darn good)!!
Even better is the fact that pumpkin for dogs is highly recommended and helps treat both constipation and diarrhoea.
Pumpkin Dog Treats Homemade
Janell from Saving You Dinero has a fabulous recipe for some Pumpkin Apple dog biscuits! Anyone that knows me, knows I love pumpkin and apple so I am totally in favour of giving them to a furry friend. I have a list of my favorite pumpkin apple recipes, but please note these are not for dogs.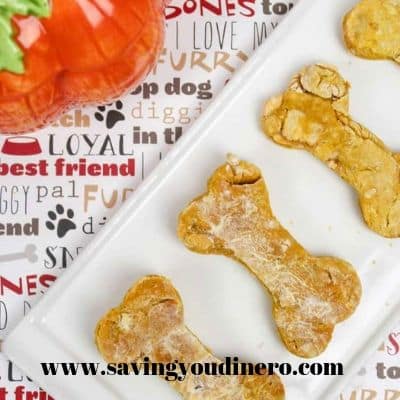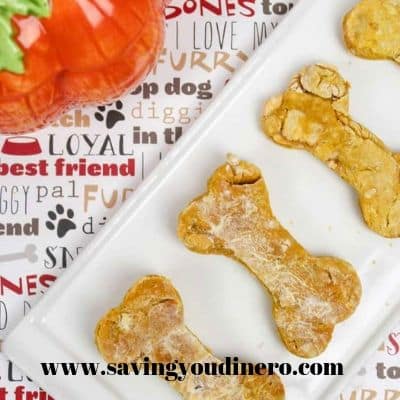 Janell's recipe has 6 simple ingredients (chances are you will already have some of these in your cupboard) and a dog bone cookie cutter! Just remember this can be used again to make other easy dog treats.
Canadian Cooking Recipes has come up with one of the brilliant easy pumpkin dog treats made with oatmeal. Her recipe contains only 5 ingredients! Her treats contain, pumpkin, apple and peanut butter!! Yep our furry friends can now enjoy a delicious peanut butter snack also!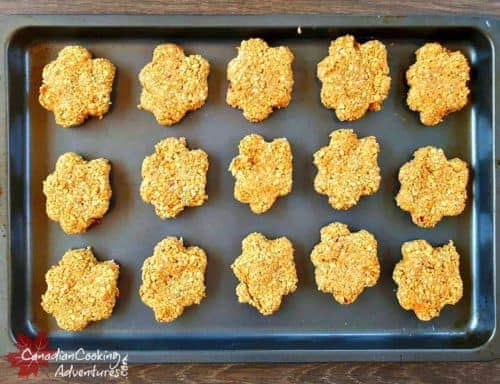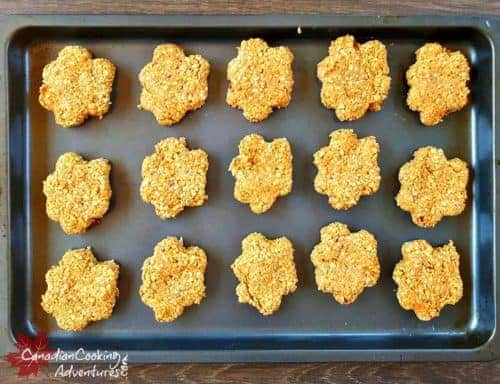 It is important to ensure the peanut butter you use does not contain xylitol, as it is toxic to many animals including dogs.
One of my favorite ideas for easy homemade pumpkin dog treats is shown in the video below. These are so awesome and require no baking!! Better still they only need 3 ingredients, Charlie Bear dog treats (you can choose which one depending on what your dog likes), canned pumpkin and yoghurt. After you add all the ingredients into a dog shaped cookie mould you freeze them as opposed to cook them. This is a super simple pumpkin recipe.
I have also seen people make pumpkin balls and popsicles for dogs!
Other Ideas for Homemade Pumpkin Dog Treat Recipes
These represent only a few ideas from my favorite pet lovers BUT you can do so much more with these recipes, not to mention the fact you can make them look different.
How about using different cookie cutters and shapes?! You could even use Halloween themed ones including pumpkin shapes.
Many people cannot stand the sight of peanut butter and do not like to use it for cooking, if you are one of these you can use banana or carrot in your easy pumpkin dog treats homemade.
Of course if you want a break from making easy pumpkin dog treats from scratch, then your dog might like something from below
Fruitables Pumpkin Dog Treats, Variety Pack of 5-
Natural Dog Treats, 100% Organic, Pumpkin, 14 oz
Dog Tummy Digestion Support -Pumpkin & Ginger
Whi
Which of these easy pumpkin dog treats are you going to try and make?