If you like a good plate of healthy food you will adore my easy pumpkin salad recipes. The good news is you can put these together very quickly.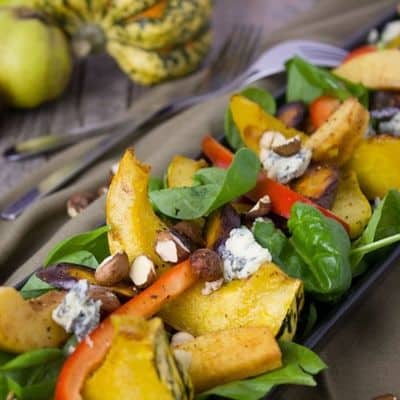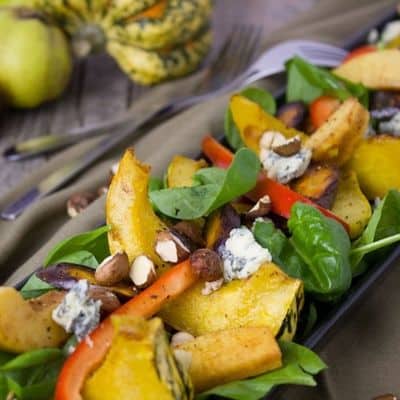 There are endless possibilities when putting together a pumpkin salad as so many different ingredients work well with this versatile vegetable. I will cover various pumpkin salad recipes here including those with different cheeses and meats. I can bet you will want to try them all! Finally I will provides ideas for pumpkin salad dressing or sauce, which you can add to make your dish even tastier.
How To Prepare Pumpkin For Salads
Fresh pumpkin has a very strong delicious flavour, however I prefer to cook it even for use in salads. Cooking pumpkin is so easy and there are many ways to do it. Salad with pumpkin commonly features baked and grilled pumpkin. I make so many pumpkin recipes that I freeze lots to use when needed.
For salads I prefer pumpkin cut into slices or even cubed. Cubing takes me a little longer so if I am in a rush I slice. My slices are around 1-1.5 inches long, so that the kids can eat them too. If I have too many slices I keep them and eat them as a snack at another time. Lots of people like to puree pumpkin in a food processor or blender and this also works well for salads.
Canned pumpkin can also be used if you do not have any time to prepare fresh. It has similar taste to the fresh variety. Some people are unfortunate to not have access to fresh so this is the only way they can experience the tastiness of this fabulous vegetable.
One neat idea for a pumpkin salad is to actually serve it in a pumpkin. Dinner in a pumpkin is a extremely popular choice for family meals during Fall. I have showed an example of this below, where the pumpkin is not sliced or cubed but simply cut in half. It is baked in the oven and left to cool before adding some salad.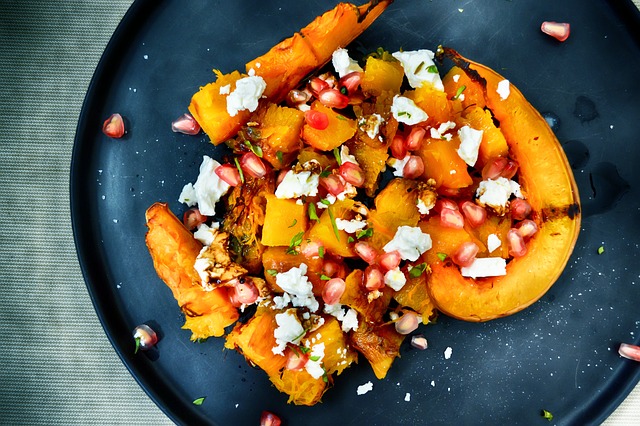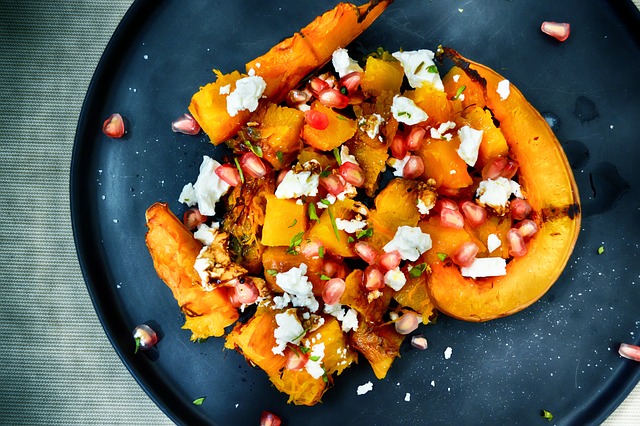 Vegan Salad With Pumpkin
These are tremendously popular and work as a side dish or lunch. They are so tasty you will find yourself unable to stop until your plate is empty. A vegan salad with pumpkin has enough calories to keep you full for hours on end. They normally feature different cheese and nuts as well as salad leaves and a divine dressing. If you are worried about lack of carbohydrates you can supplement with a crusty roll or any type of bread.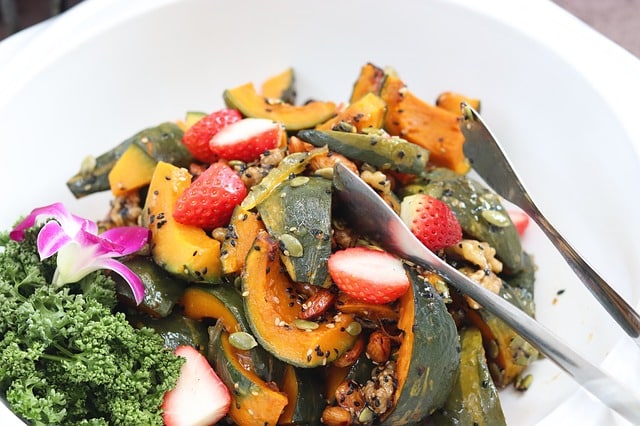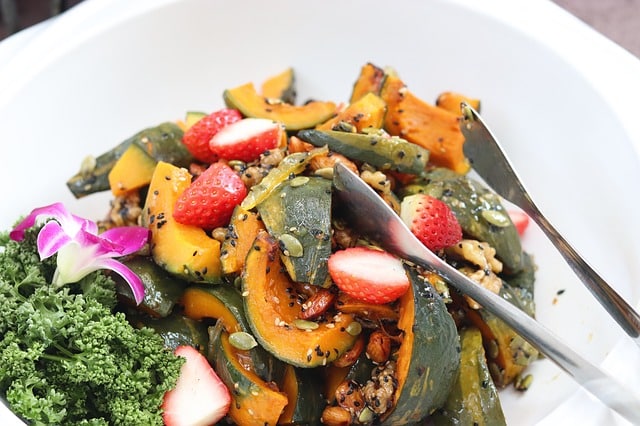 Chickpea, Spinach and Pumpkin Salad - this looks delicious and tastes even better. With a dash of garlic, mustard and balsamic vinegar you cannot go wrong.
Pumpkin Quinoa Salad - vegan and gluten free salad is full of healthy ingredients and is a burst of color on a plate. This has cranberries and red onion and makes it easy to get your 5 a day.
Roast Beetroot and Pumpkin Salad - Everyone knows I am a massive beetroot fan, as I have previously made Beetroot Pumpkin soup so it comes as no surprise I feature this recipe here.
Simple Pumpkin Salad With Feta - one of my own and I love it dearly. Feta cheese is awesome with pumpkin, I highly recommend you try it.
Roast Pumpkin, Pear, Avocado Salad With Blue Cheese and Raspberry Balsamic Dressing - sounds so heavenly. I have never made or tasted it but I really want too.
Thai Pumpkin, Coconut and Bean Salad - if you love a good Thai curry you are sure to want to try this.
Easy Pumpkin Salads With Meat and Fish
The most common meat pumpkin salads are made with chicken, although shrimp also works well.
Roast Pumpkin, Chicken and Honey Mustard Salad - This is light on ingredients but not on taste. Chicken and honey mustard taste so good and the pumpkin adds to the taste. The nuts and seeds give this dish a wonderful texture.
Grilled Pumpkin, Chicken and Asparagus Salad - as you might now realise you can use a wide variety if of ingredients to create a fabulous tasty salad with pumpkin.
Chilli Prawn Salad With Pumpkin - I am a massive chilli prawn fan so combining this with pumpkin makes this such a winner for me.
Warm Pumpkin, Beef and Spinach - I could not forget adding beef to a salad with pumpkin. This would make a nice dinner idea.
Pumpkin Salad Dressing Suggestions
Lots of people have asked me what dressing or sauce goes with pumpkin salad. I have to be honest and say I never eat a salad with some sort of dressing on top. If you have lots of time you can make your own dressing and the video below shows you how to make vinaigrette dressing.

Here are some of the most commonly used sauces or dressings with pumpkin salad:-
Lots of people have no bother putting a pumpkin salad together but sometimes they struggle to come up with a dressing to make it taste divine. Below I have listed some of the most popular choices:-
Vinaigrette dressing
Balsamic Vinegar
Maple Syrup
Honey and Mustard
Virgin Oil
Will you be indulging in a pumpkin salad recipe anytime soon?
Many people do not associate pumpkins with salads; instead they assume they can only be used for pies or lattes! They could not be more wrong, as salad with pumpkin are a tasty combination if done right. Vegan or meat varieties will satisfy every foodie out there. The combination with fruit and nuts makes them a healthy choice full of fiber and antioxidants. I hope the pumpkin recipes here have left your mouth watering. If you need more inspiration Eat Drink Paleo have some great ideas.
You might also enjoy some of these delicious pumpkin dinner recipes
Dinner in a Pumpkin - stuffed mince anyone?! Sounds yummy and the kids love it. They think it is a special treat getting to eat their dinner from a pumpkin.
Chicken Pumpkin Risotto - risotto lovers will go crazy for this delicious meal
Homemade Pumpkin Ravioli - a classic ravioli with this wonderful vegetable
Mashed Pumpkin With Potatoes - here in the UK you cannot beat mash roots and potatoes. It is our go to food during Fall and Winter
Spanish Pumpkin Tortilla - tortilla with anything is fabulous and definitely worth trying.
Which of these pumpkin salad recipes were your favorite?