Halloween is coming so quickly so I thought it would be a great time to share some flower pumpkin carving templates with you all!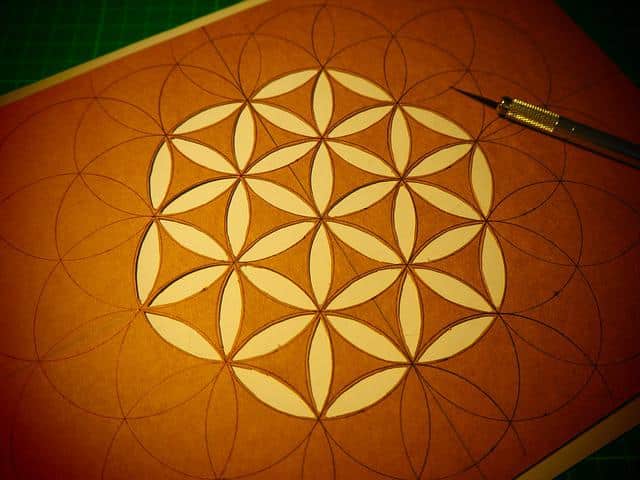 October is not traditionally a great time for flowers and normally the leaves on the trees are dying off and falling to the ground.
If you love gardening especially flowers you might want to turn a pumpkin into a flower. Yep that's right you can have flower Jack O Lanterns.
My ideas for flower pumpkin carvings will help you keep the flowering season going on a bit longer. These make for great indoor (I'm thinking table centerpiece) and outdoor (front porch, or surfaces outside the front of your home) decor.
You can pick your favorite flower pumpkin stencil from the ones I have listed below. You can also paint your pumpkins a different color to represent the color of the flower you are trying to create.
Below I have found a list of Halloween pumpkin stencils featuring flowers. If you do not wish to try and do these yourself then you may want to try and paint a flower on your pumpkin.
These can be rather tricky and definitely fall into one of my more advanced pumpkin carving patterns so don't try these if you need a Jack O Lantern last minute.
Eventually I want to try and do a lotus pumpkin myself but until I can find some decent pumpkins to carve and the time to use my sharp carving tools here are some of the best pumpkin carving patterns I could find.
Best Free Flower Pumpkin Stencils
Easy Flower Pumpkin Carving - the most simple Jack O Lantern flower face is one with a small circle in the middle surrounded by ovals (representing petals).
I am pretty sure I could carve this design (after clearing out the pumpkin) in around 10-15 minutes depending on how sharp my tools were. I actually do plan to do this one and add a picture and template closer to Halloween.
You could also add a long stem of even better do several of these simple flowers on the same Jack O Lantern. A trio would work well but I guess it depends on the size of your fruit.
Free Flower Pumpkin Carving Stencil can be found on Muse.com -this one actually looks very similar to the video I have posted below. The pattern provided will make this much simpler to carve as opposed to trying to copy it directly from a video. If I was short of time I would probably just make some small holes in the centre of the design or a small circle in the middle of the flower to represent the pollen!
Sunflower Pumpkin Carving - how cool does this pretty Sunflower look carved onto a Jack O Lantern? I do not have any sunflower pumpkin stencils (there are some to buy but now free that I can see right now) but this should be easy enough to copy directly.
UPDATE - I have found a free sunflower pumpkin carving pattern for you on Woo Jr, it is trickier to carve than the one below though.
You can make this simpler by not doing the diamonds around the sunflower petals. If you were really creative you may paint the pumpkin yellow to represent the color!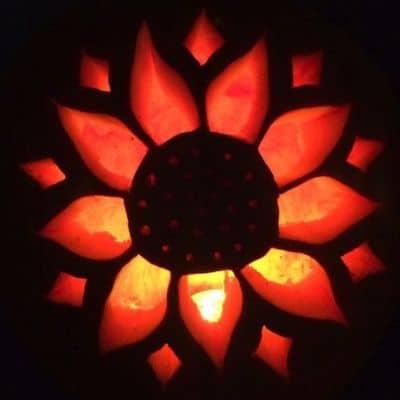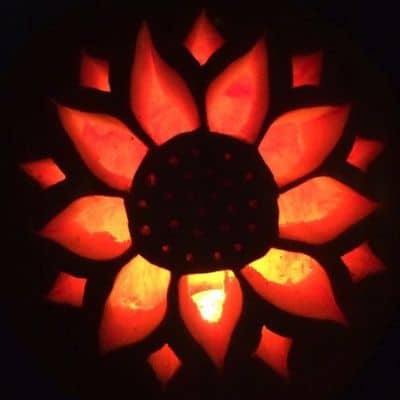 Still looking for more stencils? There are hundreds of flower stencils on the internet which you can download for free and use to help you make a floral pumpkin. I particularly love the Rose designs. Make these even more special by painting your pumpkin red before you do your carving!
The video below shows a lady drawing a beautiful flower design onto a Pumpkin before using her sharpest carving tools to cut through. The end result is a beautiful Flower Pumpkin Carving. As you can see this particular pattern has lots of individual petals, which ,means it is tricky enough to create! Do you feel confident enough to try and copy this?
If you need some more inspiration and do not mind trying to create your own floral Jack O Lantern without a stencil feel free to check out the list of 25 flower pumpkin carvings on Design Bolts. Some of these are more simple than others, whereas others are fairly intricate.
Lots of people do not create a Flower Jack O Lantern; they actually cut a pumpkin to make it shaped like flower petals! Sounds like a great Thanksgiving centerpiece idea! I think this is even trickier than using the flower pumpkin stencils I have found!
If you want some more great ideas for pumpkin faces why not try some cat carving pumpkins, you can do a face or the whole body.
Please tell me what your favorite is and maybe some ideas for pumpkin carvings you would like to see featured here.
Will you try these Flower Pumpkin Carving Templates