Now that Halloween is almost upon us we are frantically searching for the most creative ways to decorate pumpkins. One great hassle free and kid friendly way is to decorate pumpkins with markers.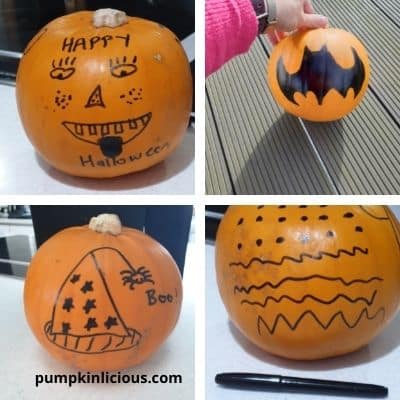 In our house we like to do lots of different things for Halloween. We make some wonderful Jack O Lanterns and we also get out our paintbrushes and create some fabulous painted pumpkins.
If you want to forgo the sharp knives and messy paint you might be interested in decorating pumpkins with markers, without painting them first!
This is great for young and old kids alike. Budding artists will love drawing on a pumpkin with some sharpies.
We all know these are permanent markers so you may want to use non permanent markers or else put some gloves on your little kids to stop their hands getting covered.
Personally I love drawing on pumpkins with markers, I find it very therapeutic. You can decorate them any way you wish. Sometimes I freestyle a design, some times I do polka dots and zig zags. Other times I do scary pumpkin faces or some not so scary ones.
I am trying to perfect my Mickey Mouse drawing so that I can recreate him on a pumpkin. I find drawing tutorials help me copy basic designs onto my pumpkin.
You can do these designs with a black marker. Sharpies are the best markers for pumpkins for sure!
Other markers work too but I feel black is the best on the bright orange pumpkins. Of course you can buy white faux pumpkins and use any color of marker on them. I did decorate some spider pumpkins this way.
Freestyle Ideas for Decorating Pumpkins with Markers
I absolutely love drawing hearts, stars and other doodling so it was only natural I would do this on a pumpkin. You can see my design below. The black sharpie works great against the orange pumpkin.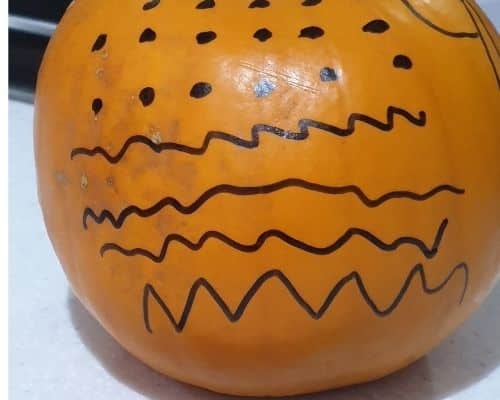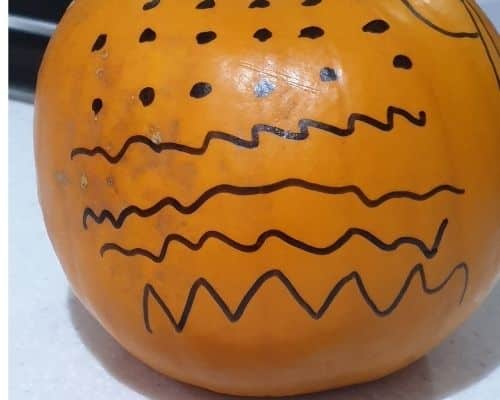 It is very basic, but would be a good pattern for little kids to try and copy. They could make a repetitive pattern, like three rows of polka dots followed by a row of zig zags and so forth.
Of course you could pick anything to make a pattern, hearts, stars, numbers, letters, just whatever your child wants. I know my 4 and 6 year old are always making patterns in school and learning how to follow patterns.
Happy Halloween Pumpkin Decor with Sharpies Pumpkin Markers
I also drew a cute face on one of my pumpkins and accessorized it with freckles and a Happy Halloween message.
I made sure it had it's tongue stuck out too. Of course you can draw whatever face you like. Little kids will love this activity. They will love drawing faces with frowns and big smiles alike.
They can even use a bright red marker to draw cheeks.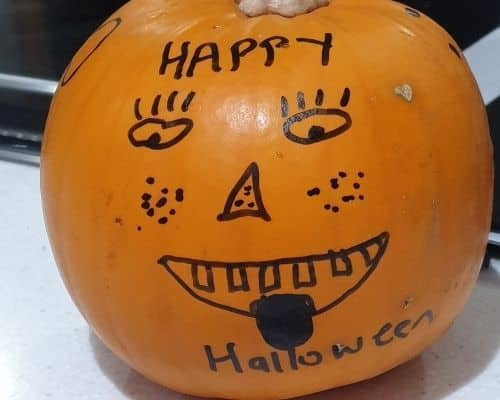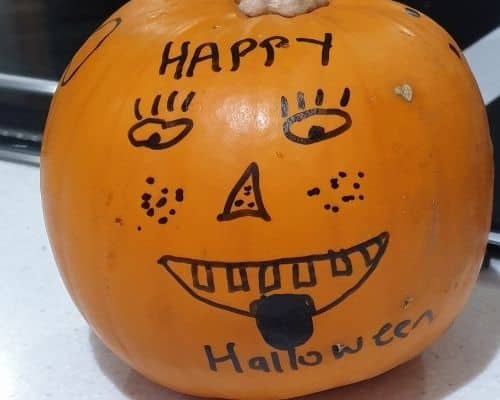 Batman Pumpkin Painting using Black Sharpie Marker
I have always loved superhero pumpkins but these are so hard to carve. I decided to work on the superhero logos and symbols. One of the ones I found the easiest was the Batman symbol.
My 4 year old son is delighted with the result and wants me to actually try and carve some superhero pumpkins next.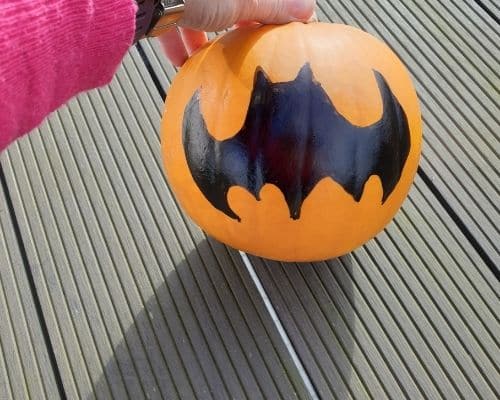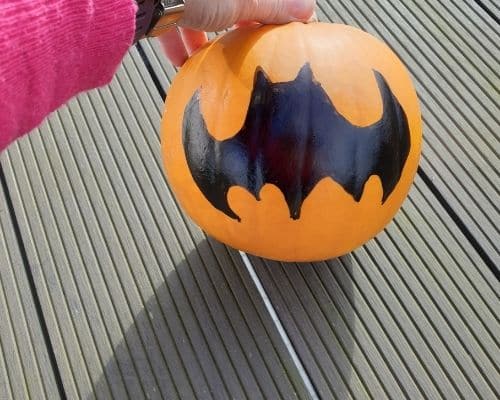 I'm half tempted to stick some small googly eyes onto that bat and add a white pipe cleaner mouth! My kids are trying to persuade me to draw the oval around the outside, but I think it would go around the side of the pumpkin and would ruin the design.
Other things to draw on pumpkins with markers and sharpies
Cats - we all know black cats are associated with Halloween so why not try decorating your pumpkin with one. You can just do the face or go for the whole body! If you like you can also do a pumpkin cat carving to go alongside this!
Witch - if you are a really talented artist why not draw witch. If not you can draw a witches hat like I did instead.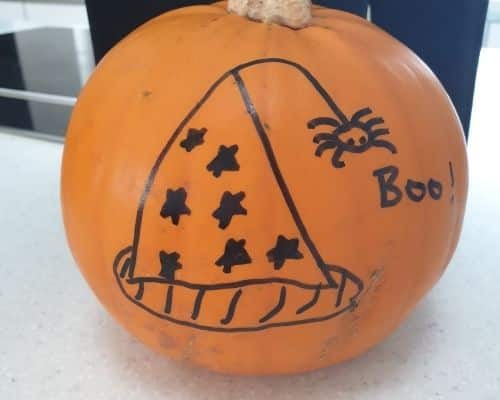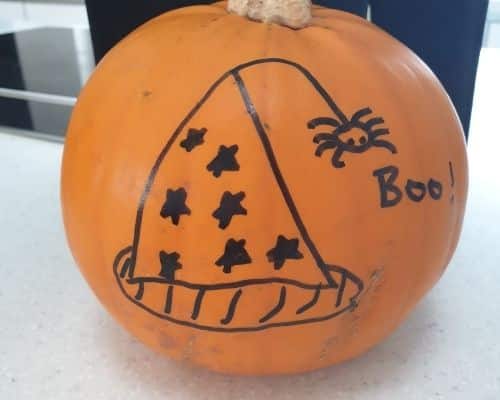 Flowers - how about some pretty flowers. You can make these as simple or as detailed as you wish!
How about some dinosaurs?! I love dinosaur pumpkin ideas and find these really hard to carve so a drawing might be much simpler.
Struggling to draw anything?! Then why not buy some black decals and stick them on your pumpkin. You can also glue on some sequins and glitter to make it sparkle.
Some other Great Ways to Decorate Pumpkins
Cool painting pumpkin ideas - if you love painting then these are for you
Pumpkin Dog Face - everyone's favorite pet
Owl Pumpkin Carving Ideas - the wise old owl is a popular Autumnal animal
I do plan on adding lots and lots more ideas! I could do with 100 hours a day at this time of the year!
Which is your Favorite way to decorate Pumpkins with Markers?