Fall is almost upon us and one of the hottest ingredients is pumpkin! My collection of pumpkin baby food recipes mean everyone can enjoy some of this fine vegetable this Autumn time.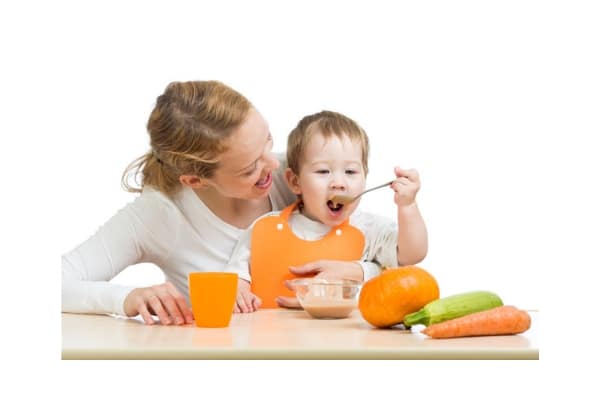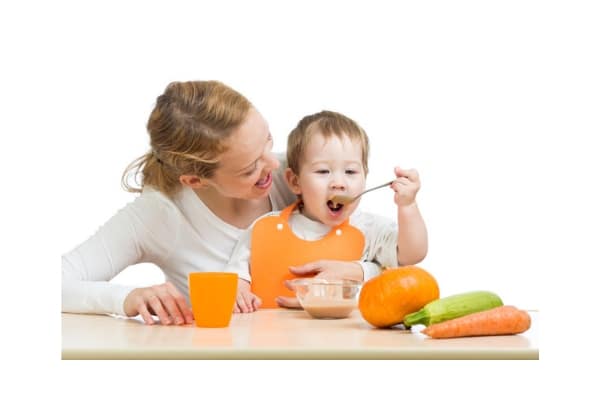 Pumpkin is so easy to puree and mix with other foods for babies as young as 6 months old to enjoy. With it's well know health benefits (including helping constipation prevention which can occur when baby starts solids) it is a must for little ones starting the weaning process.
Pumpkin Puree Recipes Are So Healthy and Easy To Make
Unfortunately I was weaning both my kids in Spring time so I had no access to fresh pumpkin or I would have made sure they got to enjoy it.
I loved preparing my kids purees fresh using a range of vegetables and fruits. I do find now my pre-schooler and toddler have a varied diet because there were introduced to a wide range of foods during the weaning stage.
This is why I encourage all Mums to add pumpkin puree to your babies diets as soon as solids are introduced. Pumpkin for babies is hugely beneficial to their health.
You can use canned pumpkin puree for these recipes but I prefer to use fresh pumpkin as it tastes so much better. It is so easy to cook pumpkin and prepare it for those at the first stage of weaning.
Top Pumpkin Baby Food Recipes For Infants
Here are some ideas for pumpkin dishes for babies. Pumpkin goes well with lots of things so you can give your infant a bit of variety.
Simple pumpkin puree by itself. It is so easy to puree pumpkin. At the start of the weaning process I always gave one food at a time before mixing a few together.
The bright orange color will definitely tempt baby and hopefully they love the taste. When you get to this stage you can start mixing pumpkin puree with other foods. I definitely recommend a decent blender in order to make all your purees. You can also use it for making smoothies for the rest of the family.
Ninja Professional 72oz Countertop Blender

Ninja BL456 Blenders - Countertop, 24 oz

Magic Bullet Blender, Small, Silver Set

If you want to know 'What can I mix with pumpkin for baby food?' I have lots of ideas. Pumpkin and Apple Puree is a winner. I always use Gala apples as they are super sweet! I remove the skin with a sharp knife, slice the apple up into pieces and add it as well as pumpkin to my blender! I add these in equal quantities. Pumpkin apple recipes in general are fabulously healthy for baby.
I normally make this in bulk and store some in the freezer for later use. At any point in time I always have my freezer full of baby food containers so I make sure and label them. I have included some useful food containers and labels below.
WeeSprout Baby Food Storage Containers | Set of 12 Small Reusable 4oz

White and Red 1 x 2 Inch Freezer Labels, Set of 100

My pumpkin banana smoothie recipe can be enjoyed by infants, but in small quantities. Banana and pumpkin together taste amazing. I have tried them in trifle and bread and I definitely recommend this blended version of the two. As well as having them in a smoothie you can mix a small amount of pumpkin puree with mashed banana and let baby enjoy this.
Pumpkin Baby Food Recipes Do Not Always Have to Be Pureed
Don't stop at pumpkin puree recipes for baby as they can still enjoy pumpkin whenever they like more texture. They can have mashed pumpkin with potato when they do not mind some lumps and also they can eat it in slices as a finger food. My pumpkin custard recipe could also be enjoyed by those at stage 3 of weaning. I know my one year olds adored custard for dessert after their potato dinner.
Around the age of 9-10 months my infants started eating bread especially pancakes!! I myself am partial to a pancake or 6, so I decided to make pumpkin pancakes which are a real treat for babies. You can make this even more healthy for your little one by adding mashed banana or berries on the side or on top.
When your one year old starts enjoying the same meals as Mom and Dad they can sample pumpkin alongside pasta or in a risotto dish.
Recap of Pumpkin Baby Food Recipes
If you want a quick summary of my recommended pumpkin baby food recipes here you go:-
Pumpkin Puree By Itself (either made from canned or fresh)
Pumpkin and Apple Puree
Pumpkin Puree and Mashed Banana
Banana Pumpkin Smoothie
Mashed Pumpkin and Potato
Pumpkin Custard for dessert
Pumpkin Slices as finger food
Pumpkin Pancakes with berries
Pumpkin with pasta and risotto for those fully weaned
Which of these Pumpkin Baby Food Recipes Will You Try?