Having a 3 and 4 year old at home over Halloween means I am on the lookout for a list of pumpkin books for preschool kids. I like things to keep them entertained whilst being educational at the same time.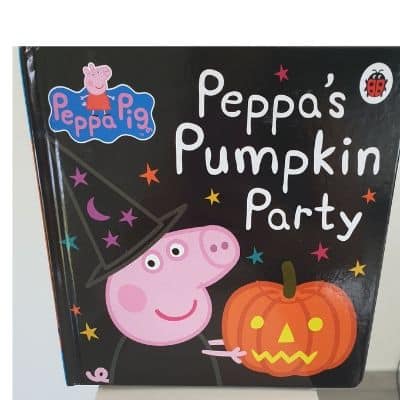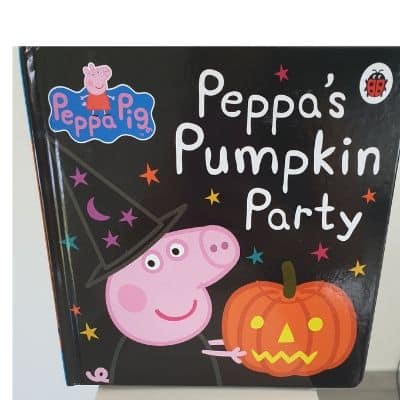 My kids talk about pumpkins all the time! Being a pumpkin blogger I talk non stop about Fall as soon as we get home from our annual July holiday. Naturally my excitement rubs off on the kids! I really must stop wishing Summer away so that I can carve, bake and doing all things pumpkin!
If you want to see some of my recommendations quickly you can find them directly below!


My Absolute favorite Pumpkin Books for Preschool Kids
We read a story every night before bed so I need lots of different books about pumpkins. Fortunately I already own a Peppa Pig Pumpkin book, which we have read countless times and my kids still enjoy it. I bought it one evening in the Supermarket and was super excited to share it will the kids before they went to bed!
Peppa Pig: Peppa's Pumpkin Party

This particular Halloween books will suit toddlers as well as young kids, especially if they like Peppa Pig. The thing I love about the book is the bright vibrant colors which really hold the child's attention. I love the reference to Halloween and all things pumpkin. I actually think it was this book that converted my little girl, Amelia into a pumpkin lover like me. She now tells me she wants to eat Pumpkin Pie like Peppa!
It's Pumpkin Day, Mouse Pumpkin Story for Preschool
I picked this Mouse book because it is about pumpkins and feelings. My kids nursery school really concentrate on feelings so I thought this one would work well with their learning program.
It's Pumpkin Day, Mouse! (If You Give...)

Mouse gets to decorate seven different pumpkins in this book. He does so with different expressions. This helps you teach kids, happy, sad, silly, surprised, etc. My little boy is almost 3 and now he can identify different facial expressions. He also likes to copy the pumpkin's expression and count them as well. I think it is immensely important to encourage kids to talk about their feelings and this book encourages this.
This book will instill creativity in your kids especially if they will be decorating their own pumpkins. Creative pumpkin decorating is one of my favorite Fall activities for kids.
The Roll Away Pumpkin Book for Kids
If you want a book with a story behind it and something to keep the kids guessing what next this is it. Will Marla Little ever catch her pumpkin again or where will it end up?
Pete The Cat: Five Little Pumpkins
A great Halloween pumpkin book for preschool kids which encourages them to sing along to a song about pumpkins. It has lots of bright pictures which keep children interested. Pete himself is on most pages but is not actually involved in the storyline, which is basically a pumpkin song.
Pete the Cat: Five Little Pumpkins

Pumpkin Books Entertain Kids Over The Holidays
These pumpkin books for preschoolers make some of the best pumpkin gifts. I do remember giving my friend's little girl a Halloween book when she came to visit and she was delighted with it. Don't ask me the name because it was quite a long time ago, well before I had kids of my own! I should remember because I read it to her several times!!
If you want some more Fall reading ideas you might be interested in the best preschool Halloween books below
The Spooky Wheels on the Bus

If You're Spooky and You Know It

Pinkalicious: Pink or Treat!

Pete the Cat: Trick or Pete

Room on the Broom

The Night Before Halloween

Llama Llama Trick or Treat

Mickey Mouse Clubhouse Mickey's Halloween

As well as reading books you can also entertain the kids with my cool Halloween Pumpkins game and my extensive list of Thanksgiving Preschool Pumpkin Activities. Don't forget to dress your little princess in a cute pumpkin witch costume for her Halloween party.
Do you know of anymore Pumpkin Books for Preschool Kids?