Nothing says fall quite like the combination of pumpkin and cranberries. These soft pumpkin cranberry cookies combine the best of fall flavors with a creamy frosting full of warming spice.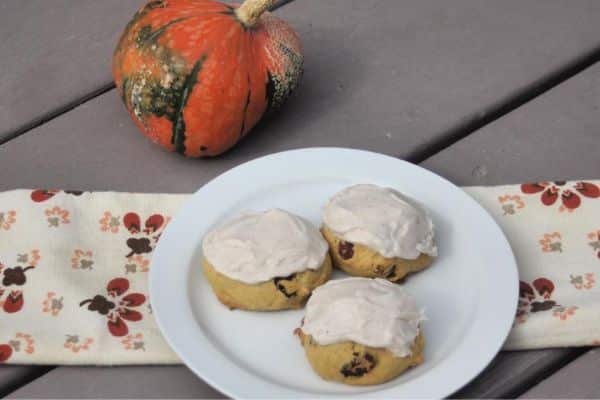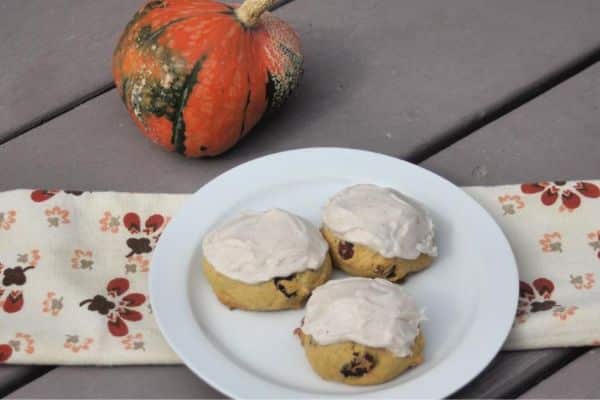 I am so pleased to be able to showcase fabulous pumpkin cookie recipes on my website and this one is special thanks to Kathie N. Lapcevic of Homespun Seasonal Living. She is a blogger and teacher living in northwest Montana. She embraces a simple and seasonal life in which she works and is often found either making a mess in the garden or in the kitchen.
Pumpkin works so well with cranberry; I know it is a cliché but these two ingredients really bring out the best in each other as I proved with my pumpkin cranberry bread recipe.
How To Make Pumpkin Cranberry Cookies
Yield: 36
Pumpkin Cranberry Cookies with Spice Frosting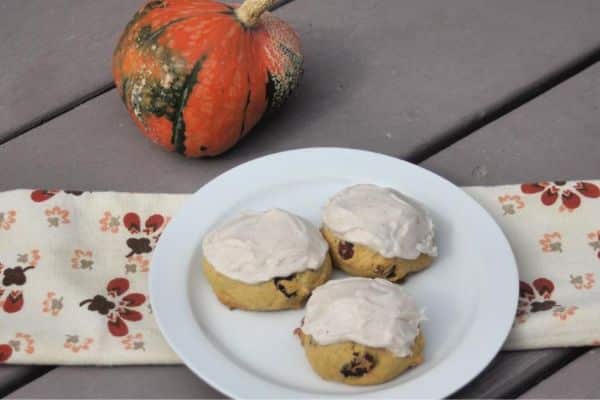 Scrumptious pumpkin cookies with cranberry and spice frosting!
Ingredients
Pumpkin Cranberry Cookies
½ Cup Salted Butter, softened
¾ Cup Sugar
1 Egg
1 ¼ Cup Pureed Pumpkin
½ Cup Nuts Chopped, optional
1 Cup Dried Cranberries
2 ½ Cups Flour
1 teaspoon Baking Soda
1 teaspoon Cinnamon
¼ teaspoon Cloves
Spice Frosting
¼ Cup Butter, Softened
¼ teaspoon Cinnamon
A pinch of freshly grated nutmeg
2 Cups Powdered Sugar (more or less as needed)
2 teaspoons Milk
Instructions
Make the Cookies
Preheat oven to 375. Line cookie sheets with parchment paper or silicone baking sheets.
Whisk together the flour, baking soda, and spices. Set aside.
Cream together the butter and sugar until light and fluffy. Beat in the egg and pumpkin, mix until incorporated.
Add the sifted dry ingredients, slowly. Mix until almost completely incorporated. Add the cranberries and nuts if using. Mix well.
Drop the dough by heaping Tablespoons onto baking sheets.
Bake in the preheated oven for 15 minutes until edges are golden brown. Transfer to a wire rack to cool completely.
Make the Spice Frosting
Beat everything together until light and fluffy. Add more powdered sugar slowly as needed to achieve desired consistency.
Spread onto cooled cookies.
Options Abound For These Cranberry Pumpkin Cookies
These pumpkin cookies are delicious as the recipe is written but options abound for customizing:
Skip the frosting completely for a soft delicious plain cookie.
Substitute cream cheese frosting for the spiced version included.
Use roasted pepitas in addition to or instead of nuts.
Substitute raisins or chopped dried apples for the dried cranberries
Use ½ cup chopped fresh cranberries instead of the dried cranberries for a completely different texture and more tart flavor.
Make smaller cookies and sandwich the frosting between two cookies for a whoopie pie.
Drizzle the pumpkin cookies with melted white or dark chocolate instead of frosting.
Add 1 cup of chocolate chips if desired and make these into pumpkin chocolate chip cookies
Use strong cooled coffee instead of milk in the frosting for a spiced pumpkin latte flavour. Everyone knows I am a pumpkin spice latte addict, in fact I just adore the best pumpkin coffees out there.
Pumpkin Cranberry Cookies are Great Keepers
These cookies are moist and will keep well in an airtight container up to 5 days at room temperature. If frosted, store in the refrigerator for up to a week.
They also freeze delightfully. Freeze the cookies plain by placing them in plastic bags. Layer frosted cookies in a container between layers of wax paper. Use up frozen cookies with 6 months.
Even when frozen these cookies will stay somewhat soft and can be eaten with very little thawing necessary.
In fact, they freeze so well you might want to consider making a double batch so you can have some for now and some for later.
If you love the idea of this recipe please keep up to date with my latest pumpkin recipes.
Will you be making these Pumpkin Cranberry Cookies for Fall?