Pumpkin Custard is a sophisticated take on an old classic recipe. Everyone loves a bowl of warm custard either on it's own or with a sponge dessert. Combine it with pumpkin and it is divine.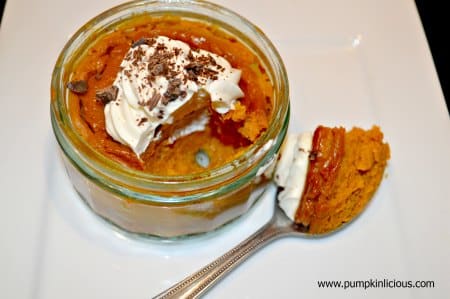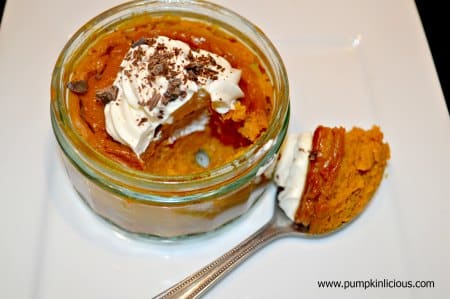 When having my intelligent moments (and yes, they are few and far between!) I am quite interested in the history of food as you may have noticed from some of my posts.
There are some great books out there, which are not only interesting, but also lots of fun to read – if someone told me at school that history could be fun, I certainly would have treated them with disdain, particularly my teachers!
I also tended to regard custard with the same kind of disdain when it was served at school lunches in England – usually at one of two ends of the scale- pretty thick, tasteless and strewn with lumps, or thin and wishy-washy, and still strewn with lumps – the pale colour of the huge bowl that sat behind the serving counter was enough to finish me off, even before afternoon lessons commenced.
Fortunately, we have moved on in terms of custard preparation and found new and innovative recipes, not least of which is our pumpkin custard, which is baked in the oven.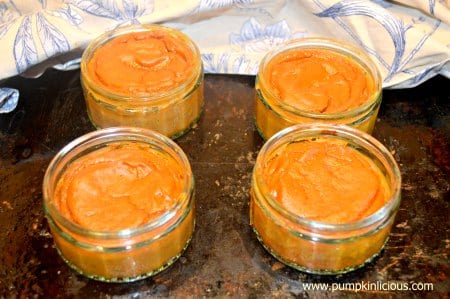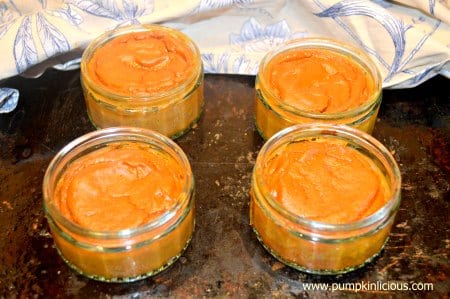 These are pretty quick and easy to prepare, and can be made in advance. The texture of the custard is thick and creamy, but the emphasis is still on the pumpkin.
My Easy Pumpkin Custard Recipe
I find it better to make these custards in individual ramekins. They bake really quickly and are even throughout the custard, whereas a larger one can take some time to cook and still be difficult to monitor in the middle, making it a little hard to not burn the outside edge. 5oz dishes seem to provide the best results as far as I am concerned.
As for the pumpkin puree I used canned if I cannot get access to fresh pumpkin. Sometimes though I get some from my friend who is an expert on growing pumpkins. I always cook pumpkin and prepare the puree in bulk for lots of different recipes.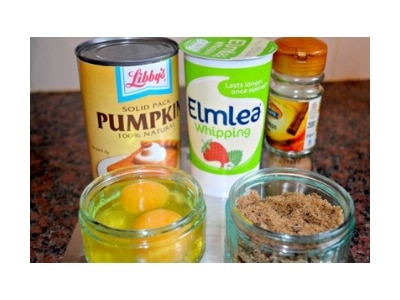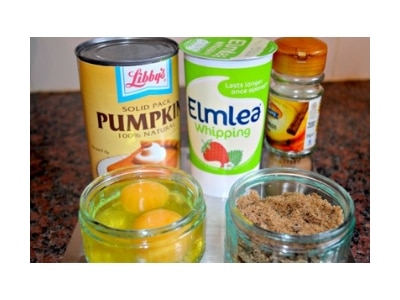 Find my healthy pumpkin custard recipe below
Yield: 4
Pumpkin Custard Recipe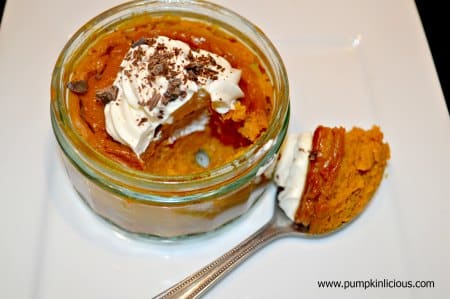 Delicious healthy pumpkin custard easy recipe
Ingredients
15oz can pumpkin puree
1 ½ teaspoons pumpkin pie spice
8oz whipping cream
6oz light brown sugar
2 eggs
Extra whipping cream for topping (if required, but looks nice anyway!)
Instructions
Pre-heat the oven to 300°F
Combine the ingredients (excluding the additional cream) and whisk together until the mixture becomes smooth.
Oil or lightly butter four 5oz/140g ramekins (you can use baking dishes as an alternative). Evenly divide the pumpkin custard mix between the 4 ramekins. Place the dishes onto a baking sheet and bake for 30 to 35 minutes, or until the middle is just set but still has a little "wobble" to it.
Let it cool for around fifteen minutes, perhaps a little longer.
You can also whip up the remaining cream and serve the custards with whipped cream. Top this off with a little shake of pumpkin pie spice, or a dusting of icing sugar. Chocolate curls also look lovely on the top.
Pumpkin Custard Recipe Can Be Modified With Different Toppings
Vary your toppings, to add more interest – try chewy toffee bits, honeycomb or even crystallised fruits. They look more attractive in prettily decorated smaller dishes. Some people like to add seeds or pecans for added protein and fibre content.
You can also sweeten the custard by adding cinnamon or pumpkin spice extract.
My Easy Pumpkin Custard is Brilliant for a small Thanksgiving Dessert
Like most custard the pumpkin variety can be poured over tart, cakes, buns, cookies or anything you wish!! I particularly love the way it soaks into sponge cake giving it extra flavour. If you were feeling very indulgent you could even add it to your porridge first thing in the morning. I prefer it slightly heated.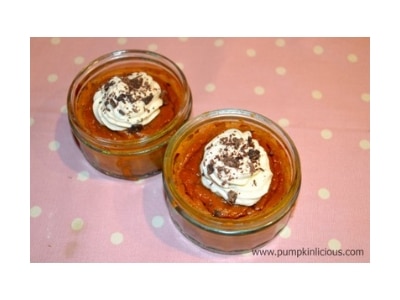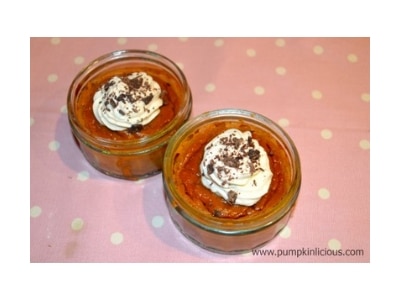 However my absolute favorite idea (hubby agrees) is to eat it topped with freshly whipped cream and milk chocolate sprinkles or even small chocolate eggs. Pumpkin flavour goes amazing well with chocolate as I found out when I made my easy chocolate chip pumpkin bread.
What would you add to this Pumpkin Custard Recipe?