When Thanksgiving is approaching I always have my pumpkin trifle recipes to hand!! Goodness I have such a treat for you as I am going to share mine and my favorite foodies delicious trifle Thanksgiving dessert ideas!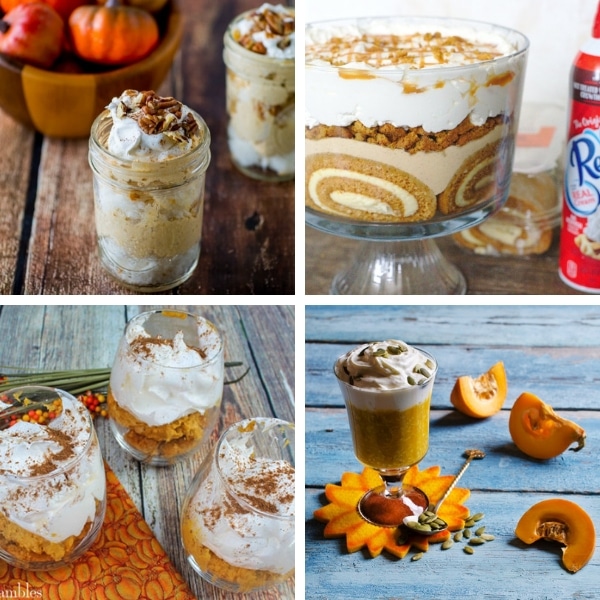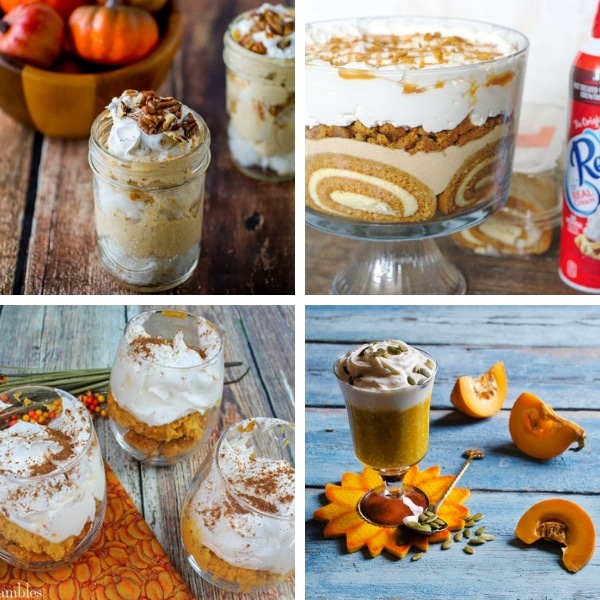 There is something about holidays and family get togethers that makes me think of trifle. I always remember having trifle with jelly and custard on Christmas Day every year when I was little. It was my favorite dessert! Now I have started to eat pumpkin trifle all Autumn and especially on Thanksgiving! It brings back so many happy memories of my childhood!
I have so many different recipes for pumpkin trifle below, I am sure you will want to try them all!
Pumpkin Roll Trifle Recipe
Mildly Meandering makes it seem so simple to put this delicious Thanksgiving dessert together. I bet it tastes as good as it looks!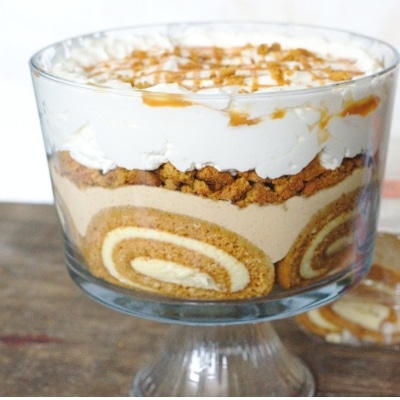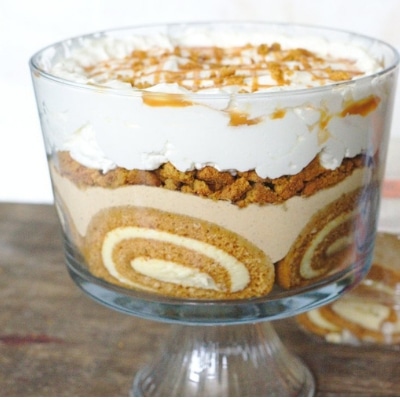 This recipe includes sliced pumpkin roll at the bottom topped with pumpkin mousse, gingersnaps and whipped cream!! I love the idea of gingersnaps as they add texture. If you cannot find ginger snaps you could add broken down ginger biscuits for the same effect. You can also see she has added some delightful caramel sauce on top of the cream. This will be a real winner for Thanksgiving dessert. I will probably enjoy this with a hot pumpkin spice latte by the fire!! Ultimate comfort food on a cold evening.
Pumpkin Trifle Recipe With Some Spice
When I think of pumpkin I automatically think of spice! These two were meant to be together and as soon as you taste Diana Rambles pumpkin trifle recipe you will agree.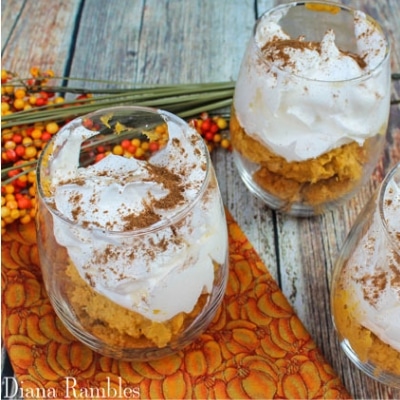 Like other pumpkin trifle recipes this one involves angel cake also. Angel cake works well mixed with pumpkin and other fruits too. This is layered with cake, pumpkin fluff, cream and spice!
Easy Pumpkin Cheesecake Trifle
Upstate Ramblings has it down to a tee when she combines pumpkin, cheesecake and trifle!! I cannot believe my luck to find this recipe with 3 of my favorite things together!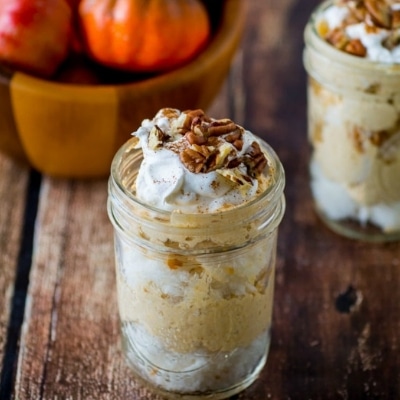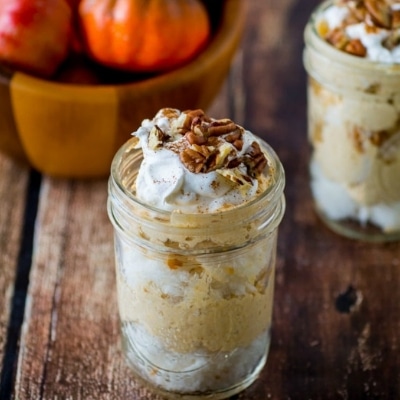 This pumpkin trifle recipe uses angel cake layered with pumpkin cheesecake. It's topping is whipped cream (I always like some cream with all my desserts) and pecan nuts. Of course you could add any nuts, chocolate curls or even pumpkin seeds. I might also add a sprinkle of cinnamon on top also. I really love the mason jars used here to serve individual portions; they look so much more fancy than traditional dessert bowls. This needs to be enjoyed at least once over Fall or Christmas!! All this talk of cheesecake makes me want to make one of my divine pumpkin cheesecake recipes!!
Pumpkin Fruit Trifle Recipes
I adore my pumpkin banana trifle! I used banana with pumpkin in several of my recipes including bread and smoothies so it came as no surprise they were perfect in a trifle.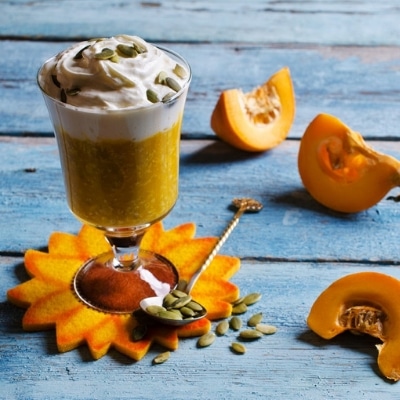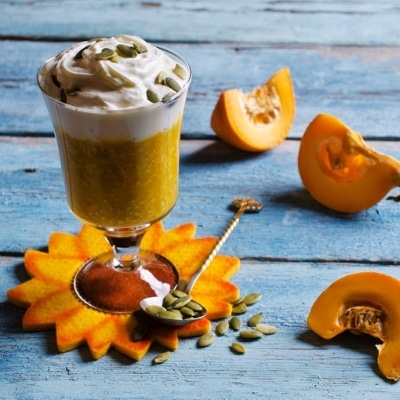 You can basically add any other fruit to your trifle. I know cranberries and orange taste good with pumpkin so you might want to try these!
Pumpkin Ginger Trifle Recipe Is Perfect For Thanksgiving
I love the combination of pumpkin and ginger together, they compliment each other perfectly!! I was watching some recipe videos the other night and found this one:-
Some Other Ideas For Pumpkin Trifle Recipes
You have complete control when it comes to what is needed for your dish! I love chocolate and associate it with an after dinner treat so I would want to include it in my pumpkin trifle recipe. You could add a layer of broken up chocolate or alternatively you could sprinkle it on top. I have seen people adding coffee to their trifle making it a mix between a dessert and an after dinner drink.
Perhaps you might want to have traditional trifle with jelly and custard and add pumpkin on top. You can either add pumpkin seeds or chopped up pumpkin.
There are so many different ways to incorporate pumpkin into Thanksgiving trifle recipes. Please share your ideas in the comments!
Which of these Pumpkin Trifle Recipes will you try?