This vegan pumpkin butter recipe healthy is extremely easy to make! If you are a pumpkin lover you need to try it.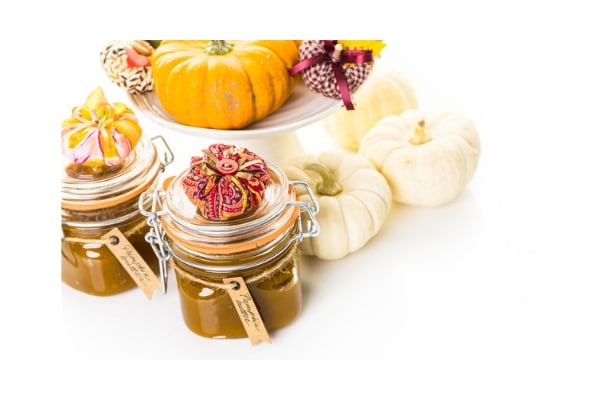 Make this tasty recipe when you fancy a change from ordinary everyday spreads for your bread. It is healthier than dairy butter, and is perfect for vegetarians and vegans.
How To Make Vegan Pumpkin Butter Recipe
Yield: 3 and a half cups
Pumpkin Butter Recipe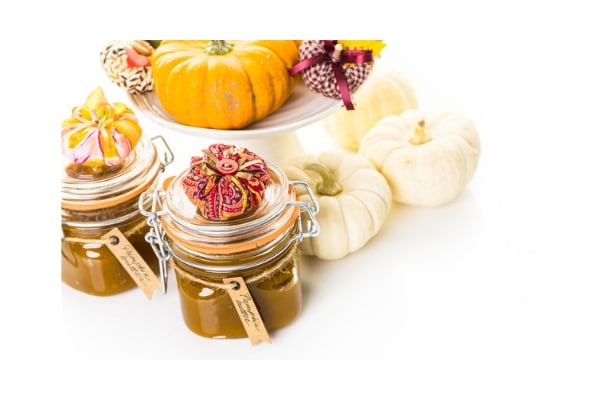 Delicious healthy pumpkin butter is the perfect topping for your bread and potatoes
Ingredients
3 ½ cups fresh pumpkin purée or 29 oz can
½ cup maple syrup
2 teaspoons ground cinnamon
1 teaspoon ground ginger
½ teaspoon ground cloves
½ teaspoon ground nutmeg
1 star anise, optional
Instructions
Mix all the ingredients together in a large non-stick saucepan and bring to the boil slowly. Stir frequently. Once it starts to boil, reduce the heat and simmer until it is thick and glossy. It will take about 20 minutes for fresh pumpkin puree and a bit less if you use a can. Keep an eye on it, and stir regularly so it doesn't dry out too much.



Cool and store in airtight containers in the fridge. This recipe is not suitable for long term storage or canning. It can be frozen for a few weeks though
Notes
If you can't get maple syrup where you live, you can use honey. You might like to experiment with the spices to get the combination you like best. Some people also just sweeten theirs with apple juice.
Pumpkin Butter Uses
Lots of people ask me why I bother making my own pumpkin butter spread but it is because it tastes wonderful and can transform a piece of bread into a real treat. There are so many things you can pair with my pumpkin butter recipe, you will want to eat it everyday.
On bread - use on sourdough bread instead of ordinary butter or watch it soak into hot toast for a bedtime treat. You can add it to plain pancakes or waffles to make them taste amazing. Of course you can also add it to one of my amazing pumpkin breads.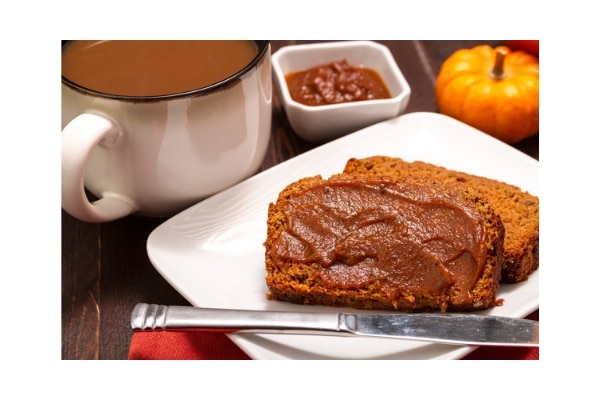 At breakfast why not add a dab to yoghurt or my pumpkin granola.
You can even add it to salads as use it as a dressing.
I loved baked potatoes and mash and add it as a topping
How To Make Your Pumpkin Butter Recipe Even Better
There are lots of things you can add to pumpkin butter to make it taste even better.
Cinnamon - this works so well with pumpkin and most people add it to their pumpkin recipes
Chilli - if you want to give your butter a bit of a kick then you can do this!! I find this a useful addition to pumpkin dips. This works well with chips.
Pecans - heck we all know pecans taste amazing especially in my pumpkin pecan pie so they will definitely work with this butter spread.
The video below shows you how to make date pumpkin butter.
Basically you can add whatever you like to your pumpkin butter spread depending on your taste. I have seen people add espresso, chocolate and garlic (not altogether but you get the idea).
You can experiment with these and remember to add a little at a time so that you do not overpower the pumpkin.
What will you add to your healthy pumpkin butter recipe to make it even more delicious?